If you have life insurance, you've probably figured out the difference between term insurance and whole life. Good for you. But, if you're doing one of the big firsts in life—getting hitched, birthing or adopting your first child, or locking in a great mortgage rate for your starter home—you may be wondering what is term life insurance and why might I need it now?
» Calculate: Life insurance needs calculator
Your Term Insurance Explainer
We've put together a simple explanation of term life insurance and why it's a wise purchase, especially if you're experiencing some of the big life changes mentioned above—or if you have family members who rely on your income for their daily bare necessities.
From reading this, you'll get more than just a term insurance definition—you'll have all the info you need to protect your family's financial future.
Term Insurance in 90-Seconds
Before you start searching for life insurance quotes online you may want a clear understanding of what term life insurance is and why it's so important for your family. Here you go.
What Is Term Life Insurance?
Term insurance is the most affordable type of life insurance for most families. It provides a cash payout, called a death benefit, to your beneficiaries. You may choose to give this money to your spouse, your life partner, the guardian of your children, or anyone else who would be impacted financially by your death.
This money can be used to cover expenses such as funeral costs, debts you leave behind, or anything your family might need. The best analogy is that a life insurance payout is a big suitcase of money that arrives when your family needs it most. If you're wondering how life insurance payouts work, read our blog.
How Does Term Insurance Work?
Your term insurance will provide coverage for specific time periods—most often for 10, 15, 20, 25, 30, 35, or 40 years—during which you will pay your life insurance premiums. If you die within that period, then your beneficiaries will receive funds based on the face value of your policy. You will choose the length of your term life policy (5 to 35 years) and the amount of coverage ($50,000 to $65 million+) when you buy it.
For example, if you purchase a term life policy with a face value of $500,000, your beneficiaries will receive a half million dollars from your policy's death benefit.
To calculate how much term life insurance your family might need, use our term insurance needs analysis calculator.
What Are Term Life Insurance Premiums?
In order for your policy to remain valid, you'll need to make sure that your life insurance premiums—the annual or monthly payments you make on your policy—are always kept current.
In some cases, you may purchase a rider (or an add-on to your term life insurance policy) that can cover your premiums if you become disabled and unable to work, ensuring that your life insurance remains intact during that time.
How Much Term Insurance Can I Buy?
You may purchase a single policy, or multiple term life insurance policies (this is called laddering) at once in order to meet your family's projected needs at different points in your lives.
For example, you may wish to have more coverage the first 10 or 15 years after buying a house as you pay down the mortgage. Or, you may wish to have more coverage once your children reach college age if you plan to help with tuition.
However, the amount of coverage that you receive is dependent on the approval of your term life insurance company. They evaluate your application and place it in a risk class—a category that is the basis for how much you'll pay in premiums.
To assign a risk class, underwriters look at a number of things, like your health and medical history, age, gender, job and lifestyle to calculate their risk in insuring you.
» Learn more: What Are the Risk Factors that Affect Buying Life Insurance?
How Do I Get Term Insurance?
Here's the easiest way:
Determine how much coverage you want to apply for using our term insurance needs calculator.
Compare your life insurance quotes online. Our quoting tool that lets you look at your term life insurance options side-by-side.
Select your plan.
Apply online at Quotacy.
When you use Quotacy, our online application process takes less than five minutes. Life is short, so we made getting the best life insurance as simple as possible.
Knowing what term insurance is and why life insurance is important is key to building a secure financial future for your family.
Ready to get your life insurance quote?
You're a few minutes away from great life insurance
How much life insurance do you need?
Figure out your action plan with our needs calculator
10 Things Term Insurance Can Do For Your Family
So now that you know what it is, let's take a quick look at what term insurance can do for your family if you were to unexpectedly die:
Replace lost income that you would normally contribute to the household.
Pay off your mortgage.
Take care of other consumer debts (like a credit card or personal loans) to protect your family from unnecessary financial burden.
Pay for your children's college education to help them avoid student loan debt.
Support a parent or a loved one who needs lifelong, long-term, or hospice care.
Help with medical bills not covered by their insurance plan.
Cover business debt that you personally guaranteed.
Contribute to your life partner's retirement fund.
Cover end-of-life expenses like funeral and burial expenses.
Pay for legal fees connected to the transfer of your estate or the sale of real estate and other assets.
Got Term Insurance? Got Enough?
Despite the importance of term life insurance, too many families are underinsured, or go without it altogether. In fact, only 44% of Americans have individual term life insurance.
In 2010, LIMRA reported that the amount of households in the USA with life insurance dropped to the lowest point in 50 years,
Only 44% of households in the USA have a life insurance policy, and
40% of households in the USA with children (under age 18) would struggle financially if the primary breadwinner died.
Here are a few reasons why…and a few ways to make sure you've got the right amount of insurance.
Most Americans overestimate the cost of term insurance—by a lot.
Again, according to LIMRA, about 80% of consumers think that life insurance premiums are 119% higher than they actually are, with Millennials overestimating by 213% and Xers overestimating by 119%.
Maybe you do, too?
You can get the real numbers for with our term insurance quotes tool here.
Many consumers assume group life insurance plans are enough.
Some families assume that term insurance provided through employer coverage is enough.
Unfortunately, employer-sponsored term life insurance plans are often very limited in their face value. In today's gig economy many people are changing jobs more often and not realizing that they will lose these group life insurance benefits when they switch jobs.
This leaves more families vulnerable at a time when less and less people have jobs with solid benefit plans. So, the need for owning an individual life insurance policy is greater today than ever before among our workforce.
So how much insurance do you need?
First, let's do a few quick calculations using our needs assessment tool—it's anonymous so you won't have to fill in your contact info to estimate your family's life insurance needs or to compare term life quotes from trusted companies.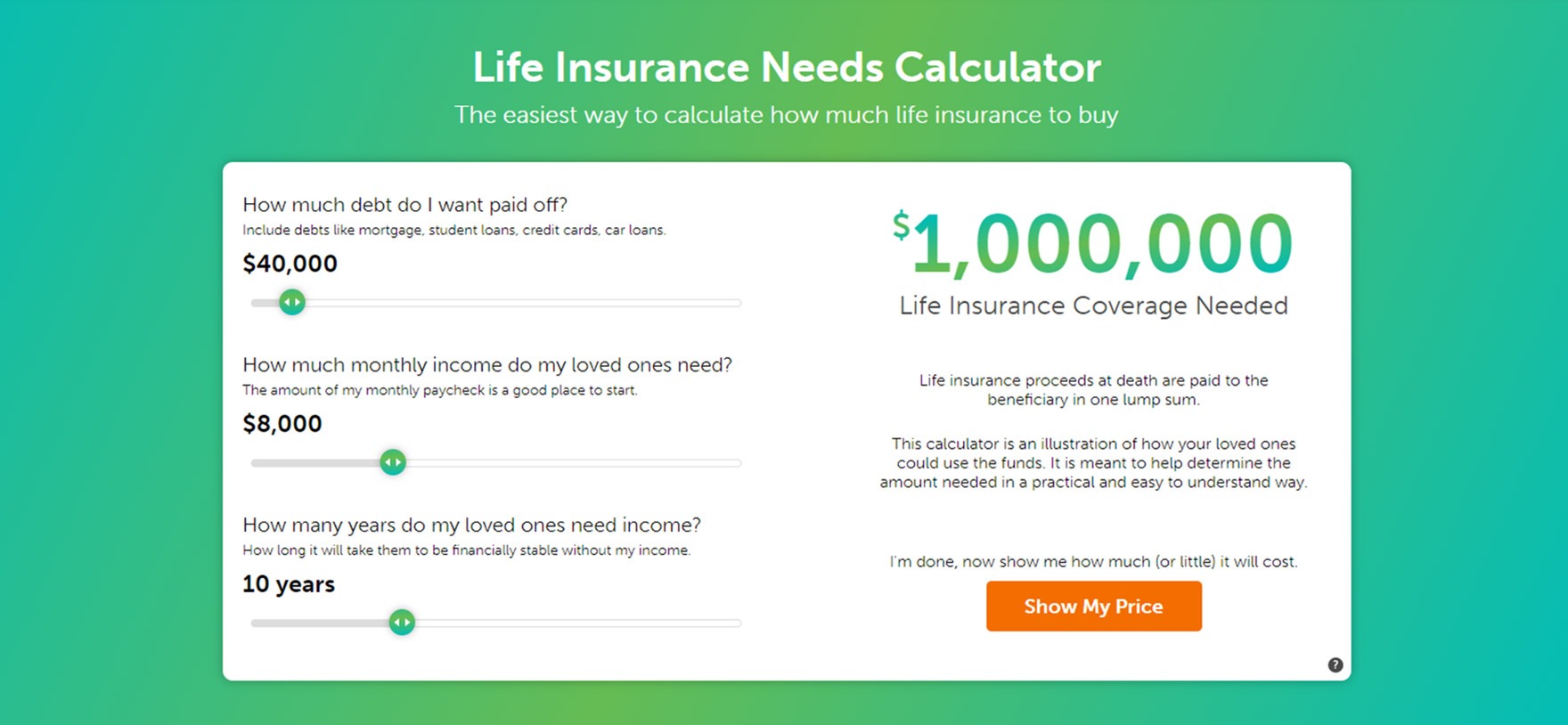 First, answer a few questions:
How much debt do I want paid off?
These debts might include private student loans (that can still be collected after your death), consumer debt (like credit cards), or business debts that you may have personally guaranteed. You might also want to include your partner's debts, your children's student loans, or any other financial obligations you wish to cover.
How much monthly income do my loved ones need after I've gone?
Monthly income needs would include regular payments like your mortgage, car payments, and health insurance, but it's smart to include your yearly savings contributions and funds that would have gone towards your or your partner's retirement, too.
Term insurance is specifically designed to prevent the loss of your income from impacting your family's standard of living.
For how many years do my loved ones need income?
Estimate how long you would have worked and contributed towards the household income during that time. If you planned to work full-time up to retirement age and contribute to your children's living expenses as they get established in their careers, then take that into account.
You don't need an exact calculation to use our need-analysis tool—just come up with a ballpark figure.
Hit Show My Price and enter a few lines telling us your gender, age, smoking status, and where you live—this let's our algorithm come up with an accurate range of term life quotes for your consideration.
Our needs calculator will give you an instant estimate once you've entered your information. You can always play around with the figures using the sliders to adjust the coverage amount and length of time you wish to be insured. This will help you to see in real time how term life is priced.
A little life insurance is better than none. Buy what you can afford today.
Some special circumstances to take into account:
Once you've done a needs analysis and gotten a good look at your financial picture, you can click show my price and you can compare policy prices from leading insurance companies based on your coverage needs. You'll also be able to click on a provider's name and learn details about their consumer satisfaction ratings and other info on their business reputation.
Then, it's easy to apply. Quotacy's application wizard will walk you through the process, and you'll be done in minutes.
» Compare: Term life insurance quotes
Congrats! You're now officially life insurance savvy.
If you've decided on getting insured, or adding to your existing insurance, we're here to help. It's simple to start the process above, and we're here if you need any help along the way. At Quotacy, we've worked with thousands of families to find the best plan to protect their futures. So, click on over to our life insurance quotes tool to get started.
Quotacy is the country's leading broker for buying life insurance online. We are obsessed with making it easy for everyone who has loved ones who depend upon them to have life insurance.