Being "high risk" means you have certain factors that deem you risky for the life insurance company to insure. Any factors that raise your mortality risk will cause some concern for the insurance company.
Insurance companies need to balance out the types of applicants they accept. Insurance companies pay out hundreds of thousands of dollars per life insurance claim. In order to remain financially-strong to ensure they can support all of their clients, they have to make sure to balance risk properly.
Risks in the life insurance industry can include health conditions, certain jobs and hobbies, driving and criminal records.
Life insurance companies cannot accept every high-risk applicant. For example, an insurance company may accept high-risk diabetics but not high-risk heart disease. Meanwhile another insurance company may be more lenient towards that applicant with a history of heart disease.
In general, if you're considered a high-risk applicant, you can find life insurance coverage, but your options will be limited and you're going to be paying higher rates than the average person. Working with a life insurance broker is your best bet to finding affordable coverage.
Quotacy can help you find coverage. As a broker, we are not limited to only offering policies from one insurance company. We are contracted with multiple top-rated life insurers.
We offer term life insurance and permanent life insurance. If you're disqualified for these traditional life insurance plans, we can help with other options such as accidental life insurance and guaranteed-issue life insurance.
Applying for Life Insurance as High-Risk
When completing your online application, be sure not to leave out any details relating to your health and lifestyle. After Quotacy receives your application, your agent may also send you a questionnaire if they need further information about a health condition or other factor.
Please note that not divulging information doesn't mean the insurance company won't find out about it. The insurance companies pull their own records. The information you provide your agent is for your benefit.
Providing this information helps your agent find the best coverage possible for you. After your agent has all the necessary information, they shop the market on your behalf before sending your full application off to the insurance company.
When you apply online through Quotacy, you initially choose an insurance company to apply through. But your agent double-checks that this company will treat your high-risk circumstances the best.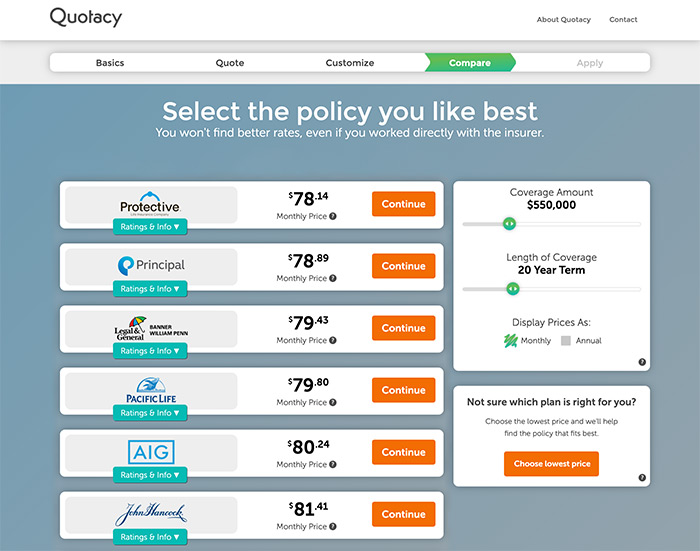 If there is a different insurance company that will be more favorable for you, your agent will update you with this information and set realistic expectations. It's completely up to you if you choose to switch to the company your agent suggests. But it may become an obvious choice when there are large premium differences.
No matter what, your Quotacy agent is your advocate during this process. Your agent will bring you updates and is available for any questions every step of the way.
See what you'd pay for life insurance
Comparison shop prices on custom coverage amounts from the nation's top carriers with Quotacy.
Life Insurance Through Your Job
If your employer offers life insurance through company benefits, take advantage of this. Group life insurance and additional voluntary coverage does not require any medical information from you in order to approve your coverage.
Voluntary life insurance coverage through work has higher rates due to them being priced for large groups of people, rather than individually priced, but this works out in the favor of people who are deemed high-risk.
Life insurance bought through your job is not owned outright by you. It's tied to your employer. So if you were to leave your job, whether voluntarily or not, your life insurance doesn't go with you. This is one reason why we encourage you to apply for term life insurance though Quotacy first to see what rates your agent can find.
You can choose to have both life insurance through work and own your own policy. Most people who have group life insurance through work, do buy their own policy as well. Often, the coverage provided through an employer-sponsored policy is not enough to financially protect your loved ones.
Start the process now. Getting term life insurance quotes in easy, fast, and free. No contact information required until you decide to apply.
Note: Life insurance quotes used in this article accurate as of December 9, 2020. These are only estimates and your life insurance costs may be higher or lower.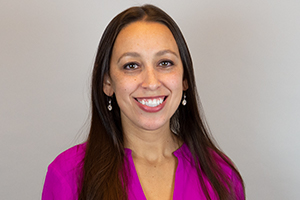 Natasha Cornelius, CLU
Senior Editor and Licensed Life Insurance Expert
Natasha Cornelius, CLU, is a writer, editor, and life insurance researcher for Quotacy.com where her goal is to make life insurance more transparent and easier to understand. She has been in the life insurance industry since 2010 and has been writing about life insurance since 2014. Natasha earned her Chartered Life Underwriter designation in 2022. She is also co-host of Quotacy's YouTube series. Connect with her on LinkedIn.