Facts are facts: if you smoke cigarettes, you're going to pay for more life insurance.  Life insurance is all about risk analysis and statistics prove that your health is in jeopardy if you smoke.  However, just because you're a smoker, does not mean you won't get accepted for coverage or that premiums will be astronomical.  Let's talk about life insurance for cigarette smokers.
Overall, smoking is on the decline, but there are still plenty of Americans who smoke and have loved ones they need to protect with life insurance.  When you apply for life insurance, you are placed into what life insurance carriers call a "risk class".  A risk class determines what you end up paying for your life insurance policy.  There are different risk classes you can be sorted into, but they are divided into two main categories: Non-Tobacco and Tobacco.
Risk Classes for Non-Tobacco Users
Preferred Plus
Preferred
Standard Plus
Standard
Risk Classes for Tobacco Users
Preferred Tobacco
Standard Tobacco
Any applicant who smokes cigarettes will be put into the Tobacco category.  From there you will either be considered Preferred, Standard, or table rated.  Being table rated means you have certain factors that place you outside the normal range of risk, for example, if you smoke and have a history of asthma, you have a few factors going against you.
Life insurance carriers balance out the risk they take by insuring you by "rating" you and pricing your insurance with higher premiums.  Some carriers use an alphabetical table rating system and some use numerical, either way, the further down the table you are, the higher your premiums will be.
Table Rating
(alphabetical)

Table Rating
(numerical)

Pricing

A

1
Standard Tobacco + 25%

B

2
Standard Tobacco + 50%

C

3

Standard Tobacco + 75%

D
4

Standard Tobacco + 100%

E

5
Standard Tobacco + 125%
F
6

Standard Tobacco + 150%

G

7
Standard Tobacco + 175%
H
8

Standard Tobacco + 200%

I
9

Standard Tobacco + 225%

J
10

Standard Tobacco + 250%
To better explain how table rating prices work, let's look at an example.
John Smith is a 35-year-old male who smokes one pack of cigarettes per day, has a history of normal blood pressure readings, and both parents are older than 70 and still living.  Unfortunately, his cholesterol is typically high so he does not qualify for Preferred Tobacco, but is approved at Standard Tobacco.
Buying a 20-year $250,000 term life insurance policy would run him approximately $68 per month.
Now, let's pretend John actually smokes three packs per day, but other factors are the same.  In this case, he would most likely be table rated.  If John were classified as Table 3 he would pay approximately $119 per month ($68 + 75%).
Qualifying for Preferred Tobacco over Standard Tobacco
While all life insurance carriers will categorize a cigarette smoker with a tobacco risk class, their qualification criteria for Preferred Tobacco versus Standard Tobacco does vary.  They will offer an applicant credits if they have enough positive factors and these credits oftentimes can push the applicant into the realm of Preferred Tobacco.  For example, Life Insurance Company ABC will offer an applicant Preferred Tobacco if he or she can meet three of the six following criteria:
Their cholesterol/HDL ratio is 4.5 or less.
Their NT Pro BnP (heart failure test) is under 100 (this is for applicants ages 60 and up).
They have had a normal cardiac arrest test within the past two years yielding positive values.
Both parents survived to at least 75 years of age and no sibling has had cancer or cardiovascular disease before the age of 60.
They must show healthy lifestyle factors such as one of the following: regular annual checkups, regular participation in exercise or wellness programs, or routine age or gender related preventative checkups.
Their GGT (liver test) is below 30.
Being able to qualify for Preferred Tobacco over Standard Tobacco can save you quite a few dollars each month.  Let's consider John Smith again.  If he applied for a 20-year $250,000 term policy and was offered Standard Tobacco, he would pay approximately $68 per month.  If he was able to qualify for Preferred Tobacco, he would only have to pay about $48 per month – a savings of over $200 each year.
Each life insurance company has their own criteria for approving Preferred Tobacco.  Some companies are more lenient than others, which is why working with an independent agency like Quotacy who has contracts with multiple carriers is ideal.  As a smoker, the more life insurance companies your application can reach, the more risk class and premium options you'll be able to take advantage of.  A multiple carrier agency like Quotacy gives you access to these options.
While all life insurance carriers will categorize a cigarette smoker with a tobacco risk class, their qualification criteria for Preferred Tobacco versus Standard Tobacco does vary.
Ready to get your life insurance quote?
You're a few minutes away from great life insurance
How much life insurance do you need?
Figure out your action plan with our needs calculator
Quitting Smoking and Reapplying for Life Insurance
If you are a current smoker, but plan on quitting sometime in the future, we always recommend buying life insurance now and just reapplying in the future, versus waiting until you quit.  Most life insurance companies require you to be cigarette free for at least one year before you're able to qualify for Non-Tobacco pricing (some carriers require you to be tobacco free for five years!)  So, if you wait, not only will your loved ones be financially unprotected longer, but you're also getting older.  The longer you wait to apply for life insurance, the more time other health issues have to sneak in, which can raise your life insurance prices.  The best route to take is to buy life insurance now and reapply again a few years later if you quit smoking.
Remember, having some life insurance is better than having none at all.  If John Smith had a tight budget and could not afford to pay $68 per month for a $250,000 20-year policy, he could always adjust the term length or coverage amount to make life insurance more affordable.  For example, if he dropped his coverage to $100,000 his monthly premiums would be approximately $33 instead.
Or if he really was dedicated to quitting cigarettes within the next couple years, he could buy a $250,000 policy but opt for only a 10-year term.  His monthly premiums would then be about $42 and he could try reapplying for Non-Tobacco pricing after he officially quits.
When it comes to life insurance, you have lots of buying options.  The best way to narrow down what policy you want is to play around with our term life insurance quote tool.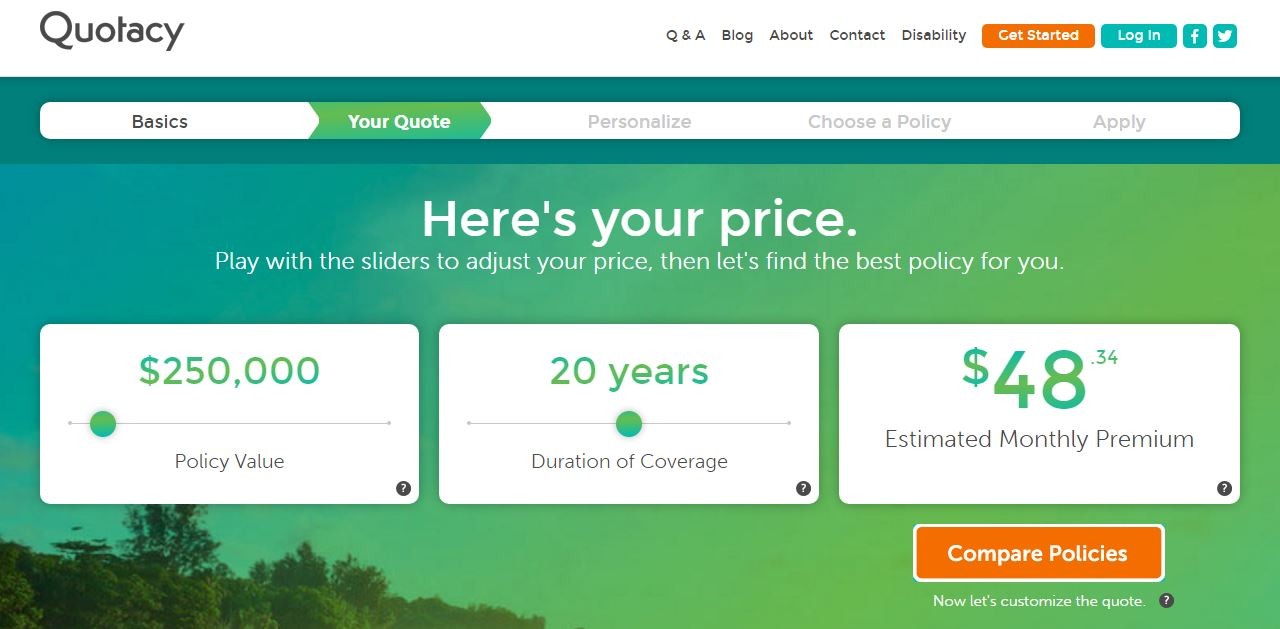 Adjusting the policy value and coverage sliders instantly updates the premium, so you'll be able to see how the adjustments affect your estimated premium costs.  Once you're satisfied with your coverage and press Compare Policies, you then answer a couple questions for a more personalized quote, such as how often you smoke and if you're on any blood pressure medication, and you're able to view your life insurance company options.  Keep in mind you can do all of this without giving away any personal contact information or committing to purchasing.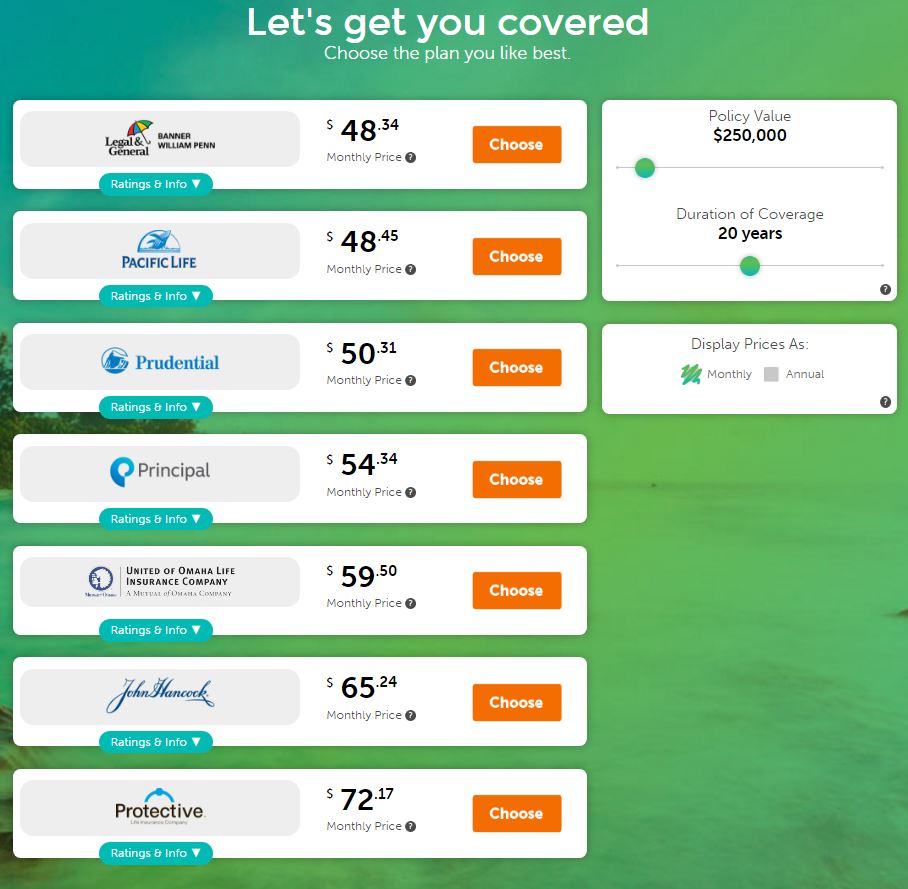 Applying is quick and easy and your Quotacy agent will keep you updated every step of the way as your application moves through the buying process.  Start by getting a term life insurance quote today.
Photo credit to: Nuno Silva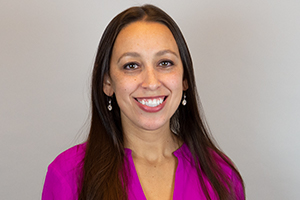 Natasha Cornelius
Writer, Editor, and Co-Host of Quotacy's Q&A Friday YouTube Series
Natasha writes and edits content and is co-host of Quotacy's YouTube series. She is also working toward her Chartered Life Underwriter (CLU) designation. When not working or studying, you'll find her throwing a tennis ball for her pitbull mix, Emmett, or curled up on her couch watching Netflix. If it's football season, the Packers game will be on.