We frequently say "the younger you are, the cheaper your life insurance premiums." While this is certainly true, we aren't saying that you can't get life insurance as a senior.
Oftentimes seniors don't buy life insurance because their children are grown, the mortgage has been paid off, and any other expenses are covered by Social Security, retirement savings, and pensions. The need for life insurance may not be there.
However, everyone's situation is different. There are certain cases in which, as a senior, you may have a life insurance need.
» Calculate: Life insurance needs calculator
Some common reasons seniors may want to purchase life insurance:
Income Replacement – If you and your spouse are still working, life insurance can protect your spouse's standard of living by replacing your income if you were to die. If your spouse is relying on your pension or Social Security, life insurance will help cover those benefits.
Final Expenses – A funeral is not cheap. A life insurance death benefit can help your loved ones afford to honor your life with a proper funeral and burial service. If your estate is of high worth, estate taxes, both federal and state, would be an unpleasant surprise for your family. The death benefit can be used to pay these as well.
Medical Expenses – Not everyone will have the fortunate circumstance of dying peacefully in their sleep of old age. Sometimes medical conditions develop and expenses (prescriptions, hospital bills, etc.) start to accumulate towards the end of one's life. Life insurance can help your surviving loved ones pay those expenses instead of trying to pay out-of-pocket.
Grandchildren – Maybe your loved ones will end up not needing to cover expenses. Instead the death benefit can be used as an inheritance. As a separate matter, many grandparents in today's world are deeply invested (both emotionally and financially) in the raising of their grandchildren. Over 2.7 million grandparents are the primary caregiver of their grandchildren. Life insurance for these specific grandparents is a must to ensure their grandchildren continue happy and healthy lives.
Charitable Gift – A life insurance death benefit can also be given to an organization you care about. If there is a charity you are greatly involved with, you can continue to give to them even after your death.
» Learn more: Life Insurance for Grandparents Raising Grandchildren
See what you'd pay for life insurance
Comparison shop prices on custom coverage amounts from the nation's top carriers with Quotacy.
Term Life Insurance for Seniors
Term life insurance is likely going to be the most affordable life insurance option as a senior.
As people age, the less life insurance they need, so a 10-year term life insurance plan may be enough for you. You also probably won't need millions or even up to $500,000 in coverage since your children are likely grown and independent. A healthy 65-year-old can obtain $200,000 worth of life insurance for a 10-year term for under $100 per month.
However, chances are some health issues may creep in over time. You may not qualify for the best risk class. Below shows quotes based on risk classes and term length for $200,000 of term coverage for the aforementioned 65-year-old.
$200,000 Term Life Insurance Quotes for 65-Year-Old
Risk Class

Male
10-Year Term

Female
10-Year Term

Male
15-Year Term

Female
15-Year Term

Male
20-Year Term

Female
20-Year Term

Preferred Plus
$83.66
$53.37
$111.20
$73.50
$160.67
$109.99
Preferred
$99.84
$62.23
$136.07
$89.70
$192.52
$132.01
Standard Plus
$124.44
$83.26
$177.12
$118.25
$241.92
$171.19
Standard
$144.19
$93.13
$206.28
$134.69
$304.69
$195.70
Get your own term life insurance quotes in just a few minutes without entering any contact information here: get term life insurance quotes.
Term life insurance isn't available for all ages.
Your age can affect how much coverage a life insurance company will approve. Using our term life insurance quoting tool, after entering your date of birth, you can use the Coverage Amount and Length of Coverage sliders to see how much coverage you can apply for.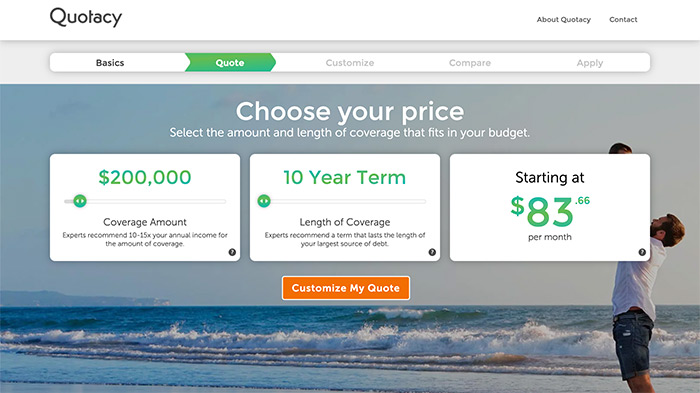 Permanent Life Insurance for Seniors
You obviously don't know when your last day on Earth will be. Term life insurance only lasts a set period of time (the term length) unless you renew or convert it—very expensive options, but worth it if you have a term policy and find out you're terminally ill.
If you rather go with a guaranteed payout, permanent life insurance lasts your entire life. It's much more expensive though, especially for seniors.
Guaranteed universal life insurance is the most affordable type of permanent life insurance. Its main benefit is the guaranteed death benefit payout, unlike other permanent products that have cash value accumulation and dividend options.
$200,000 Guaranteed Universal Life Insurance Quotes for 65-Year-Old
Risk Class
Male
Female
Preferred Plus
$398.62
$331.54
Preferred
$438.62
$368.79
Standard Plus
$518.35
$407.60
Standard
$523.02
$434.99
You can easily compare the costs of term life insurance and guaranteed universal life insurance with our quoting tool. Simply go to our quoting tool, insert your basic information, and on the second page, move the Length of Coverage slider all the way to the right to "Forever".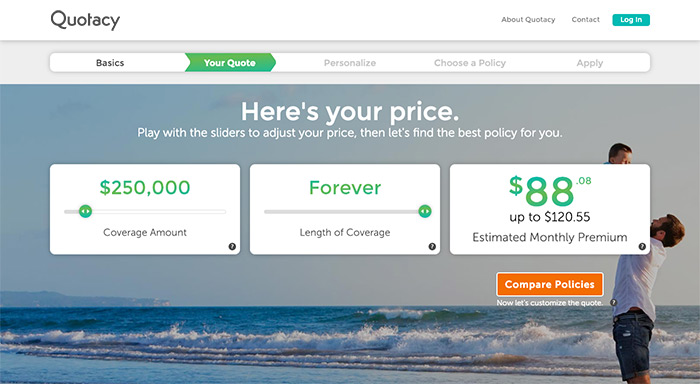 If you're a senior with health problems, final expense life insurance may be your last option.
Final expense insurance is typically for individuals ages 50 to 80. No matter your health, you will be approved for this type of life insurance. Coverage can begin as early as the next business day after applying.
» Learn more: What Is Final Expense Life Insurance?
Still working? Take advantage of a group plan.
If you're still working, be sure to participate in the group life insurance plan your employer offers as well. You can always apply for an individual life insurance plan to supplement the group insurance plan (and that's a good idea!)
Quotacy can help you find affordable life insurance.
It's important to note that all life insurance companies price age groups differently. A 10-year, $200,000 term policy at one life insurance carrier may cost you $98 per month while another may cost $150. Quotacy works with multiple life insurance companies so we have the ability to shop your application all over to get you a great product at an affordable price.
Underwriting is the most important step in the application process. It is during this time that the insurance company determines how much of a risk an applicant is to insure. Quotacy has an in-house expert underwriter who has worked in many carrier home offices and knows the ins and outs of the complex underwriting world.
Whether you're 25 or 75, we can help you get life insurance. Start the process by running term life insurance quotes on our website. You can contact our friendly agents for additional help and questions as well. We won't push more life insurance on you than you need.
Still not sure? We think Quotacy is great, but don't take our word for it. Check out our customer reviews – we aim for excellent, personalized service and honest advice.
» Learn more: Life Insurance Rates for Seniors: Finding the Best Option for You
Note: Life insurance quotes used in this article are accurate as of August 20, 2020. These are only estimates and your life insurance cost may be higher or lower.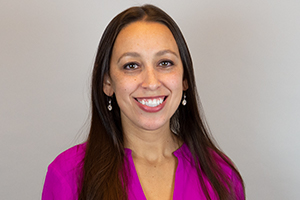 Natasha Cornelius, CLU
Senior Editor and Life Insurance Expert
Natasha Cornelius, CLU, is a writer, editor, and life insurance researcher for Quotacy.com where her goal is to make life insurance more transparent and easier to understand. She has been in the life insurance industry since 2010 and has been writing about life insurance since 2014. Natasha earned her Chartered Life Underwriter designation in 2022. She is also co-host of Quotacy's YouTube series. Connect with her on LinkedIn.