​A will is a legal document where you declare what you want to happen to your estate when you die. You need one if you don't want the state to decide what happens to your property, valuable and sentimental possessions, pets, or children.
In this guide, you'll learn how a will works, why you need one, and how to write a will.
What Is a Will?
A will is the most basic and yet most critical estate planning document. It's officially known as a Last Will and Testament.
A will allows:
You to state how you wish your property and assets to be distributed.
You to name a guardian for your minor children.
You to leave instructions on how your pets should be cared for.
For simpler estate management for your grieving loved ones.
Peace of mind.
Who Needs a Will?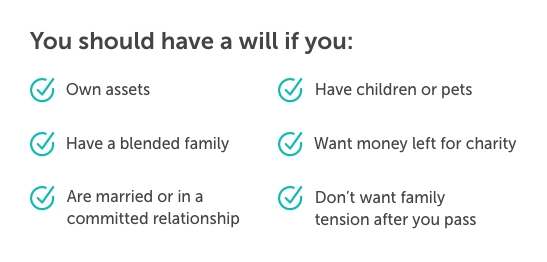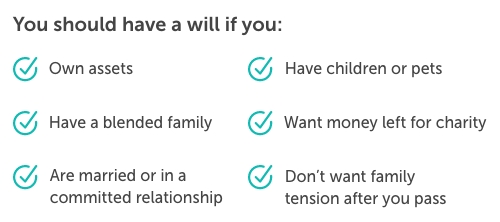 Wills aren't just for the wealthy. Everyone should have one.
You're considered intestate if you don't have a valid will when you die—dying intestate means the court will settle your estate. Who inherits what is based on your state laws. If you have minor children, the court also decides who their guardians will be.
You should have a will if you:
Own assets
Have children
Have pets
Are married or in a committed relationship
Are part of a blended family
Don't want family tension after you pass
Want money left for charity
Who Can Make a Will?
Anyone 18 years or older and of sound mind can make a will.
You aren't required to hire a financial professional to create your will. It can be as simple as writing everything down on paper and signing it. To be valid, you must have two witnesses (also 18 or older and of sound mind) sign it.
How Does a Will Work?
There are five parties in a will:
Testator: The person who creates the will and whose estate is referenced.
Executor: The person who carries out the wishes stated in the will.
Witnesses: The individuals who sign the will to validate it.
Beneficiaries: The recipients named in the will.
Guardians: Individuals granted authority via the will.
Not only is it essential that you make a will, but you need to tell a trusted friend or family member where it's located. Make things easier for your loved ones after you die. The court will decide what happens if no one can find your will.
A will does not take effect until you, the testator, die.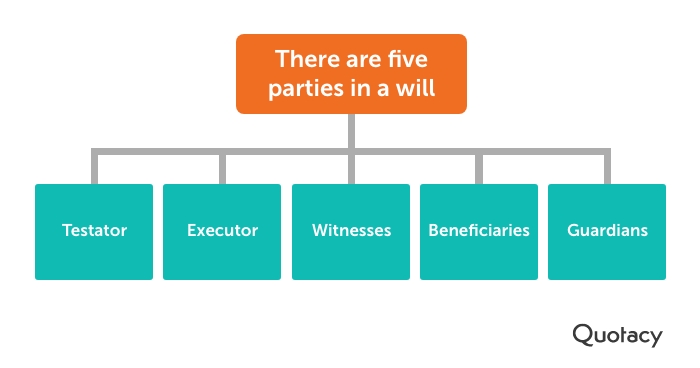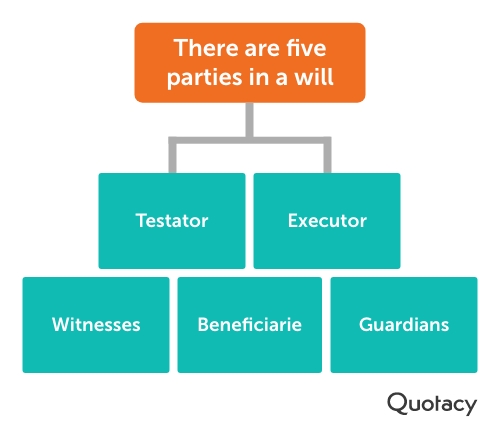 How a Will Is Executed After Death:
The will is filed with probate court by whoever has it in their possession (typically the named executor or a beneficiary).
The court reviews the will and ensures it's valid.
The executor notifies the IRS, Social Security Administration, and the testator's beneficiaries, creditors, and financial institutions.
The executor takes inventory of the estate and gets assets appraised as needed.
The executor uses assets to pay outstanding bills, debt, and taxes.
The remaining assets are distributed according to the terms of the will.
The court closes the probate process, and the will becomes part of public record.
The time it takes to process a will depends on when it's filed, the estate size, and if anyone contests it. 
See what you'd pay for life insurance
Comparison shop prices on custom coverage amounts from the nation's top carriers with Quotacy.
How Do You Write a Will?
Creating a will can be straightforward if you have a simple estate. You don't need an attorney, either.
Many online services allow you to create a will for free or for a small fee. You could also download a free template, fill it out, print it, and sign it.
Although we don't recommend it, a will is valid even if it's written on a napkin and signed by the appropriate parties.
Most states require two witnesses to be present when you sign the will. If your heirs and beneficiaries later contest the will in court, one or both of these witnesses may be called to describe your state of mind during the will's execution.
If you have a complex estate or own a business, it's advisable to hire an attorney to help you create a will. An attorney's knowledge and expertise can ensure the will is valid, meets specific state requirements, and clearly expresses your wishes.
There are a few things to know before you start:
Use your full name, even if you have a nickname. Your nickname can be in parentheses.
When you decide who you want to be your will's executor, talk to them first.
Think of at least one alternate executor in case your primary is unable or unwilling to serve at the time of your death.
Put together a list of the assets you want to be noted in the will.
Decide if there are specific assets you want to leave to particular beneficiaries.
Put together a list of the names of your beneficiaries and your relationships with them. Decide to whom assets pass if a beneficiary dies before you.
There is no expiration date on a will. 


Can a Will Be Changed?
Yes, you can change or revoke your will any time before death.
If you want to make minor changes to your will, you can write a codicil. A codicil is a modification of the will. One or more paragraphs may be revoked or amended, leaving the rest of the document intact. The codicil must be signed under the same circumstances as the original will.
If you want to revoke your will entirely, you have a few options. The most common way is to write a new one and declare in it that all prior wills are revoked. Example of wording: "I, Maria Smith of Hennepin County, Minnesota, declare this to be my last will, hereby revoking all former wills and codicils."
In some states, certain circumstances force the revocation of a will. These circumstances can include the following:
Marriage
Divorce
Annulment
The birth of a child
Don't assume that your state will automatically revoke your will if one of these life events happens to you. Check your state laws and update yours as needed.
What Should Be Included in a Will?
Every will needs to include explicit language stating it's yours. Something even as simple as "This is my will" is adequate.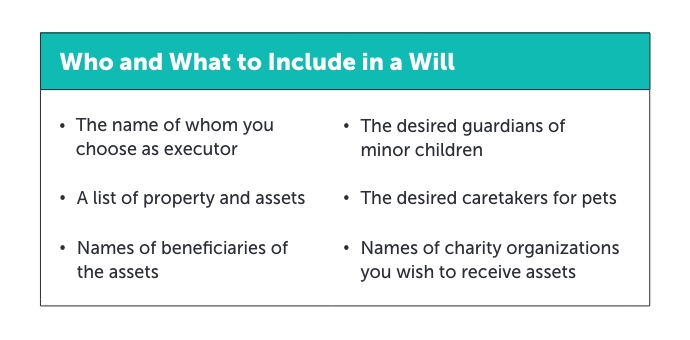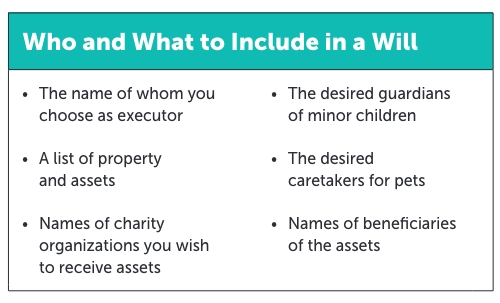 A will allows you to state your precise wishes. People often include the following in their will:
The name of whom they choose as executor
The desired guardians of minor children
The desired caretakers for pets
A list of property and assets
Names of beneficiaries of the assets
Names of charity organizations they wish to receive assets
What Isn't Included in a Will?
Living in a community-property state can affect how wills are recognized.
Life insurance policies also trump a will.
For example, if you pass away and your will states you want your life insurance payout to go to your daughter, but your life insurance policy states your ex-spouse is your beneficiary, the payout will be going to your ex-spouse. This is just one example of why reviewing your financial portfolio annually, and with every big life event is so important.
Other items a will doesn't cover are:
Retirement assets
Assets owned as joint tenants with rights of survivorship
Investment accounts designed to "transfer on death."
Because a will only goes into effect once you're already dead, it's not the best place to state your end-of-life wishes, such as donor status or life-saving measures. This is where your power of attorney and living will documents are critical.
Did you know that life insurance can play a significant role in estate planning? Learn what you need to know about life insurance and estate planning. 
Explore Quotacy's Blog for More Finance and Insurance Advice
The two primary purposes of having a will are:
Stating your wishes
Making your death easier for your family.
Your loved ones don't need to wonder what you may have wanted if you have a valid will.
Life insurance also helps make your death easier for your loved ones. Life insurance proceeds pass to your beneficiaries tax-free and avoid probate, unlike the assets passed through a will.
Learn more about how life insurance works in our blog.