Looking to protect your family over the long haul from financial insecurity? Term life insurance is a great, affordable option to give you and your family peace of mind. Unlike managing a stock portfolio, you don't have to keep rebalancing your fund positions to accomplish your financial goals with life insurance. Let's talk spring cleaning for life insurance.
Still, an affordable term life policy is not a set it and forget it product either.
Everyone can benefit from checking to see if they have the best life insurance rates from time to time. That's one reason why you should give your financial life, including your term life insurance plan, a spring cleaning this year.
Reason 1: Finding the Best Life Insurance Rates Means Saving Money
Spring cleaning often means decluttering to make space for what's current in your life.
Term life quotes that you found last year might not represent the best insurance rates available to you now. Start your life insurance spring cleaning by checking to see if you have the best life insurance rates for the coverage that you need.
Quotacy's free term life insurance quoting tool allows you to compare accurate quotes from leading insurance companies in seconds. You won't need to give us any personal contact information to view your rates. If you see a policy that interests you, apply online in five minutes.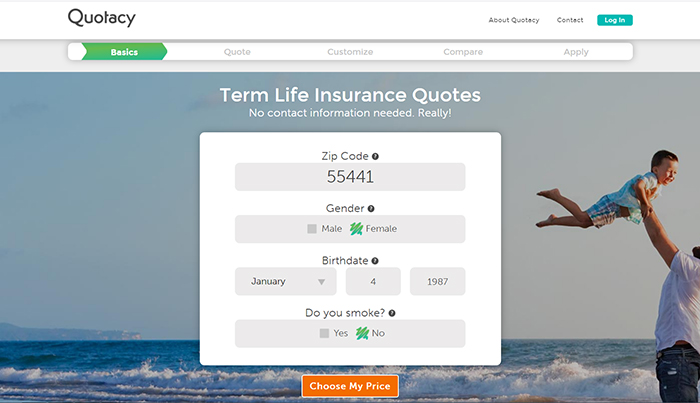 Reason 2: Life Changes
Nothing in family life remains static. Has your life evolved since you got your current term life policy? If yes, it's time to reevaluate your coverage:
Did you buy a house or second home? Will your current policy cover payments for the duration of your mortgage(s)?
Do you need to change beneficiaries after your marriage or birth of a child?
Did you start a business? Should you add additional coverage to protect your family's financial resources if you pass away before your new venture becomes profitable or pays down its debt?
Will your children attend college soon? If something were to unexpectedly happen to you, would your policy cover college tuition and expenses—even if it takes longer than four years to graduate?
Use Quotacy's free life insurance needs calculator to play with how much coverage you may need now or in the future. After you've determined how much life insurance you need, click through to see your best insurance rates and the right policy to protect your loved ones as your life changes over time.
See what you'd pay for life insurance
Comparison shop prices on custom coverage amounts from the nation's top carriers with Quotacy.
Reason 3: Spring Cleaning Is a Great Time to Get Your Financial Life Organized
What's buried beneath your clutter?
I just completed a comprehensive review of my financial life. I wasn't really anticipating digging into my files, but I had to do it due to a life change that required me to go treasure hunting. Amidst my financial files, I discovered a term life insurance policy that I had purchased in my 30s. It's two years away from the 20-year term expiring. So, I am glad that I found it before my option to convert expires as well.
Where are your original life insurance policies?
It's important to know where the physical copies of your life insurance policies are. Like me, you might want to check if your policies are active (in force) and make a plan now regarding whether you need to covert your term life insurance policy to a whole life insurance policy.
You might just consider buying a new term life insurance policy that fits your budget and age.
Make sure that your beloveds are covered one way or another and that they know where your insurance policy documents are stored. It is much easier to file a claim for a death benefit, if you don't have to hunt for the policy details when you are grieving.
Who are your policy beneficiaries?
Although you're required to have a primary beneficiary to get a policy, it's a good idea to have a contingent (or secondary) beneficiary (or beneficiaries).
For example, your spouse may be listed as the primary beneficiary and your adult child (or another loved one) would be named as the contingent beneficiary. The contingent beneficiary receives the death benefit if the primary beneficiary dies.
You can also designate a final beneficiary. If you and your second beneficiary die, the final beneficiary receives the death benefit and it does not revert back to the estate.
What is the death benefit of your policies?
You should be aware of the aggregate amount of the death benefits your loved ones will receive if you have more than one policy. An accurate account of how much they will receive as time goes on is critical. If you realize that your coverage isn't enough to meet your current needs, then you'll want to find the best insurance rates for the amount of coverage that you want when your terms end, or you decide to cancel.
What happens if your policy no longer fits your needs?
We recommend that you make sure to have new coverage in place before you cancel your current term life policy. You can't afford to leave your family unprotected while you look for the best insurance rates.
If you are thinking about canceling your policy, consider the potential changes in your health status.
» Calculate: Life insurance needs calculator
If you have experienced significant changes in your health since you purchased your life insurance, you may now be in a different risk class, and may face higher premiums if you cancel your policy.
Before you make the decision to cancel a policy, we recommend consulting with one of our insurance agents about your options. They work on salary, not commission. So, their job at Quotacy is to purely serve your needs and to help you inform yourself of your choices related to life insurance.
Assessing your insurance needs, researching life insurance companies, and finding the best insurance rates isn't something you have to do alone. Quotacy will guide you every step of the way toward the perfect life insurance policy for your needs.