The pay gap isn't the only gender-influenced financial gap. Just 47% of women have life insurance, compared to 58% of men. That's a notable difference.
But many women realize this disparity isn't good: 32% of those with no life insurance say they need coverage, and 11% of those with coverage admit they need more.
Did you know that women, on average, pay less than men do for the same life insurance policy? Ladies, take advantage of this! Get yourselves insured to protect your family.
The Cost of Life Insurance for Women
Women pay less for life insurance than men because women statistically outlive men. Life insurance companies base their premium amounts on the mortality risk of an individual. And because the mortality risk for women is lower overall, their premiums are also lower.
Consider the table below. For the exact same life insurance policy, women pay a significant amount less each year than men.
Annual Premium for a $250,000 20-Year Term Life Insurance Policy
Age
Female
Male
30
$130.94
$148.24
40
$180.00
$207.49
50
$372.40
$457.59
60
$881.47
$1,410.47
70
$4,092.52
$4,788.64
When looking to buy life insurance, women will benefit by comparison shopping for the best rate. Or apply through Quotacy and we'll do it for you.
Comparison shopping life insurance companies will benefit women because of the way each company underwrites medical conditions differently. To better explain, one insurance company may offer Standard risk class to an applicant while another may be willing to offer Preferred to that same applicant. The first insurance company just happens to be stricter with a risk factor specific to that applicant.
The risk class you're offered from the insurance company is what determines the rate you pay. Consider the table below. You can see the annual premium cost rise based on what risk class the woman receives.
Annual Premium for a $250,000 20-Year Term Life Insurance Policy Based on Risk Class
Preferred Plus
$130.94
Preferred
$154.82
Standard Plus
$194.49
Standard
$212.32
See what you'd pay for life insurance
Comparison shop prices on custom coverage amounts from the nation's top carriers with Quotacy.
The following diseases are more prevalent in women:
Alzheimer's disease
Autoimmune diseases
Breast cancer
Cardiovascular disease
Chronic pain
Depression
Diseases of the lung
Gastroenterological problems
Lupus
Migraine headache
Mood disorders
Multiple sclerosis
Rheumatoid arthritis
Each of these diagnoses can impact your life insurance rates depending on the severity of the condition. The silver lining is that Quotacy can help you find the insurance company that will be most lenient with your specific risk factors.
Depression, for example, is one of the most common medical conditions we see in our customers' applications. And getting a policy from the right life insurance company can save you hundreds of dollars each year.
Another customer we often save money for is a pregnant woman. Many insurance companies will only accept a pregnant woman's current weight when they underwrite (evaluate) an application.
As you can imagine, the current weight of a pregnant woman is not her average weight. If you're pregnant, Quotacy will help make sure you are paired with an insurance company that will consider weight history versus only current weight.
As an independent life insurance broker, we have contracts with multiple life insurance companies and offer you a myriad of policy options.
You don't need to know the ins and outs of each life insurance company. You don't need to individually apply to each one to find the best offer. We do this for you behind the scenes.
When Women Need Life Insurance
Do any of the following situations apply to you? If so, you need to consider buying life insurance.
1) You're a mom
Parents have the biggest reason for life insurance: their children. If you die, what happens to your kids?
With two-parent households, the surviving parent will be solely responsible to provide for your children. Financially, how difficult will this be? Life insurance can ensure surviving parents will be able to focus on supporting their children emotionally without needing to worry as much about the financial aspect.
For single-parent households, you may be the only one supporting your children financially. What happens to them if you die prematurely? Family members may be willing to step in, but can they afford taking care of your children long-term without your income to help?
For stay-at-home moms who may not provide a physical paycheck, the countless hours you spend providing for your children are worth more than one can imagine. If your family lost you, it would be a great emotional and financial tragedy. Life insurance would mean the surviving parent could afford child care, extra help if needed, and be able to continue to pay the mortgage so you would not have to uproot your children.
» Learn more: Life Insurance for Parents
2) You're a new bride
A young, newlywed couple often has mortgage or rent payments added on top of student loans. Without your income, would your spouse be able to cover these expenses?
Term life insurance can fit into most budgets—including that of newlyweds. See for yourself what a term life insurance policy may cost you by getting free quotes. No need to enter any contact information to see actual quotes.
3) You're supporting aging parents
An estimated 60 million families in the U.S. are caring for an aging or disabled person, and at least 80-90% of caregivers are women. With people living longer every year, the costs of caring for an aging parent have risen. If you die, who will be able to provide for these loved ones you support?
» Learn more: Financial Concerns of Women
4) You're a senior woman
You may want to consider life insurance to cover the costs of a funeral, medical bills, or estate taxes so it's not a burden to your surviving loved ones.
Financial security does not rest on the husband or father alone. Women not only need to think about their financial futures, but they need to do something about it too.
Take a moment to think about those who depend on you, and what would happen if you were no longer around to provide. Quotacy can help you determine your life insurance needs and help find an affordable policy for you.
Applying for Life Insurance
Through our website, you can easily get free life insurance quotes and compare policies without even giving away any contact information.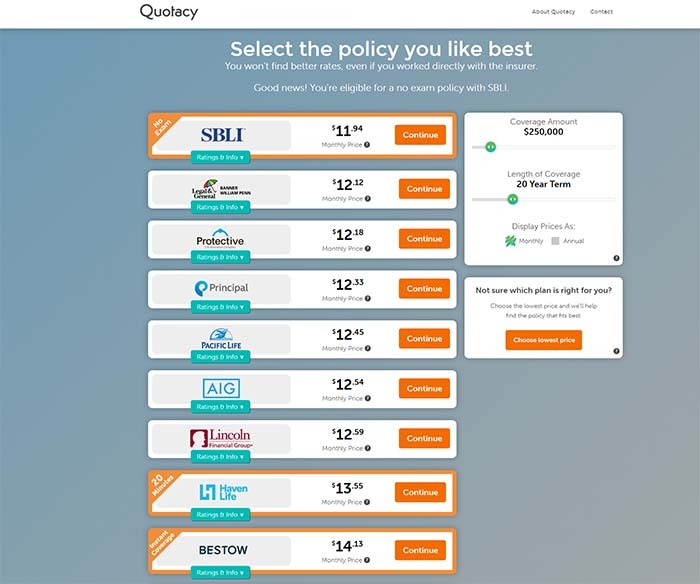 No need to worry about which policy to choose from as you're going through the process. Because we double-check that you're matched with the right company before we officially submit your application, we typically suggest just choosing the least expensive option. Hit the "Ratings and Info" tab if you want more information about each policy offering.
After you submit your online application, your agent reviews it before sending it off to your chosen insurance company. If your agent doesn't see any risk factors that may impact your rate, he or she moves it right along. If they do see something that may require a second look, they'll contact you to let you know.
Ultimately, it's your decision as to which life insurance company you want to apply to. Your agent is simply there to provide advice and answer any questions you may have during the process.
Our agents work on salary, not commission. They will advocate for what's best for you.
Each year, studies show that women are taking a larger and larger role in family finances. Make sure to include life insurance on your to-do list.
Term life insurance is affordable financial protection for your loved ones. Whether you work outside the home as an earner or you're a stay-at-home parent, you need to have life insurance.
If you were to suddenly die, how would your family get on without you? Life insurance can't replace you. But it can provide a death benefit to help with the financial impact your death will create.
Note: Life insurance quotes used in this article accurate as of June 29, 2021. These are only estimates and your life insurance costs may be higher or lower.