Most of the time, buying a life insurance policy is voluntary. You purchase it to financially protect loved ones from your unexpected death. But sometimes the court may order you to buy a life insurance policy.
During divorce settlements, buying a new life insurance policy or maintaining a current one may be a requirement. This is referred to as court-ordered life insurance.
When is court-ordered life insurance required?
During a divorce settlement, if one party is required to pay alimony (a.k.a. spousal support) or child support to the other, life insurance requirements often accompany these obligations. A life insurance policy ensures that the ex-spouse still receives financial support even if the payor dies.
Divorce agreement provisions will typically include the amount of life insurance that is required. How long the policy should last or be maintained depends on why it's required: child support or alimony?
For child support, it's typically required that an ex-spouse maintain life insurance until all children reach age of majority (18 or 21 depending on your state).
For alimony, coverage should last as long as alimony payments are required. Alimony laws vary by state.
Who owns a court-ordered life insurance policy?
Ownership of the policy can be you, your ex-spouse, or a third-party.
If you and your ex-spouse have a great working relationship, then there may be no issue with either you or your ex owning the policy. But this isn't always the case. In bitter situations, a policyowner may stop paying premiums or may change the beneficiary without notifying the ex-spouse, leaving them with no financial safety net.
A court may enforce that the policyowner/payor name the ex-spouse as an irrevocable beneficiary, however. Being listed as irrevocable means the policyowner cannot make changes to the life insurance policy without the beneficiary's authorization.
A third-party owner, such as a custodian or trust, is a great option for court-ordered life insurance. This way, no unwelcome changes can be made to the policy. However, there are added costs of maintaining a trust.
See what you'd pay for life insurance
Comparison shop prices on custom coverage amounts from the nation's top carriers with Quotacy.
Who is the beneficiary of court-ordered life insurance?
In alimony cases, the ex-spouse receiving alimony is typically the beneficiary of the life insurance policy. A court may also name them the owner of the policy, with the ex-spouse who pays alimony being the insured and payor (party responsible for paying the policy premiums).
In child support cases, the ex-spouse is often the beneficiary. However, in cases which the paying parent doesn't trust the ex-spouse to use the death benefit to support their children, a third party can be named instead.
A designated custodian, such as a trusted friend or family member, can ensure the life insurance proceeds are used appropriately for your children's best interest. The Uniform Transfers to Minors Act (UTMA) allows for proceeds left to a minor to be maintained by a custodian until the minor reaches the age of majority.
Another third-party option is a trust. This means that a trustee you choose is responsible for using the funds to pay for the child's needs until they reach that age of majority. You also have the option to list specific instructions for the trustee, such as distributing life insurance proceeds periodically versus leaving a lump sum to an 18-year-old. And naming a trust as the beneficiary allows you to avoid probate, meaning that the funds will be available to the child immediately without added court fees.
It's not recommended that a child be named beneficiary of a life insurance policy. If they are a minor when the parent dies, the death benefit gets tied up in the court system while a legal guardian is appointed to manage the funds.
Getting Court-Ordered Life Insurance
The court will give you a deadline in which you have to prove that you've purchased life insurance.
"I have a few months until I need to show the court I have coverage."
Even if you have awhile before your deadline arrives, start the buying process months in advance. The life insurance application approval process from start to finish isn't always necessarily quick.
Life insurance underwriting is when the insurance company reviews your application and background to confirm you're insurable, and determine your final price. This process can take quite some time if you have a lot of factors they need to review.
Medical records typically take the longest to receive and review. So, if you've been to a few different doctors or specialists, prepare to wait a few months until your life insurance policy is active.
"I need to show the court I have coverage A.S.A.P.!"
Quotacy works with multiple life insurance companies to help provide you coverage. A few of the carriers we work with actually offer instant coverage. If you're short on time and your deadline is quickly approaching, choose one of these options when you're online applying. These types of plans are typically more expensive than fully underwritten policies, however.
When you go through our quoting tool, if you're eligible to apply for these policies, they will appear on the final policy selection page.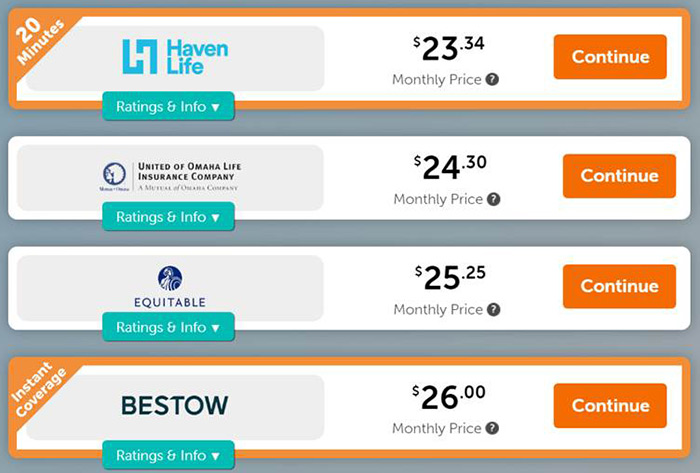 Court requirements for life insurance have a set start and end date. When your obligation end date approaches, it doesn't mean you need to cancel the life insurance policy.
If the court-ordered life insurance was due to child support, you can still keep the policy active for the benefit of your children, even if they are legal adults. If the beneficiary of the policy is your ex-spouse, you're free to now change it.
If the court-ordered life insurance was due to alimony responsibilities, you can change the beneficiary once your obligation has been fulfilled. You can even update to beneficiary to your new significant other, if you have one. If you're single, a friend or family member works, too.
Need to fulfill that court-ordered life insurance obligation? We can help. Start by getting term life insurance quotes now.
Note: Life insurance quotes used in this article accurate as of April 26, 2021. These are only estimates and your life insurance costs may be higher or lower.
Watch the Court-Ordered Life Insurance Video