What type of life insurance should I buy to cover my funeral costs? We answer this question in today's episode of Quotacy's Q&A Friday by explaining different types of permanent life insurance, including final expense insurance.
Video Transcript
Welcome to Quotacy's Q&A Friday where we answer your life insurance questions. Quotacy is an online life insurance agency where you can get life insurance on your terms.
I'm Jeanna and I'm Natasha.
Today's question is: if I want to buy life insurance to cover my funeral costs. What should I buy?

Well, Quotacy mainly sales term life insurance. Term is ideal for most families because it's affordable and designed to last during your family's most financially vulnerable years. However, term life insurance doesn't last forever.
If you are looking for life insurance coverage that will last guaranteed until the day you die you need to consider looking into permanent life insurance. There are a lot of options to consider when thinking about permanent life insurance.
Ask yourself these three questions to narrow your options down:
How healthy am I?
How much money do I want to leave behind?
And how high of premiums am I comfortable paying?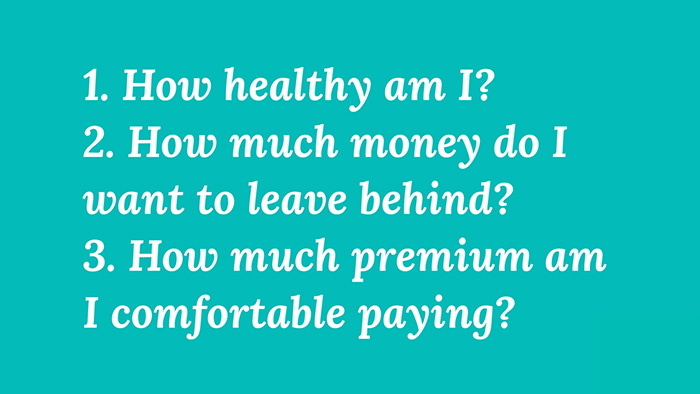 If you are healthy or mostly healthy, you should look into a fully underwritten permanent life insurance policy. Both whole life insurance and guaranteed universal life insurance have guarantees in place to make sure the insurance company will pay out a death benefit as long as you have been paying your premiums. And with traditional permanent policies you can get anywhere between $50,000 in coverage all the way up to millions of dollars in coverage. But because they last your entire life and often generate a cash value, they're much more expensive than your typical term life insurance policy.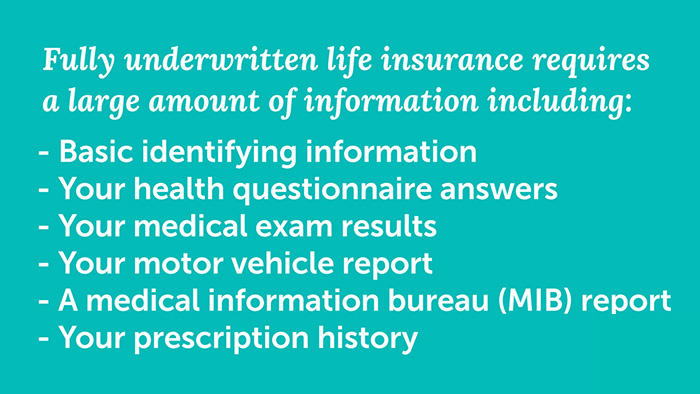 If you are healthy or mostly healthy, you should look into a fully underwritten permanent life insurance policy.
Ready to get your life insurance quote?
You're a few minutes away from great life insurance
How much life insurance do you need?
Figure out your action plan with our needs calculator
However, if you aren't in the greatest health, or maybe your budget doesn't allow for a larger permanent life insurance policy, you can look into guaranteed whole life insurance also known as final expense life insurance.
Guaranteed whole life insurance means that you are guaranteed to be approved. No matter your health, you can get coverage and there are no medical questionnaires or exams.
Guaranteed whole life insurance also features fixed premiums. This means you pay the exact same amount each month and the premiums will never increase. Because it's a type of whole life insurance and lasts your entire life, if you buy it at age 50 and keep up with your premium payments it will remain active until the day you die.
» Compare: Guaranteed whole life insurance quotes
And with this type of life insurance the face amounts are pretty small often between $2,000 and $15,000 just enough money for your family to pay for your funeral and end-of-life expenses.
We should also note that guaranteed whole life insurance has what's called a graded death benefit. And this means that if you die within the first two years of buying your life insurance policy your beneficiaries will only receive the total amount of premiums you've paid in plus a little interest, not the entire death benefit. The exception to this, however, is if you die by accident.
For example, if you bought your guaranteed whole life insurance policy on August 1st and died in a car crash on August 5th the insurance company will still pay your beneficiaries the full death benefit. After two full years, your beneficiaries will receive the full death benefit no matter the cause of death.
We are often asked by adult children if their elderly parents can still get life insurance and this is when guaranteed whole life insurance may be a pretty good option.
Guaranteed whole life insurance is more expensive than traditional life insurance because you're paying for the convenience of guaranteed acceptance without your health coming into play. If you're interested in guaranteed whole life insurance, you can actually go right on Quotacy's website and get a quote to instantly see pricing.
If you have questions about life insurance make sure to leave us a comment. And if you have any questions regarding today's topic, check out this blog: What Is Final Expense Life Insurance? Otherwise, tune in next week when we talk about what a life insurance medical exam is. Bye!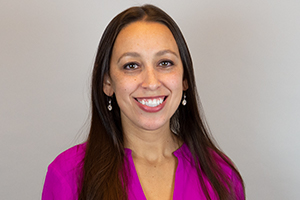 Natasha Cornelius
Writer, Editor, and Co-host of Quotacy's Q&A Fridays
Natasha is the content manager and editor for Quotacy. She has been in the life insurance industry since 2010 and has been making life insurance easier to understand with her writing since 2014. When not at work, she's probably studying and working toward her Chartered Life Underwriter (CLU) designation while throwing a tennis ball for her pitbull mix, Emmett, or curled up on her couch watching Netflix. If it's football season, the Packers game will be on. Connect with her on LinkedIn.