It's common to hear about "Burial Insurance," but that's actually not a real name for a type of coverage. It's industry shorthand that describes a small whole life insurance policy that is designed to take care of funeral costs for the person being covered.
A typical burial insurance policy is a whole life plan that covers a person's life for anywhere from $10,000 to $25,000. Because it's a whole life plan, it doesn't expire as long as the policy's owner continues paying the premium. This means that the policy's face amount is practically guaranteed as long as the policy is in place, paid in full, and there are no loans taken on the policy.
Quotacy mainly sells term life insurance, but we also have experts in whole life insurance on staff. When our clients ask for advice on burial insurance, we typically advise them to look into these four excellent policies.
A typical burial insurance policy is a whole life plan that covers a person's life for anywhere from $10,000 to $25,000. Because it's a whole life plan, it doesn't expire as long as the policy's owner continues paying the premium.
Ready to get your life insurance quote?
You're a few minutes away from great life insurance
How much life insurance do you need?
Figure out your action plan with our needs calculator
Gerber Guaranteed Issue Life: $5K-$25K
Guaranteed Issue, No Exam, Graded
While most people know Gerber Life Insurance for their insurance policies for children, but they also offer excellent life insurance policies for adults. Gerber's guaranteed issue policy is a whole life plan for people between 50 and 80 years old, and as the name suggests, you're guaranteed to be approved.
Additionally, Gerber's policies offer coverage in $1000 increments, so you can build a policy that offers the perfect amount of coverage.
However, it contains a Graded Death Benefit for the first two years – this means that if death occurs within the first two years of policy ownership, your beneficiaries will receive your accumulated premium payments and 10% interest instead of the face amount of your policy.
If you don't mind paying a little bit more for convenience, flexibility, and guaranteed coverage in your burial insurance policy, this plan might be right for you.
MassMutual Whole Life: $25K
Dividend Paying, Fully Underwritten
A Mass Mutual Whole Life plan is our go-to recommendation for people who want a whole life burial policy that will increase in value over time. Essentially, as the money you pay in premiums grows through MassMutual's investments, your death benefit will also increase.
This is great for people who want to buy a burial insurance policy early, because your early investment will create a stronger safety net as it grows. For example, over the course of 30 years, your $25K policy could grow to provide a death benefit of over $50K.
Nationwide Whole Life: $10K-$25K
Fully Underwritten, Great Rider Selection, Non-Dividend Paying
A Nationwide Whole Life policy is perfect for people who want solid burial coverage that offers many options for modification. However, its cash value will not grow substantially over time.
Nationwide Whole Life policies allow you to customize your coverage by adding Riders, which let you tack on additional features to your policy. Here are a few standouts:
Additional insurance that covers any children under 22,
The option to receive your payout early in order to pay for end-of-life medical costs, and
The ability to protect your policy in case you're injured, and are unable to make premium payments for up to six months.
North American Guarantee Universal Life: $25K
Universal Life
North American's Universal Life policy doesn't accrue value or offer dividends to their owners, which means that you don't have much opportunity to increase your policy's death benefit. However, it does offer great flexibility in terms of payments.
Basically, this Universal Life policy allows you to change your premium payments based on how much you've already put into the plan. This means that you could theoretically pay a little extra each month to start building credit, which could allow you to reduce or even skip a few payments in the future.
The payment flexibility you have available with a North American Universal Life policy varies depending on the face amount and its cash value, so you should talk to an insurance agent to understand exactly how flexible your policy can be.
If you'd like to pursue a burial insurance policy, we can point you in the right direction. Simply get in touch with Quotacy and we'll connect you with our whole life insurance expert. Whether your ideal policy is term or permanent, we can help answer your questions and get you covered.
Photo Credit to Tom Adamson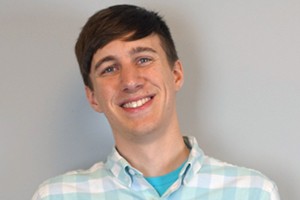 Eric Lindholm
Communications Coordinator
Eric moved from sales to communications at Quotacy. His writing is informed by his experience guiding hundreds of people through their own life insurance buying journey. Eric lives in Minneapolis, where his coworkers are trying to convince him to start his own podcast, do stand-up, or take his humor into the spotlight. Connect with him on LinkedIn.