Life insurance's main purpose is to financially protect your family. No matter what your coverage needs may calculate out to be—buy what you can afford.
A little life insurance is better than no life insurance. The worst thing that could happen is that you purchase a policy you cannot afford to keep active, let it terminate, and then need it.
Just keep that in mind as we continue talking about how much life insurance coverage you need.
How much term life insurance do I need? Quickly calculate it for me, please.
If you're asking how much life insurance coverage you need, our free life insurance needs calculator can help. Answer a few questions and our calculator will suggest a life insurance coverage amount. If you don't know the answer to the question or it doesn't apply to you, simply enter $0.
If you currently have life insurance coverage that you plan on keeping, enter the total amount of insurance. If you plan on terminating current coverage or if it's set to expire soon, leave this amount at $0.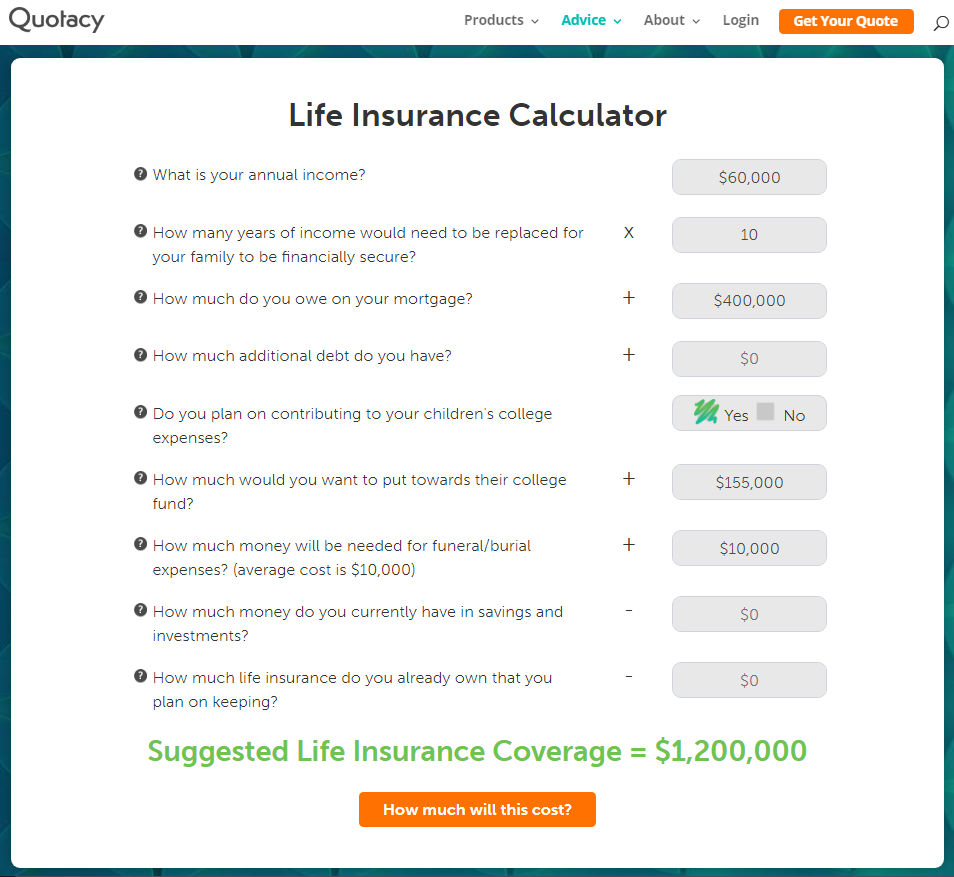 After you're comfortable with a suggested coverage amount, you can head right into our policy quoting tool to see an estimate of how much that life insurance policy will cost. Running term life insurance quotes is free and you can run as many quotes as you wish without disclosing any personal contact information.
So, how much will your life insurance cost? The answer to that million dollar question might surprise you! It's most likely much less than you think. And, there's no price you can put on having peace of mind that your loved ones would be taken care of should the unspeakable happen to you.
Life insurance is one of the most important purchases you can make for your loved ones, and it's understandable that you might worry about choosing the right amount. Quotacy can help. Check out our life insurance calculator and you'll have a better understanding about how much life insurance coverage you should own.
Ready to test drive our life insurance needs calculator? Great! Jump right in:
» Calculate: Life insurance needs calculator
Or, continue reading to get the full scoop on calculating how much life insurance coverage you need below.
How much term life insurance do I need? I want to read the full story and calculate it myself.
Term life insurance is the most affordable and straight-forward type of life insurance. It provides coverage at a fixed rate of payments for a specific period of time. The typical terms are coverage lengths of 10, 20, or 30 years, whichever makes the most sense for your individual situation. If you die within the term, your beneficiaries receive the death benefit amount to help replace your income.
Life insurance is designed to replace the income of the person who is insured.  We recommend having enough coverage that amounts to at least 10 years' worth of your income.
Ready to get your life insurance quote?
You're a few minutes away from great life insurance
How much life insurance do you need?
Figure out your action plan with our needs calculator
What is your current annual income?
This question refers to you alone, not the total household income. If you're a stay-at-home parent, consider the cost to replace your child care and other domestic services annually. The annual cost to replace a stay-at-home parent's contribution to a family averages $145,000 across the U.S.
How many years of income would need to be replaced?
Essentially, how many years do you believe it would take your family to be financially back on their feet if you died today? Most advisors recommend you start at 10 times your annual income, so 10 years is the calculator's default answer, but you can adjust this.
How much do you owe on your mortgage?
Paying off your mortgage is essential in planning for the unexpected. By knowing how much you owe on your mortgage, you can include this in your coverage amount as well so you do not leave your spouse or partner with the responsibility of paying off the balance by him or herself.
Do you plan on contributing to your children's college expenses?
If you plan on paying your children's college tuition, these amounts should be factored into your life insurance coverage. Whether the colleges you had in mind were public or private also makes a difference when calculating coverage. 
The average tuition prices in the U.S. for 2018-2019 per student:
Public two-year $3660 per year
Public four-year in-state $10,230 per year
Public four-year out-of-state $26,290 per year
Private four-year $35,830 per year
Education costs rise each year, so you'll just have to estimate. Be sure to multiply the amount by each child you have, as well. If your children will be responsible for their own college costs through student loans or scholarships, you can skip thinking through this question.
How much do you currently have in savings?
Your cash savings, retirement plans, bank accounts, etc. can help reduce the amount of life insurance your loved ones will need to maintain their current standard of living. Any savings and investments funds that would be left to your life insurance policy beneficiaries can be subtracted from the coverage needs.
Similarly, if you already own life insurance, perhaps through work or a separate individual policy, and plan on keeping this coverage, this amount can also be subtracted from your overall current life insurance needs.
When you run a term life insurance quote at Quotacy, you don't need to give up any contact information to see pricing. Windowshop in peace without having to worry about filling out a contact form and getting non-stop sales calls.
Quotacy agents are not paid on commission. We work to get the policy that is best for you, not the one that costs the most. More than 40 percent of Americans have no life insurance. Let us help you not be part of these statistics.
» Learn more: How Long Should Term Insurance Last?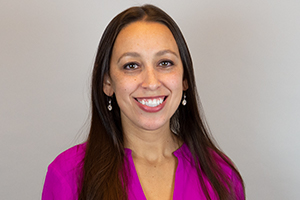 Natasha Cornelius
Marketing Content Manager
Natasha is a writer and content editor at Quotacy. She is also co-host of Quotacy's YouTube series. She can't get enough of life insurance and outside of work is also working toward her Chartered Life Underwriter designation. Connect with her on LinkedIn.