Estate planning is a financial strategy that prepares an individual to pass on his or her wealth and possessions to loved ones or next of kin. Most people have assets they want to pass upon their death. An estate plan is not just for the rich or elderly.
A well-designed estate plan can help you:
Minimize or eliminate estate taxes
Provide for orderly family business succession
Plan for incapacity
Avoid probate and probate fees
Promote a charitable cause
Minimize family discord
Arrange for the guardianship of your minor children
Preserve wealth throughout generations
Protect assets from creditors, divorces, and lawsuits
Provide for loved ones with special needs while preserving eligibility for government sponsored programs
Promote your values throughout generations
» Calculate: Life insurance needs calculator
Did you know life insurance has estate planning benefits? Let's review a few aspects.
Estate Planning and Taxes
Upon death, some estates will need to pay federal, state, estate and/or inheritance taxes depending on the size of the estate and where you live.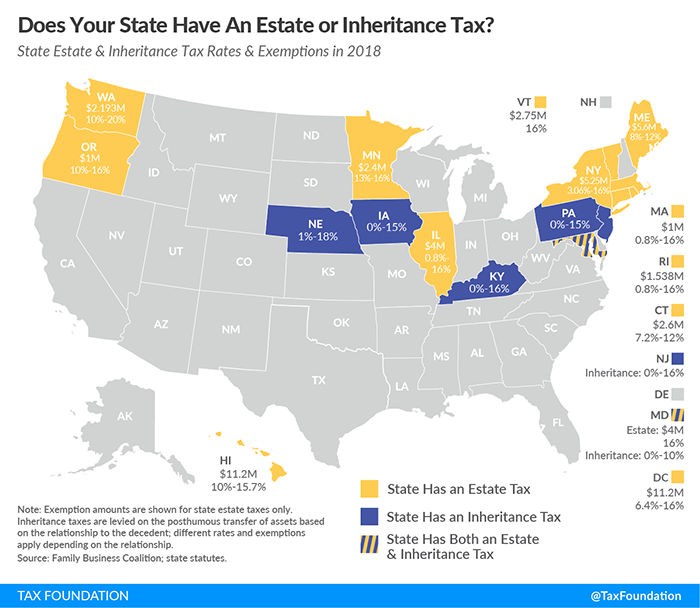 Only a small percentage of Americans have to pay a federal estate tax because of the high exemption dollar amount. Currently in 2022, the federal estate tax exemption amount is $12.06 million per individual.
It is possible that an estate that is too small to generate federal estate taxes may nonetheless trigger state estate or inheritance taxes. A state estate tax is a separate tax imposed by some states on all property owed at death.
Which States Have Estate Taxes?
State
Exclusion Amount
Top Tax Rate
Connecticut
$2.6 million
12%
District of Columbia
$11.2 million
16%
Hawaii
$11.2 million
15.7%
Illinois
$4 million
16%
Maine
$5.6 million
12%
Maryland
$4 million
16%
Massachusetts
$1 million
16%
Minnesota
$2.4 million
16%
New York
$5.25 million
16%
Oregon
$1 million
16%
Rhode Island
$1.538 million
16%
Vermont
$2.75 million
16%
Washington
$2.193 million
20%
A state inheritance tax is another additional tax imposed in some states. This tax is placed upon those inheriting assets and is based on the beneficiary's relationship to you and the amount they are to receive. The state estate and inheritance tax exemption amounts are generally less than federal.
Which States Have Inheritance Taxes?
State
Top Tax Rate
Iowa
15%
Kentucky
16%
Maryland
10%
Nebraska
18%
New Jersey
16%
Pennsylvania
15%
Life insurance can be very tax efficient.
For example, if you own a home worth $500,000 this is part of your taxable estate. If you own a $500,000 life insurance policy on yourself, this is also included in your taxable estate; however, if you transfer ownership to someone else then you can exclude it from your estate. Or just have someone else own it from the start.
Spouses and adult children owning life insurance on their spouse/parent is a common way to avoid additional estate taxes. Correct ownership of life insurance is extremely important.
See what you'd pay for life insurance
Comparison shop prices on custom coverage amounts from the nation's top carriers with Quotacy.
Estate Planning: Probate
Probate is the court-supervised process that is designed to sort out the transfer of a person's property at death. The overall cost of probate will vary according to state law and will generally depend on how large the estate is. The more you own, the more you'll owe.
Some probate fees include:
Appraisal fees
Accounting fees
Legal fees
Personal representative fees
Life insurance offers tax benefits as well as typically not being subject to probate administration.
Using Life Insurance to Pay for Estate Taxes and Other Costs
After a person dies, certain taxes and other costs must be paid in cash within a short period following the date of death. These taxes and costs will deplete the amount left for your heirs and may include such expenses as:
Federal and state estate taxes
Funeral expenses
Expenses of the decedent's last illness
Debts of the decedent
Executor's fees
Attorney's fees
Court costs
Appraiser's fees
Costs of insuring estate property
In addition, if an estate is short of cash, the executor may be forced to sell estate assets at a loss in value, which results in a reduction in the wealth that can be transferred.
An estate strategy not only provides for the disposition of an individual's assets, but also makes certain the executor will have the cash on hand to pay estate obligations, and to avoid the forced sale of estate assets at a loss in value.
» Compare: Term life insurance quotes
Using life insurance to meet cash needs and to avoid estate reduction provides several advantages because of the unique nature of life insurance:
The death proceeds are available immediately when needed.
The death proceeds are usually received free of federal income tax.
The policy can be arranged so as to avoid probate costs.
Liquidation of estate assets, perhaps at sacrifice prices, can be avoided.
Borrowing the cash at interest is also avoided, including paying the federal estate tax in installments.
The policy will return more in death proceeds than was paid in premiums, allowing estate costs to be funded at a discount.
For individuals whose estates will be subject to federal estate tax, the life insurance can be arranged so as to avoid inclusion in the gross estate.
Estate Planning Things to Consider
When it comes to estate planning, here are a few things you should consider:
Do you have current legal documents, including a will, medical and financial powers of attorney, advanced healthcare directives, and, if needed, a family trust or guardians for minor children? Have you written a letter of instruction, including your burial wishes?
Do your beneficiary designations on your life insurance, annuities, employer-sponsored retirement plans, and IRAs reflect your wishes?
Do you have children, parents, or other family members or dependents with special needs?
Have you thought about your legacy including a charity, educational institution, or other nonprofit organization at your death?
Have you taken any action to reduce the amount of estate taxes that may be due at death?
If you will have an estate tax liability, have you arranged your life insurance so that the proceeds will be excluded from your estate to minimize federal and state estate taxes at death?
To ensure your wishes are carried out you need an estate plan. If you haven't considered these questions before and haven't taken steps to plan for bequeathing your assets you may need to work with an estate planning attorney. To learn more about affordable life insurance and get free quotes, head over to our term life insurance page.