Disability insurance protects you and your family financially if you cannot work due to an accident or illness. This type of insurance offers two options: short-term or long-term disability.
Both pay out a portion of your monthly earnings while you can't work. The main difference between short- and long-term disability insurance is how long these benefits last. In this guide, you'll learn why disability insurance is important and which type you need.
Table of Contents
What Is Disability Insurance?
Everyone needs to earn an income to pay for living expenses. If you become disabled and need to take time off work, missing those paychecks may quickly impact your standard of living.
You will feel the effects of lost income even faster if you have dependents. Disability insurance provides a safety net.
It pays a portion of your income during your policy's benefit period for as long as you are disabled, according to the policy's details. Once you're back in good health, the benefits end.
Consider these disability statistics from Kiplinger:
1 in 8 workers will be disabled for 5 years or more.
50% of Americans would be unable to meet expenses after just one month without a paycheck.
90% of disabilities are caused by illness, not accidents.
If you suddenly couldn't work due to a disability, how long could you last without negative financial impact?
Long-Term vs Short-Term Disability
The differences between long-term and short-term disability revolve around their elimination and benefit periods. Each type of insurance has its place. Let's dig further into their differences.
What Is Long-Term Disability Insurance?
Long-term disability insurance protects your income for an extended period. It's helpful, especially for severe medical conditions that may take a while to recover from.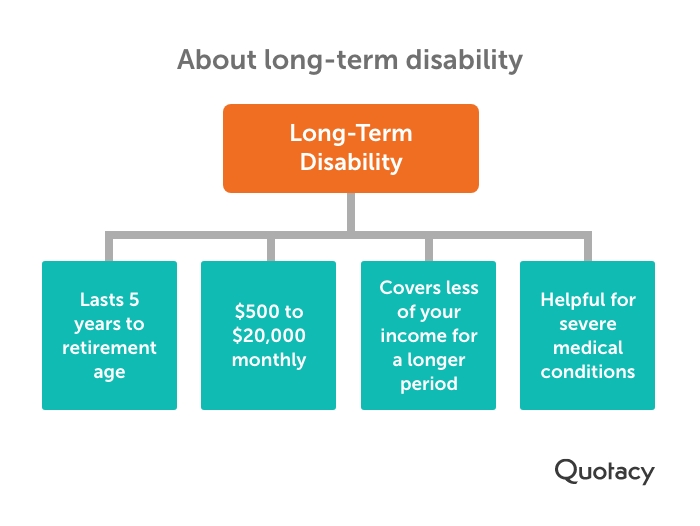 Common disabilities that can trigger long-term disability insurance benefits:
Cancer
Stroke
Mental illness
Arthritis
While recovering, your insurance pays you money to help you cover regular monthly bills, like your mortgage, car payment, credit cards, groceries, and other expenses. If you return to work but can't do the same job because of your disability, you may still receive monthly benefits.
What Is Short-Term Disability Insurance?
Short-term disability insurance pays you a steady income if you're out of work temporarily due to an accident or illness, e.g., 3-6 months.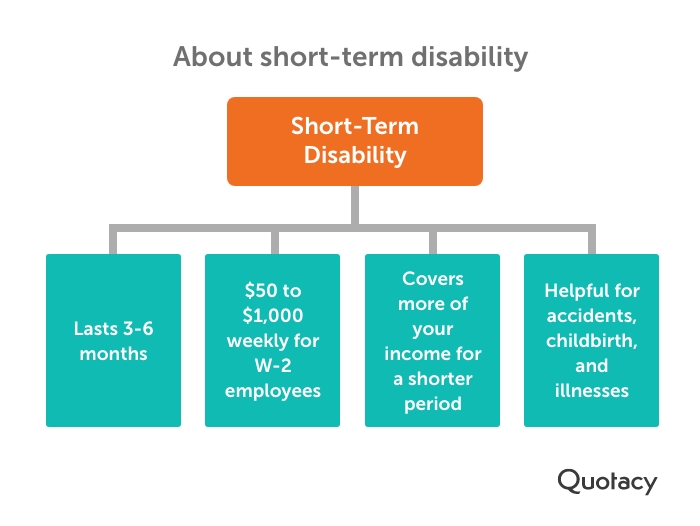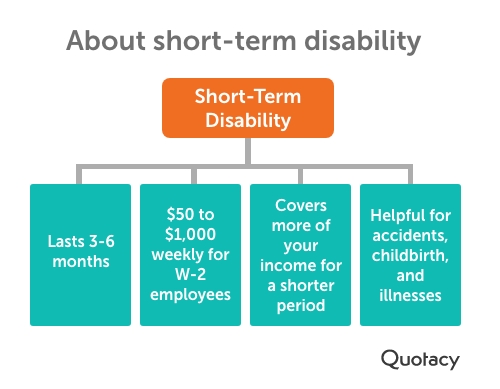 Common disabilities that can trigger short-term disability insurance benefits:
Injuries from a car accident
Surgery recovery time
Childbirth
Long COVID
Coverage Differences Between Short-Term and Long-Term Disability Insurance
Short-term disability insurance helps when you're currently unable to work but will be able to return soon. Long-term disability insurance is helpful if you'll be out of work for a long time or even permanently.
Their features make each type of disability insurance suited for different circumstances. Let's review the various aspects of each.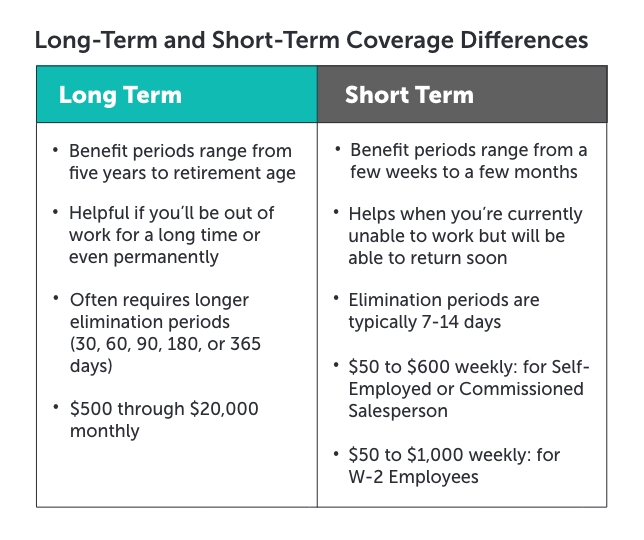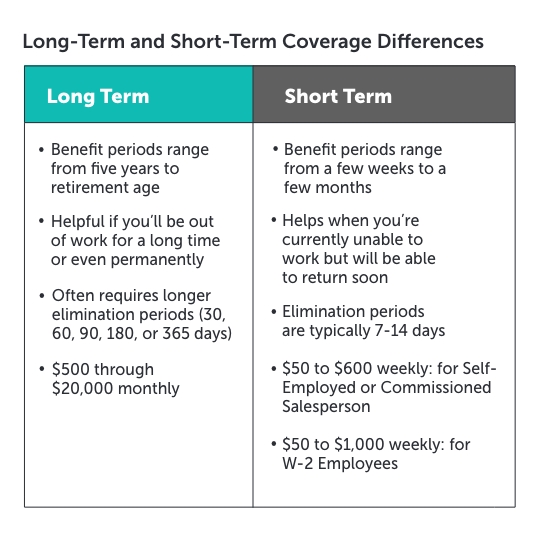 Benefit Period
A benefit period is the maximum timeframe that benefits are payable due to a qualifying disability.
For short-term disability insurance, benefit periods range from a few weeks to a few months. Long-term disability insurance benefit periods range from five years to retirement age.
You choose which to buy. The longer the benefit period, the higher the cost of coverage.
Elimination Period
An elimination period is a waiting period before benefits begin. It's the number of days you must be disabled, according to the policy, before you're eligible for benefits.
Long-term disability insurance often requires longer elimination periods than short-term. Short-term disability elimination periods are typically 7-14 days, while long-term disability insurance plans usually offer elimination periods of 30, 60, 90, 180, or 365 days.
You choose which elimination period option to buy. The shorter the elimination period, the higher the coverage cost.
Coverage Level
The coverage levels, also known as the benefit amounts, are the income you receive while eligible for benefits.
Your coverage level options are based on your salary. Short-term disability insurance usually insures a more significant percentage of your income but for a shorter time. Long-term disability insurance usually covers less of your income for a longer period.
Sample coverage level options:
Short-term:
$50 to $600 weekly: for Self-Employed or Commissioned Salesperson
$50 to $1,000 weekly: for W-2 Employees
Long-term:
$500 through $20,000 monthly
Both types of insurance require you to meet the status of total disability before the elimination period begins. An illness or injury is considered a total disability if it prevents you from performing your job's primary duties.
How Disability Insurance Works:
Step 1: You suffer an illness or injury. Your condition doesn't allow you to perform your duties at work, and you're considered disabled according to your insurance policy provisions.
Step 2: You submit your claim to the disability insurance company.
Step 3: After the elimination period, you start receiving benefits. You'll receive them until your benefits period is over, or you're not considered disabled, whichever comes first.
Long-Term and Short-Term Disability Cost
Applicant: 35-year-old male who doesn't smoke and works in an office making $75,000 annually.
| | | |
| --- | --- | --- |
| Product: | Short-Term DI | Long-Term DI |
| Benefit Period | 26 weeks | 10 years |
| Elimination Period | 14 days | 90 days |
| Benefit Amount | $870 per week | $3,720 per month |
| Monthly Cost | $45.85 | $55.68 |
There are also add-on benefits called riders that you can purchase to enhance your base disability insurance. No riders are included in the example quotes.
Common disability insurance riders include: 
Automatic benefit increase rider – if you've been receiving disability benefits for one year, this optional rider increases your base benefit amount by a certain percentage every year that you continue to receive benefits.
Guaranteed insurability rider – this optional rider lets you increase your base benefit amount without providing evidence of insurability.
Residual disability benefit rider – with this optional rider, you'll receive benefits if you meet a residual disability diagnosis rather than being required to meet the stricter total disability diagnosis. It helps make ends meet if you end up being able to work only part-time.
Social insurance offset benefit rider – this optional rider reduces your policy's premiums and benefits if you receive Social Security disability benefits. This ensures you're never over-insured and paying more than you need to.
Family care rider – this optional rider pays out benefits if you're on family medical leave.
A rider will typically add $5-10 to your monthly premium, except for the social insurance offset benefit rider, which would decrease your premium.
See what you'd pay for life insurance
Comparison shop prices on custom coverage amounts from the nation's top carriers with Quotacy.
Do I Need Short-Term and Long-Term Disability Insurance?
The ideal scenario would be to own both short-term and long-term disability insurance. Since short-term typically has a much shorter waiting period, you could structure your policies, so you receive short-term benefits first. Once that benefit period is over, your long-term coverage kicks in.
If you can only choose one, a long-term disability insurance policy is your best option. As long as you have savings and an emergency fund, you can rely on these accounts to keep you afloat until your long-term coverage benefits start.
Your employer may even offer free short-term disability insurance as part of your benefits package. Reading through your benefits plan provisions or contacting Human Resources directly is worth it.
Learn more about why disability insurance is important for workers.
Whether you're a retail manager or a high-rise window washer, it's important to have income protection like disability insurance. Anyone can experience a serious accident or illness at any time.
Disability insurance is a type of insurance you hope you don't need to use. It protects against some of the what-ifs in life. You can't buy disability insurance after you become disabled. Be sure to plan ahead.
Visit our blog for more expert advice about disability insurance and life insurance.
Note: Life insurance quotes used in this article are accurate as of November 16, 2022. These are only estimates and your life insurance costs may be higher or lower.