The power of positivity has an amazing impact on your life. It helps you become more optimistic, which allows you to make every moment of life more enjoyable. Being optimistic doesn't just make life better, it also lowers your risk of fatal causes of death. Here's a look at how to have a positive mindset.
These include:
Heart diseases and stroke
Various forms of cancers
Respiratory diseases
Infections
There are several other proven benefits of being a positive thinker and having a positive mindset, including higher energy levels, longer life span, lower depression rates, and better psychological and physical health. They're also good at stress management and coping skills.
Taking care of your well-being and pushing your mindset into the positive mindset is incredibly worthwhile now and in the future. Let's take a closer look at all the different ways in which you can train your brain to think and remain positive.
Express your gratitude at least once a day. It will bring you comfort and happiness. 
Want to see what you'd pay for life insurance?
Compare the best prices from the names you know and trust, all in one place with no commitments.

Take the well-being quiz
Ask yourself if you're a positive thinker. If you're not sure or if you don't know how to measure it, don't worry, this well-being quiz can help. The quiz not only lets you know how positive you are but also helps you improve your happiness and well-being.
List of positive words
Psychologists claim that you can keep your mind lifted with the use of positive words. Memorize as many words as you can. Use them frequently. Make them more accessible and more connected. You can then activate them easily in your brain.
Strengthen positive information
Once you've created strong neural networks of positive words in your brain, you may now try to strengthen these networks. Use positive information in new ways. You can do a positive memory recall exercise to strengthen the networks.
Focus on good things
Focus on the good things in life during challenging times. If you happen to be dealing with problems or situations that are less than ideal, try to find the silver lining in every cloud, even if it's not readily visible.
Practice gratitude
Practicing gratitude, according to various studies, fosters resilience and improves self-esteem. Express your gratitude at least once a day. It will bring you comfort and happiness. Many who practice this tend to do it before they get out of bed, which helps start your day on a positive note.
Begin each day on a positive note
As mentioned above, starting your day by acknowledging what you're grateful for can not only bring you comfort and happiness, it can also boost your mood and give you the motivation you need to take on the day. Let this be a ritual.
Here are some ideas:
Begin your day with any positive affirmation.
Listen to a motivational speech or an uplifting song.
Share positivity by giving compliments or doing something nice.
Maintain a gratitude journal
Your sense of well-being and happiness improves remarkably when you write down what you're grateful for. Writing in the journal every day can help you remember the people, places and things you appreciate most. Keeping this top of mind can especially be helpful during hard times.
Find your negative areas
Take an unbiased look at the different aspects of your life to find the areas where you tend to be negative. If you're not sure, don't be afraid to ask for help from a family member, friend or co-worker.
They might offer you some insight. If you have a significant other, they could help you find your negative habits. Your co-worker might note some negative aspects of your personality at the workplace. You don't need to address them all at once. Take one trait at a time.
Positive self-talk
Do you tend to be your own worst critic? Are you the hardest on yourself? If so, now is the time to kick that habit. Over time, the negative self-talk resulting in negative self-opinion can be hard to get over.
Be mindful of the voice in your head and respond with positive messages. For instance, say "I'll try it again" instead of "I messed it up." A small shift in the way you do self-talk influences your ability to control your thoughts, feelings, and behaviors.
Be in the company of positive people
A positive mindset is as contagious as negativity. The time you spend with people influence you. That's not difficult to note. You may have experienced a situation where someone with a bad attitude "killed the vibe" and brought down the mood of everyone around them.
On the opposite side of the spectrum, those with a positive mindset can influence and uplift the mood, which is why you should surround yourself with positive people. Keeping positive company has been shown to help you attain your goals, improve your self-esteem, and see the brighter side of everything.
Open up to humor
They say laughter is the best medicine for a reason. The age-old saying has been proven to work. Laughter can lower depression, anxiety, and stress. It helps you enhance your self-esteem, mood, and coping skills.
It helps to handle difficult situations when you remain open to humor. Laughter instantly lightens your mood. You will probably find yourself less stressed and better equipped to handle things that seem difficult. Even pretending to laugh can lower stress and improve your mood.
A better life starts now
As you begin transforming your mindset, you may be surprised at how your problems begin to be solved naturally. Meanwhile, continue to build a positive atmosphere around you. Creating this can lift your mood and empower you to handle the challenges of life.
At Quotacy, we understand the importance of your well-being and the impact it can have on your ability to provide a positive way of life for your family. This is why life insurance is so important. Having the right policy in place will give you the peace of mind knowing your family's future is secure.
Ready to see what you'd pay for life insurance? Start with a free quote today.
Not sure how much life insurance you need? Check out our free life insurance needs calculator.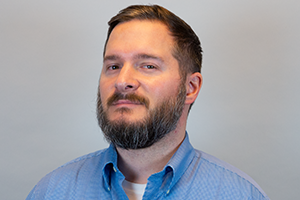 Greg Lewerer
Director of Creative Strategy
Greg is Quotacy's Director of Creative Strategy. He has an eclectic past from working on movie scripts to creating ad campaigns for major brands. His love of creative solutions drove him to strategy, and he now uses his powers to help families protect their loved ones. Outside of work, Greg spends his time off the grid hunting, fishing, camping, biking, hiking, and walking his dogs.