If you're a guy, and you think like me, you'd probably prefer to never go to a doctor for the rest of your life. You might have an urge to shrug off cuts and bruises, or to ignore a problem until you're sure that it's not going to go away. There have definitely been quite a few days where I should have called in sick instead of coming in to work.
Unfortunately, the stereotype about men not asking for help seems to hold true for a lot of people.
A few years ago, for example, my father fell from a ladder on a construction site and gashed open his wrist – badly. He didn't go to the hospital, obviously. Why would he? He was on a deadline. But he didn't even go to the job supervisor to grab a first aid kit. He just got back up, tore a strip off of a sweaty t-shirt to stop the bleeding, bound it up with electrical tape, and kept working.
He was at the job site for seven hours after that. When my mother saw his bound-up wrist that night, she practically had to force him into the car to go to the emergency room. Years later, he's still recovering from the damage it caused, and his forearm is scarred almost to the elbow because the wound wasn't tended to quickly.
For some reason, it seems like men have a natural urge to ignore health problems, and unfortunately, that translates to an increased mortality rate when compared to women. Our stereotypical stubbornness in the face of physical, mental, and social issues means that, on average, men go to the doctor less, seek psychiatric help less, and are even less willing to talk with their families about any problems they're facing.
Because of that, from June 12-18 this year, people and businesses around the world will be observing Men's Health Week – seven days dedicated to providing information, awareness, and support for men and boys in an effort to end the stigma against asking for help.
For some reason, it seems like men have a natural urge to ignore health problems, and unfortunately, that translates to an increased mortality rate when compared to women.
Ready to get your life insurance quote?
You're a few minutes away from great life insurance
How much life insurance do you need?
Figure out your action plan with our needs calculator
What Is Men's Health Week?
Every year, Men's Health Week is celebrated during the seven days leading up to Father's day. Organizations around the world take this time to offer courses, information, and resources for fathers, husbands and single men looking to get a better handle on their unique health issues. Even legislators have had a history of using the event to consider new laws and regulations to help men get the care and assistance that they need.
Men's Health Week touches on almost any health problem you can think of, but it focuses primarily on issues that affect men more frequently, like prostate cancer, undiagnosed mental disorders like anxiety, and workplace accidents in traditionally-male environments like construction – anything to help offset the trend of men living sicker and dying younger.
The official website for Men's Health Week (and for men's health month, by the way) is an amazing resource for information about ways to deal with health and wellness issues for men of any age. It also includes personal challenges you can set for yourself in order to combat health issues in a productive, forward-facing way.
Finally, it offers suggestions for businesses and organizations looking to help raise money for men's health awareness, including materials for planning a mini health fair, mobilizing your office to give, and encouraging your friends to speak openly about health problems to end the stigma against asking for help.
How to Participate
You can participate in Men's Health Week by encouraging the men in your life to talk openly about physical and mental health issues, and to seek help before the problem becomes more than they can manage. Additionally, the Friday before Father's Day every year is always "wear blue day" in honor of the celebration.
You can also help out by getting up and active with others in your life to promote cardiovascular and nutritional health with outdoor sports, group trips to the gym, community picnics or barbecues – anything you can do to get people outside, active, and eating healthy.
If you'd like to do a little extra to spread the word, you can start a men's health fundraiser or ask local politicians and community leaders to spread information about Men's Health Week in your area, and to potentially get your city council to pass a resolution regarding the event.
But the be-all end-all point of Men's Health Week is to encourage men across the country to be more proactive when seeking medical help. Even if that just means having a conversation with your father, brother, husband, son, or friend about how they're doing, sometimes that can be all it takes to lead them to getting help for an issue that's been nagging at them.
You never know, it might save their life.
Photo Credit to: Eleni Papaloannou
Related Posts:
Colorectal Cancer Affects More People Than You May Think
The Importance of Life Insurance for Dads
Can Post-Traumatic Stress Disorder Affect Buying Life Insurance?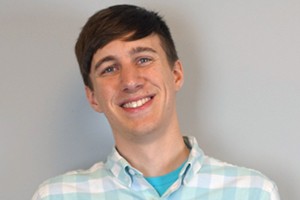 Eric Lindholm
Communications Coordinator
Eric started in Quotacy's sales department, but moved to marketing after helping hundreds of people through their life insurance buying journey. Aside from writing about buying life insurance, he also edits Quotacy's monthly newsletter, runs our YouTube channel and produces Real Life, our podcast. Eric lives in Minneapolis, where his coworkers are trying to convince him to take his humor into the spotlight. Connect with him on LinkedIn.