The short answer: Probably.
However, if there is one thing you can be certain about in the life insurance world, it's that there is no such thing as a "one-size-fits-all" solution.  Each insurance policy is as unique as its policyholder, and determining a person's level of coverage is dependent on multiple factors such as age, height and weight, gender, hobbies, and health.  Combine all these factors, and you will get your term life insurance quote.
So, why does a confirmed case of the Zika virus make people question their eligibility for term life insurance policies?  It's because, despite the endless efforts of the CDC, WHO, and researchers around the world, there are numerous unanswered questions about the virus.
Here Are Some Things We Know About Zika
What Causes Zika?
The primary propagator of the Zika virus is the mosquito.  Mosquitos that spread the virus are Aedes aegypti and Aedes albopictus, which are the same mosquitos that spread dengue and chikungunya viruses.  Historically, Zika has been a disease contained in Asia and Africa.  However, it has reached a global epidemic status after appearing in the Western Hemisphere in 2015.
While mosquitos often spread Zika, the virus can be transmitted in multiple ways, including:
From mother to child
Having sex with someone who has the virus
Receiving blood transfusions from someone with the disease (None reported in the United States, currently)
Laboratory exposure
What Are the Short- and Long-Term Effects of Zika?
The first – and most important – thing to take note of is that Zika virus can affect both men and women of any age.  That being said, the range of symptoms are varied and include everything from fevers and aches all the way to causing permanent damage to a person's nervous system.  There is no rapid test to confirm or diagnose Zika before symptoms occur, but a blood or urine test after the virus runs its course will confirm the presence of Zika.  Currently, it is unknown if the disease can lay dormant and affect people later in their lives.
The Short-Term Effects
For most adults, the Zika virus is usually present for only 4-10 days, and it's estimated that about one in five adults infected with the virus will be symptomatic.  According to the CDC, symptoms include headaches, rash, and joint and muscle aches.
Fortunately, there is an extremely low mortality rate for adults with Zika.
If you think you have/had Zika and you are sexually active, it's important to take extra precautions to prevent infecting your partner.  The table below from the CDC has suggested time frames for women trying to get pregnant, however, it is unknown how long it will take for symptoms to appear or how long the virus stays in your system.

The Long-Term Effects
While there is no proven link between Zika virus and Guillain-Barré syndrome, there does seem to be a correlation between the two.  The CDC is currently researching the relationship (or lack there of) between the two conditions.

Guillain-Barré syndrome is a condition in which the body's immune system attacks part of the peripheral nervous system.  Symptoms include prickling or numbness in your extremities, difficulty breathing, unsteady walking or inability to climb stairs, unexplained weakness, and more.

It is presumed that women who recover from the infection build immunity, so no harm can come to a new baby.  Again, this is a supposition and has yet to be officially confirmed.
So, why does a confirmed case of the Zika virus make people question their eligibility for term life insurance policies? It's because, despite the endless efforts of the CDC, WHO, and researchers around the world, there are numerous unanswered questions about the virus.
Ready to get your life insurance quote?
You're a few minutes away from great life insurance
How much life insurance do you need?
Figure out your action plan with our needs calculator
So, What If I Get the Zika Virus?
At this point, there's just a one in five chance of experiencing symptoms, with even less of a chance that the virus would cause something as severe as Guillan-Barré syndrome.  If you do have a confirmed case of Zika, you should try to prevent spreading the virus further:
Use contraceptives for at least 90 days to avoid transmission
Wait about 8 weeks before trying to get pregnant
Wear protective clothing and use bug spray while outside for at least one week after your symptoms go away to prevent other mosquitos from carrying the virus
What If My Child Is Born With Zika?
If a pregnant (or soon-to-be pregnant) woman contracts Zika virus, there is an increased chance of her child being infected by the Zika.  Remember that just one in five people with the virus show symptoms, so even if a pregnant woman never shows symptoms, she could still be a carrier.
If an unborn child is infected with Zika, there is a possibility that he or she will have microcephaly (the condition of having a smaller than average sized head, which prevents the brain from growing and/or forming properly) or other birth defects like vision and hearing defects and impaired growth.
Sadly, microcephaly and neurological defects often lead to premature deaths in newborns and infants.  No cure has been found for such conditions, and health officials estimate that it would cost more than $10 million to care for each child born with Zika- related birth defects.  This high mortality risk often results in changes to insurance policies, specifically for insurance riders.  A rider is a term used for any additional benefits or options you can add to your policy, such as a spouse or child.
The Impact on Life Insurance Riders
The riders that Zika may affect include child riders, critical illness riders, and disability riders.
Child Rider – Pregnant women who are applying for insurance with a child rider will be considered for coverage, but the life insurance carrier may eliminate coverage for any unborn children or deny the child rider if there has been travel to Zika virus areas with the mother admitting to having flu-like symptoms or a confirmed case of Zika recently.
Critical Illness Rider – If the insured has a policy that includes a critical illness rider, they may be able to make a claim if Zika causes Guillain-Barre syndrome, as long as the syndrome is included as one of the illnesses covered.
Disability Rider – If the insured has a policy that includes a disability rider, they may be able to make a claim if Zika causes Guillain-Barre syndrome and the insured does not recover well. The syndrome can cause an individual's nervous system to function improperly and they then may become dependent upon others for help with routine daily activities.
How Will Zika Affect My Insurance Policy?
If you already own life insurance and are diagnosed with the Zika virus…
Nothing will change.  You will still have full coverage.  The life insurance carrier will not terminate your policy because you got sick, no matter how critical.  This is the point of having life insurance – planning for the what-ifs in life.  If something happens to you, like being diagnosed with a terminal illness, your life insurance policy will provide your family with a death benefit.
If you are applying for a life insurance policy and are currently diagnosed with Zika…
A life insurance company will (typically) wait until after you have recovered before offering you coverage.  Because the Zika virus has flu-like symptoms and typically doesn't last very long, it is unlikely for someone to even mention that they have Zika on their application.
If you are applying to have your child be insured and your child is currently diagnosed…
It is likely the carrier will take the same steps and wait for recovery.  If your child was born with the virus, however, the carrier may wait to offer coverage until the child is at least 15 years old to determine if any side effects occur.
According to Karsten Filzmaier, the Head of Medical Research & Consulting at Munich Re Life, the simplest explanation of Zika-related insurance coverage is this:
"In the case of some Critical Illness Products, newborns are automatically insured in the context of their parents' insurance policy.  Congenital malformations of a child are sometimes also covered by these policies.  Depending on the terms and conditions of these products, an increase in newborns with microcephaly could lead to an increase in claims.  According to the current level of knowledge, the effect on life insurance appears to be manageable."
The "Answer"
For now, there isn't enough information available to specifically dictate a definitive "Yes" or "No" answer for whether or not you can get term life insurance if you have Zika virus.  Due to the short-term effects of Zika on adults, it's more than likely that you and/or your partner will be able to get life insurance; the bigger question is if your children will receive coverage.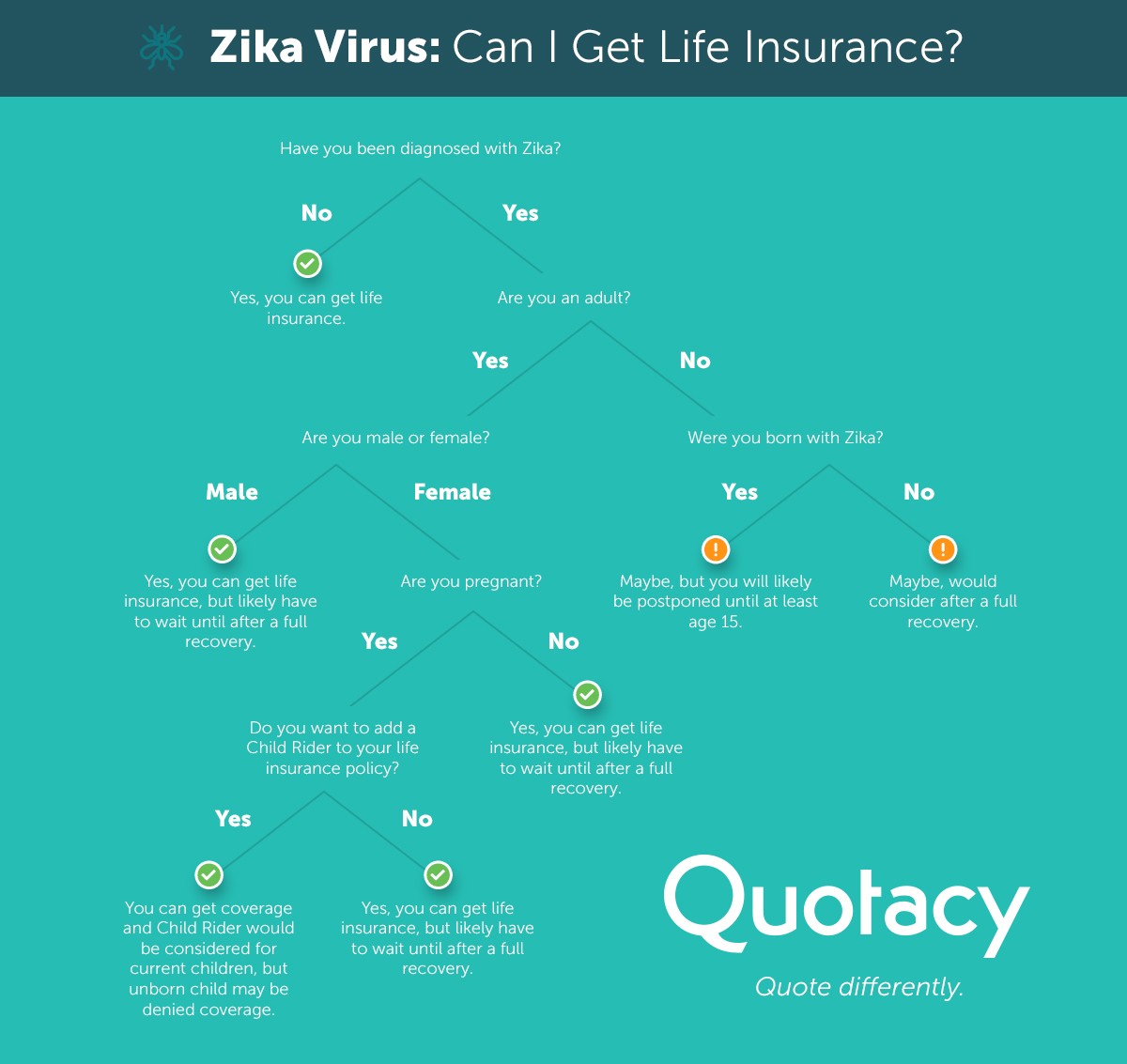 Photo credit to: Tom
Related Posts:
Buying Life Insurance on Your Children
Life Insurance Coverage for Children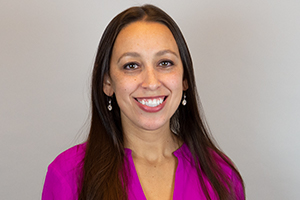 Natasha Cornelius, CLU
Senior Editor and Life Insurance Expert
Natasha Cornelius, CLU, is a writer, editor, and life insurance researcher for Quotacy.com where her goal is to make life insurance more transparent and easier to understand. She has been in the life insurance industry since 2010 and has been writing about life insurance since 2014. Natasha earned her Chartered Life Underwriter designation in 2022. She is also co-host of Quotacy's YouTube series. Connect with her on LinkedIn.