Updated October 9, 2018
October is Breast Cancer Awareness Month. While most people are aware of breast cancer, many forget to take the steps to have a plan to detect the disease in its early stages and encourage others to do the same.
The Breast Cancer Organization notes that one in eight women will be diagnosed with breast cancer in her lifetime. Also noted is that in 2018, it is estimated that among U.S. women there will be 40,920 breast cancer deaths. The fact that women are still very much underinsured is worrisome.
A study by Genworth Financial shows a great need for life insurance among women:
49% of childless married women have no life insurance
43% of married mothers have no life insurance
59% of unmarried mothers have no life insurance
Breast cancer is the most common cancer among women worldwide, and the second-most common cancer overall. The possibility of health issues occurring is one reason why you should not wait to buy life insurance. If you have anyone who depends on you, buy life insurance sooner rather than later. You never know what life may bring and the older you are, the higher your premium costs; also, health issues can cause premiums to be higher too and in some cases may even deem you uninsurable for traditional life insurance.
» Compare: Term life insurance quotes
How do I get life insurance with a history of breast cancer?
If you are currently going through treatment for breast cancer, you will not be approved for traditional life insurance. Take a look at our blog post about guaranteed issue life insurance as this product may be an option for you.
If you are in remission, traditional life insurance is an option. Work with a broker, like Quotacy, for your best chances at getting affordable coverage. Brokers are not tied to one life insurance company and are able to shop the market. Here at Quotacy we can take your online application, review it, and advise you on which life insurance company will be most lenient with your history of breast cancer.
We have worked with many clients diagnosed with breast cancer and our agents are here to assist you every step of the way. We want you to get approved and will work hard to help you get coverage. Start the process by getting a free term life insurance quote.
Breast Cancer Case Studies
Applicant #1 – Jane Doe is a 60-year old female with the following breast cancer history:
Diagnosis at age 58.
Low grade, estrogen receptor positive.
Tumor size is 1.1 mm and node negative.
Jane can receive a Non-Smoker Plus rating with no postponement.
Applicant #2 – Sally Johnson is a 47-year old female with the following breast cancer history:
Diagnosed at age 40.
Treatment ended at 42.
Tumor size is 1.5 cm and 1 node positive.
Sally is offered a Table B rating with temporary flat extra of $10.00 per thousand for 6 years, after postponement of 5 years from end of treatment.
What this means: This life insurance company does not want to decline Sally, but they would prefer to wait until 5 years after treatment has ended to insure her. They estimate that when she re-applies at that time, this is what they would offer her.
Because Sally is rated Table B, her premiums will be 50% more than the Standard rate. She will need to pay an extra $10 per every thousand of life insurance coverage she purchases for 6 years, then starting in the 7th year the flat extra drops off.
The American Cancer Society has noted that when breast cancer is detected early, and is in the localized stage, the 5-year relative survival rate is 100%.
Ready to get your life insurance quote?
You're a few minutes away from great life insurance
How much life insurance do you need?
Figure out your action plan with our needs calculator
Underwriting Breast Cancer
When you apply for life insurance, the life insurance company evaluates your application to determine how much risk you are to insure. This process is called underwriting.
If you are currently in treatment for cancer, you cannot get traditional life insurance. Successfully treated cancer, however, is a different study. When it comes to underwriting applicants who have a history of breast cancer, there are four main factors needed for risk assessment:
Age of diagnosis
Stage
Nodal involvement
Size of tumor
The underwriters will carefully review pathology reports and staging information, treatments that were given, any possible adverse effects related to treatment, and your follow up appointments.
Life insurance companies follow different guidelines when it comes to underwriting. Sometimes a company may post-pone an application and wait until a certain number of years have passed since the cancer was treated. Other times a company may add on a flat extra for a certain number of years. Simply put, a flat extra is padding for a life insurance company when there is a risk involved that doesn't quite meet their regular rating system.
If you apply for life insurance through Quotacy, your agent will shop your application if we can find you a better life insurance rate. We do this at no extra cost to you. This greatly increases your odds of obtaining affordable pricing, compared to working through an insurance agent that represents only one company or has incentives such as benefits or trips when working with a certain carrier.
» Learn more: Quotacy Shops Your Case—What Does That Mean?
Early Detection Plan
The American Cancer Society has noted that when breast cancer is detected early, and is in the localized stage, the 5-year relative survival rate is 100%. You can't get better news than that. This is why it is essential to take the steps needed to detect breast cancer.
Starting at the age of 20, having yearly clinical breast exams is important. Every year starting at age 40, all women should have a yearly mammogram. Self-exams at home can be done at any time and immediately consult your doctor if you have any concerns. The National Breast Cancer Foundation has a great website called Early Detection Plan where you can get lots of helpful information and create your own plan.
If you are thinking about getting life insurance, don't put it off. The sooner you are covered, the better for you and your loved ones. Don't put off creating a breast cancer detection plan either. No one likes to think about cancer or death, but having a plan is essential.
If you are looking for support, the American Cancer Society offers free programs and services to help people with cancer and their loved ones understand cancer, manage their lives through treatment and recovery, and find the emotional support they need. Visit this site to find out more: American Cancer Society Support Programs and Services.
» Calculate: Life insurance needs calculator
Photo credit to: Melissa Askew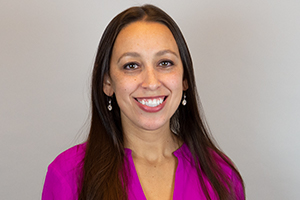 Natasha Cornelius
Writer, Editor, and Co-Host of Quotacy's Q&A Friday YouTube Series
Natasha writes and edits content and is co-host of Quotacy's YouTube series. She is also working toward her Chartered Life Underwriter (CLU) designation. When not working or studying, you'll find her throwing a tennis ball for her pitbull mix, Emmett, or curled up on her couch watching Netflix. If it's football season, the Packers game will be on.