Quotacy is an independent life insurance broker—this means we represent many life insurance companies—not just one. This access to the products of multiple top life insurance companies allows us to find you the best policy for your unique situation.
The life insurance industry is very competitive. Different insurance companies may decide to cater to certain health or lifestyle niches based on their experience with the particular risk. Marijuana use, imperfect driving records, asthma, depression, rock climbing, and citizenship are just a handful of common factors Quotacy agents often shop around for on behalf of our clients.
Life insurance companies determine an applicant's premium amount based on their risk factors. And because not all companies evaluate factors the same way, your premiums may differ depending on the insurance company you apply to.
A broker has access to multiple life insurance companies. If you're only working with one life insurance company, you may miss out on a better price since your application wasn't shopped. When you apply through Quotacy, you will be offered quite a few different insurance company options and different rates when choosing a policy.
» Learn more: What's a Life Insurance Broker?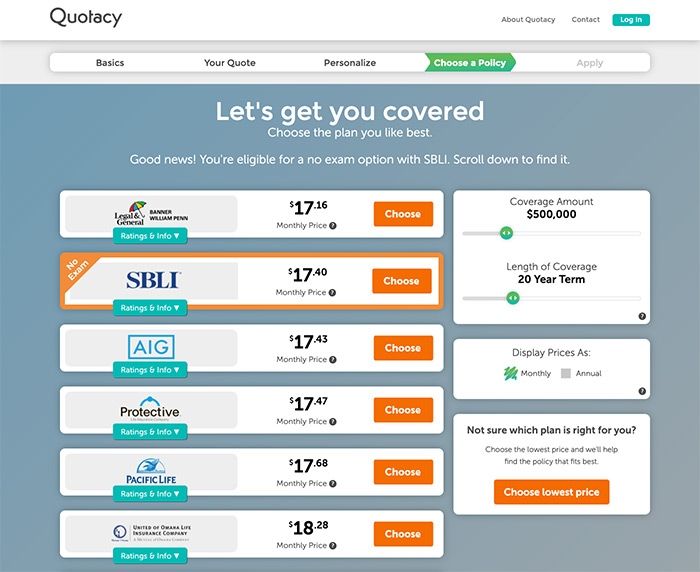 If you aren't sure which insurance company to choose—or don't have a preference—we recommend you choose the least expensive option. Your Quotacy agent will make sure you're matched up to the life insurance company that will give you the best rate anyway.
After you choose a policy, completing the online application only takes a few minutes. Once you submit it, your dedicated Quotacy agent will review your information to double-check that the insurance company you picked is your best option.
Not every person who applies for life insurance is the epitome of perfect health or perfect lifestyle choices so there are different rates. After we receive your application, sometimes we may have to do a little extra work to ensure you get a great life insurance policy.
See what you'd pay for life insurance
Comparison shop prices on custom coverage amounts from the nation's top carriers with Quotacy.
How it works:
Your agent summarizes your application information and shares it with the insurance companies Quotacy works with. This is shared anonymously – we do not share any of your identifiable information.
Your agent essentially asks the insurance companies "Here is what we know. What is the best you could do?"
If any of the insurance companies respond with a better offer or different rates than what your original company choice would offer, we'll provide these options to you.
For example, if in your application you mention that you previously were diagnosed with skin cancer, but are in remission, and we know the company you initially chose will add on a flat extra fee for 10 years, we will shop your case around to other companies to find one that will offer a better price.
If we find a company that only would require you to pay a flat extra fee for 3 years, for example, we will contact you and let you know your options. What life insurance product you choose is completely up to you—you can still choose to apply with your original company, we just want to make sure you know all your options.
The act of us reviewing your application and reaching out to different companies with different rates to find your best options referred to as shopping your case. This is one of the great benefits of working with Quotacy because not all agencies and broker firms offer this.
Some agencies represent one specific company, so they will only offer you the products from that company. Some firms just push your application through without thoroughly reviewing it so they can just move onto the next application. Some online agencies will take your information and just sell or pass it along to another agency. Quotacy does not do these things. Quotacy is your advocate.
We want to make sure you are paired with the best company the first time around which is why we take the time to shop your application behind the scenes. We will never pass you off or sell your information to third-parties. We work for you. Quotacy shops your case. To make sure you get the best life insurance product for your individual lifestyle apply for life insurance through Quotacy.
» Calculate: Life insurance needs calculator