Happy Father's Day all you dads! I want you to know you are greatly appreciated and you deserve a huge thank you for all that you do. No one can replace that love and support that you provide.Let's discuss life insurance for dads. 
My dad was there for me through a lot, but if there was one specific thing I wish he would have done before he passed away, it would have been to buy life insurance.
» Compare: Term life insurance quotes
My dad passed away after battling liver disease at the age of 59. That's young, but old enough to know a few things. I don't know if he was in denial about dying or just had faith that he would experience a miracle and live much longer. Either way, he didn't have life insurance.
It's one of those things you don't like to talk about – life insurance. My family is fun, we don't discuss serious things like death (even when someone is dying).
My dad chose to be home during his hospice while my stepmom and nurses cared for him. As a part of a family with six kids, our number one goal was to spend time with our dad and hopefully make him smile. We were all afraid to ask him about his wishes and his plans for end of life. We feared that bringing that up would hurt him or remind him that he didn't have much time left with us.
Guess what? We should've talked about it a long time ago, before health was an issue. It would've saved our family from so much extra stress than we were already enduring.
» Learn more: Talking to Your Family About Your Life Insurance
After my dad passed, besides dealing with grief and trying to piece together his assets, debt, and a mess of paperwork, we also had to figure out how we were going to pay for everything. Funeral costs, burial expenses and medical bills added up quickly. There was plenty of outstanding debt that needed to be paid off as well. On top of it, my siblings and I were all taking time off of work to meet with lawyers and take care of everything.
Want to see what you'd pay for life insurance?
Compare the best prices from the names you know and trust, all in one place with no commitments.

I don't wish this experience we went through on anyone. Imagine six siblings that are very close, losing their dad and having to deal with splitting finances, assets, paying debt all while being civil. If anything can tear a family apart it's death and money.
This life changing experience made me realize the importance of life insurance and that my husband and I needed to purchase our own policies. Both of us have small policies through our employers, but ideally you should have your very own insurance to ensure you have coverage if and when you need it.
» Calculate: Life insurance needs calculator
5 Reasons to Purchase Life Insurance:
Burial and Final Expenses
Funeral and burial are costly and can quickly reach $10,000.
Income Replacement
When one spouse dies, the family can take a serious financial hit. Replacing that income can help the family maintain the lifestyle they are used to.
Mortgage Protection
The last thing a family wants to think about is losing their home after the death of their loved one. Life insurance can help to take care of that financial burden.
Paying Off Debt
A life insurance policy can help you pay bills. Most families have more than just a mortgage to think about. Credit cards, medical bills, student loans, car payments, etc… these can quickly add up after the death of an income earner.
Pass Wealth to Family
As a part of your estate, you can leave money to your loved ones with a life insurance policy.
For me, term life insurance is the smartest and most affordable option for my situation. With Quotacy's easy-to-use quoting tool you can find out how much term life insurance would cost you. There's no need to give any personal information until you are ready to apply.
It's a relief to know that I'm financially protected if my husband were to die. Without it, I would be forced to move, sell personal belongings and completely change the lifestyle that I'm accustomed to. I don't want that for me, and I don't want that for you or your loved ones.
» Learn more: First Father's Day? Here's Why You Should Start Comparing Term vs. Whole Life Insurance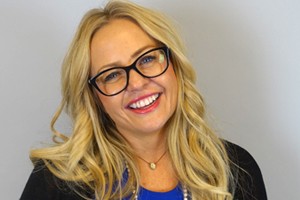 Jeanna Simonson
Marketing Content and Social Media
Jeanna has a passion for letting her creativity shine. At Quotacy she manages social media, is a co-host of Quotacy's Q&A Friday YouTube channel, and enjoys writing here and there. When she's not at the office, you can find her hanging with her husband and rescue animals, brunching with girlfriends, or loving up on her nieces and nephews. Connect with her on LinkedIn.