When deciding whether or not to accept a job offer, there's more to consider than just the base salary. A benefits package can say a lot about a company.
Once you know about the company's benefits package, weigh the pros and cons. To help, we offer 10 questions to ask about benefits.
What Are Considered Employee Benefits?
Employee benefits are perks an employee receives in addition to their salary. Certain benefits have the potential to lower your out-of-pocket expenses, so they're important to know about. For example, if part of your benefits package includes health insurance, this reduces your out-of-pocket expenses considerably since buying health insurance from the marketplace costs hundreds of dollars each month.
The most common benefits in an employee package include:
Health insurance
Dental insurance
Life insurance
Disability insurance
Paid time off (PTO)
Holiday pay
Paid parental leave
Bonuses
Retirement plans
Stock options
It's hard to find good employees. To attract talent, many companies are also now offering soft benefits. These are non-monetary benefits that can make the employee's workday a little better.
Soft benefits may include:
Remote or hybrid work options
Free snacks or meals at the office
On-site gym and/or subsidized gym membership
Pet-friendly workspace
Flexible work hours
Professional development opportunities
10 Questions to Ask About Benefits When Starting a New Job
U.S. law only requires employers to offer the following benefits:
Social Security and Medicare
Unemployment insurance
Workers' compensation insurance
Family and Medical Leave Act (FMLA) protections
Anything beyond is up to the employer, but most offer a more comprehensive benefits package.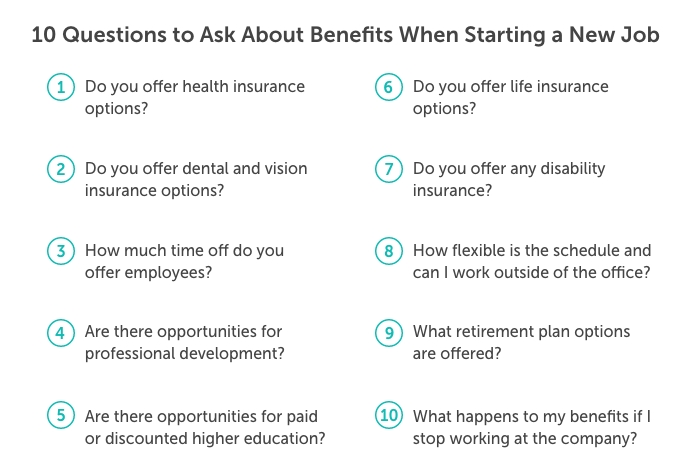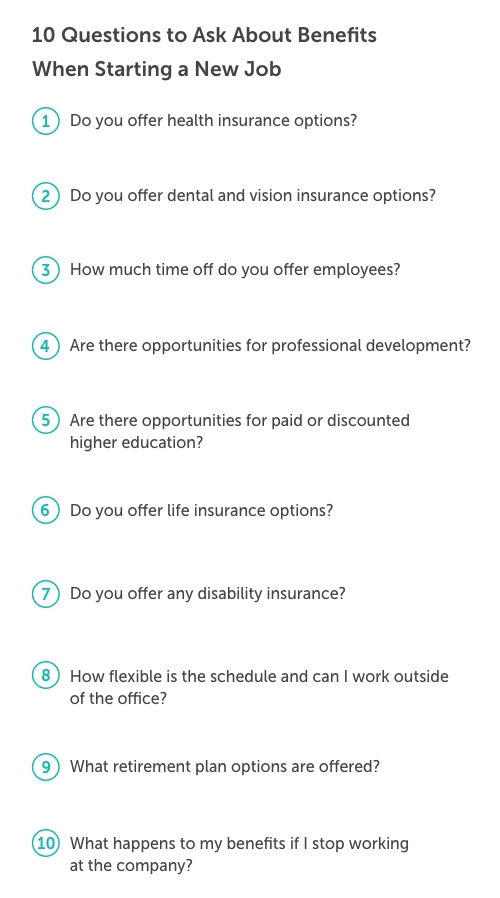 Here are the most common benefits questions to ask.
1. Do you offer health insurance options?
HMO. DHCP. PPO. HSA. FSA. All are various health policies or savings plans. The options you receive from your employer have the potential to strongly impact your paycheck and out-of-pocket expenses.
Employers cover a certain percentage of the premium payments. Find out what percentage you'll be responsible for. In addition, ask your employer for the details of each plan so you can choose the best option for yourself and your family.
2. Do you offer dental and vision insurance options?
Health insurance is a must. Dental and vision insurance aren't as vital, but some may really benefit from them.
If the premiums are minimal, it may be worth it. Crunch some numbers on the costs of paying out-of-pocket for your current dental and vision needs and see if insurance can save you money.
3. How much time off do you offer employees?
Some companies combine sick time and paid time off, some keep them separate. Some companies follow the federal holiday schedule and some do a variation of it.
Quality time off is important. Don't be afraid to ask about it. It's a good way to gauge the company's view on work-life balance.
Typically, new employees aren't eligible for full benefits right away. Find when and how PTO accrues, and if it's use-it-or-lose-it or if it rolls over into the next year.
4. Are there opportunities for professional development?
Getting this benefit question answered will let you know if the company cares about the professional growth of its employees.
Find out what programs are available and if there are any caveats. For example, some opportunities you can take advantage of during your work hours, some require you to complete during your own time.
5. Are there opportunities for paid or discounted higher education?
Tuition reimbursement and/or assistance is a common benefit offered to employees who want to pursue continuing education. Some companies require that the education is related to your current field, some offer broader education opportunities. With the cost of education rising every year, this may be a prime opportunity to take advantage of.
6. Do you offer life insurance options?
Many companies offer their employees group life insurance, typically a coverage amount equaling one year's salary. While this amount isn't much, many employers cover the cost. Free life insurance is something to take advantage of!
There are many caveats with group life insurance, however. Find out if the coverage is portable if you leave your job. Find out if you can buy additional voluntary coverage without being required to answer any medical questions.
But don't rely solely on group life insurance if you have loved ones relying on you. Get your own term life insurance policy that you have control over.
Learn more about buying life insurance during open enrollment. 
See what you'd pay for life insurance
Comparison shop prices on custom coverage amounts from the nation's top carriers with Quotacy.
7. Do you offer any disability insurance?
Similar to life insurance, many employers offer short-term disability insurance to their employees. The coverage is often free or very inexpensive.
Disability insurance is important for income protection should you become disabled and are unable to work.
8. How flexible is the schedule? Can I work outside of the office?
Remote or hybrid options are very common in today's workforce. For some people, it's a deal breaker. Be sure to ask the company about remote work options if it's important to you.
In addition to a flexible workplace, a flexible schedule is also important to some people, especially if you have children. Some employers have specific hours they want their employees to work. Some allow flexibility or are even as cavalier as "As long as you get the work done."
Questions about flexibility are good questions to ask your employer so you know what the expectations are and you can plan accordingly.
Many companies offer 401(k)s to their employees and some offer pension plans. Even better, many employers match up to a certain percentage as incentive.
Ask what the company match is and when it becomes vested. Once you're vested in the plan, you own 100% of it and can take it if you leave the company.
10. What happens to my benefits if I stop working at the company?
Some benefits you keep if you quit or are terminated, for example, a vested 401(k) plan, your HSA plan, and health insurance coverage for a certain amount of time. Some benefits are forfeit, for example, unused PTO in some states.
Inquire about what you can and can't keep to plan ahead if the need arises.
How to Ask About Benefits in an Interview
Asking about benefits during an interview can be tricky because you don't want to get ahead of yourself. There is a tactful way to ask an interviewer about benefits, however.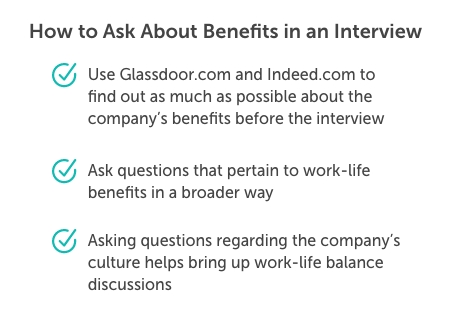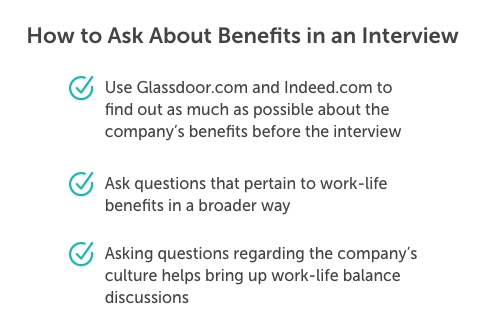 First, find out as much as you can about the company's benefits prior to the interview. Try websites like Glassdoor.com and Indeed.com. They offer information straight from current and past employees.
Next, during your interview, ask questions that pertain to work-life benefits in a way that's more broad. As an example: "If I were offered the job, what would my average week look like?" The discussion that stems from this can include remote work possibilities and work hour flexibility.
Asking questions regarding the company's culture is another way to broach work-life balance discussions, such as PTO.
What are the core values of the company?
Does the company ever do team building exercises?
How do you determine who will be a good culture fit?
How often are the leaders in the office?
Is there an open door policy?
Asking direct questions about benefits after a job offer is easier and they're expected. The company's Human Resources department will have all the answers and are accustomed to questions from new hires.
Explore Quotacy's Blog for Life Insurance and Finance
If you have loved ones depending on you, getting a good job to support them is step one. Step two is making sure you have life insurance to protect them against the what-ifs.
If you die unexpectedly, your income disappears too. Could your family continue their standard of living and pay bills if your paychecks stopped?
Life insurance gives your loved ones financial peace of mind in the face of something unexpected. Learn more and get your questions answered in our life insurance blog.