Buying term life insurance is much more affordable than buying a permanent life insurance policy. The main reason is because term life insurance is temporary while permanent life insurance is lifelong.
How long your term life insurance policy lasts is chosen by you. This length of time is the term. Depending on the insured individual's age, a term can last anywhere from 5 to 40 years.
Term life insurance is designed to provide financial protection during a set length of time. Common timelines are 30 years, to coincide with your mortgage, or 20 years, to coincide with raising your children.
But what happens if you decide you need more life insurance but your term is getting ready to end? What options do you have? Let's discuss term policy expiration.
The options you have if your term life insurance policy is about to expire:
1. You can buy a new life insurance policy.
One option is to buy a brand new policy. This could be term or permanent, but because you're older, buying a shorter term policy such as 5 or 10 years might be the most affordable option.
It also may be wise to shop around versus going with the same insurance company you had previously. Even if the life insurance company you have now had the best prices when you first purchased, doesn't mean they still do.
» Compare: Term life insurance quotes
Keep in mind when buying a new policy you will have to re-apply which means a new medical exam, unless you opt for a no-exam policy which have limitations and are more expensive.
Some people opt to buy both a term and permanent life insurance policy. If you want $500,000 in coverage, but don't want to spend the money that comes with a $500,000 permanent policy, you can, for example, buy a $250,000 term policy and a $250,000 permanent policy. This way you pay less, have a couple options, and own the same amount of coverage you originally needed.
See what you'd pay for life insurance
Comparison shop prices on custom coverage amounts from the nation's top carriers with Quotacy.
2. You can convert your term policy into a permanent one.
Most term life insurance policies have a conversion option. This allows you to convert all or a portion of your policy into a permanent one regardless of your health as long as you convert before the deadline listed on your policy. It's important to note that converting from a term to permanent product will increase your premiums.
For more information on term conversions, check out our blog post How Do Term Conversions Work?
3. You can renew your term coverage.
Many insurance companies have renewability options on their term products. This means you can extend the coverage term without having to re-qualify.
The premiums will increase drastically if you opt to renew. The image below is an example of how much the annual premium for a 20-year term policy jumps if you want to renew it.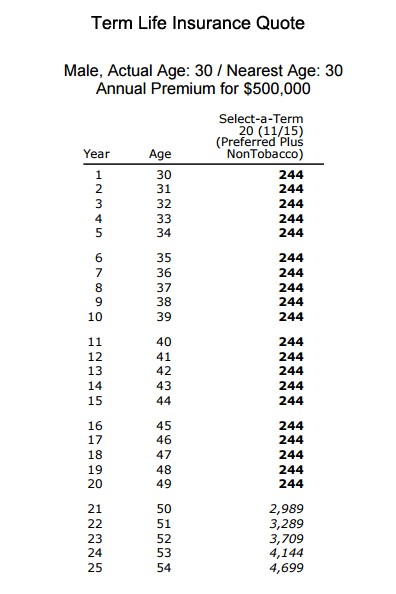 Most people only renew if they are diagnosed with a health issue that reduces their life expectancy. Let's consider the image below to discuss an example. A 30-year-old male recently became a first-time father and bought a 20-year term policy that costs $244 per year. At age 49, he's diagnosed with late-stage cancer and his doctor estimates that he has a year or two left to live. It's worth it to him at this point to pay the annual premium of $2,989 at the end of his 20-year term to keep his coverage going for his family.
4. You can no longer own life insurance coverage.
A fourth option is to simply let your coverage run out. We have said it before: depending on your situation and the stage of your life, you may not need life insurance coverage.
You likely do not need life insurance if:
You have paid off your mortgage.
You have no debt.
You have no children who are still dependent on you.
Your spouse does not rely on your income.
The reason why you need more life insurance coverage will help you determine what route to take. Do not wait until your policy expires to decide what to do.
If the end of your term policy is approaching and you still want coverage, contact us here at Quotacy and we can help you with the next step. Take a second to run a quote too so you have an idea on how much a new term policy may cost you.
No need to spend time shopping around. We'll do it for you. You can receive instant term life insurance quotes from multiple life insurance companies and then once you complete your online application, your agent will shop your case to make sure you're getting the best price. Whichever life insurance company previously insured you doesn't have to be the one to insure you again. You always have options. Make the best of them.
Watch the Term Life Insurance Policy Is Expiring Video