Life insurance for children. Sounds too depressing for words, but it can actually be an extremely beneficial way to plan ahead for your children's future. Adding a child rider onto your term life insurance policy is the easiest way for you to purchase life insurance for your child.
How it generally works is that you pay a few extra dollars on top of your life insurance policy's monthly premium and then each of your current children under the age of 18 and any future children you may have are covered with a small amount (typically anywhere between $1,000 – $25,000) of life insurance coverage.
Losing a child would be unimaginable and the funds a child rider provides could be used to pay for a funeral and allow the parents to take time off work to grieve.
While this death benefit is one aspect of what a child rider can offer, another benefit is that purchasing a child rider guarantees your children's future insurability. What this means is that once your child is of age (typically 18-25) you can convert the child rider into a permanent life insurance plan and your child would not be required to prove, via medical exams and records, their insurability.
If your child happened to develop a medical condition that could otherwise prove difficult to insure this guaranteed insurability would be a lifesaver.
» Calculate: Life insurance needs calculator
Most life insurers require parents to complete a questionnaire form providing information on their children before they would approve the child rider coverage. Depending on the insurer, some forms are simple with a few questions and some are much more inquisitive. Below are a few screenshots of one company's child questionnaire form.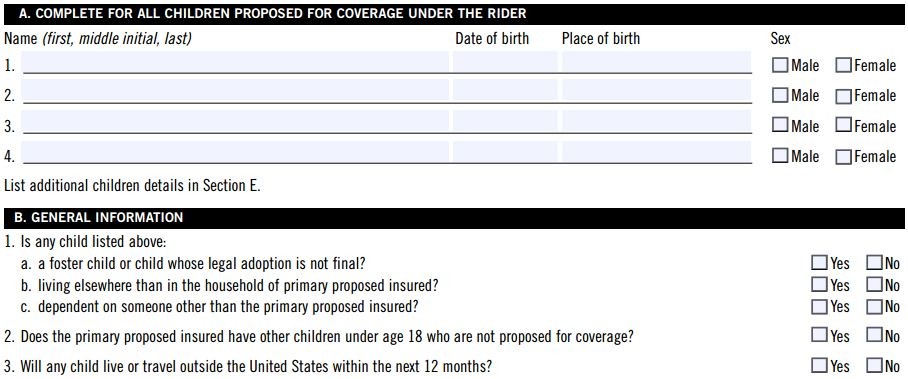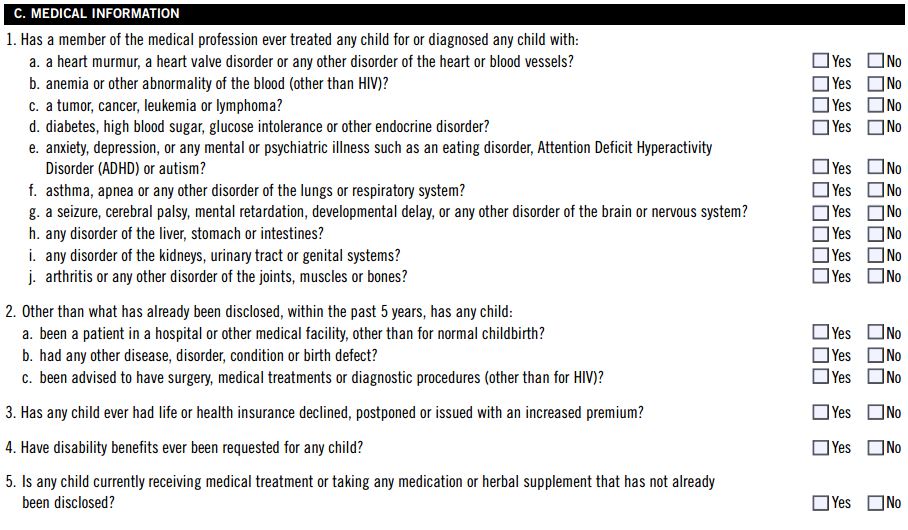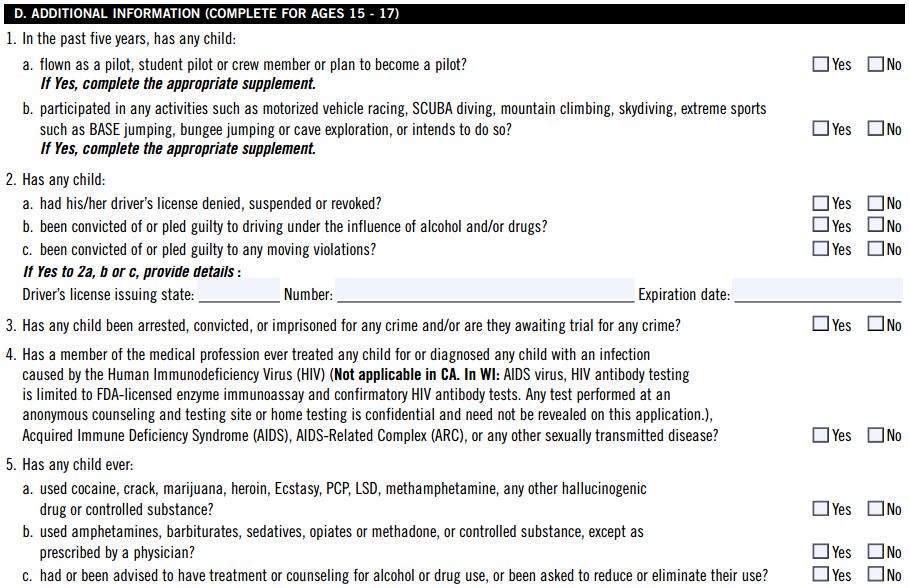 That form would be an example of an insurer that requires more in-depth information on children before approving child rider coverage. If any children have been, for example, diagnosed with any chronic illnesses they may be denied coverage. So, what can a parent do?
See what you'd pay for life insurance
Comparison shop prices on custom coverage amounts from the nation's top carriers with Quotacy.
Are there child riders that do not require medical underwriting?
It's rare for a life insurance company to not require a medical questionnaire on a child for child rider approval. However, some do. Quotacy works with a couple insurers that do not require any medical or lifestyle information on a child for rider approval.
For parents with children who have special needs or have been diagnosed with a serious medical condition, this child rider can be extremely beneficial.
In a previous blog post titled Everything You Want to Know About Life Insurance Child Riders we wrote an overview on child riders. In this post, we touched on an example in which a non-medical child rider would be especially advantageous. Let's dig a little deeper into that situation.
Example:
John and Jane Doe are both 40-years-old. They plan on purchasing $500,000 20-year term life insurance policies from Banner Life.
Neither person smokes and they're both healthy with no medical issues. They qualify for Preferred Plus rates.
Jane's monthly premiums are set to be $24.55 and John's are $29.74.
Together, they have four children: a 22-year-old daughter, twin 15-year-old sons, and a 7-year-old daughter.
After talking to their agent about their family, their agent suggests adding a $10,000 child rider to each of their policies. The agent explains that if they each get a rider, each eligible child will then have $20,000 in coverage.
To add the child rider, Jane's monthly premium increases to $29.23 and John's increases to $34.42.
Since their eldest is older than 18, she would not be covered by the child rider. However, the twins will be covered. And, fortunately, their 7-year-old daughter, who has been diagnosed with acute lymphoblastic leukemia, will be covered since Banner does not require medical underwriting for child riders.
Today, most childhood leukemias, thankfully, have very high remission rates. But if the worst should happen and their daughter passed away, Jane and John would receive $20,000. These funds would allow her to pay for a funeral and take the needed time off work to grieve and spend with their other children.
The child rider benefit of guaranteed future insurability is also particularly advantageous for their 7-year-old daughter.
Applicants with a history of acute lymphoblastic leukemia would typically only be able to qualify for Table B ratings, and this would only be available nine years post-treatment (on average). Table B means the applicants would have to pay 50% more than Standard premiums (see table below for reference).
However, their daughter would be able to convert the child rider into a standalone permanent policy at Standard regardless of the status of her leukemia.
| | | |
| --- | --- | --- |
| Table Rating (alphabetical) | Table Rating (numerical) | Pricing |
| A | 1 | Standard + 25% |
| B | 2 | Standard + 50% |
| C | 3 | Standard + 75% |
| D | 4 | Standard + 100% |
| E | 5 | Standard + 125% |
| F | 6 | Standard + 150% |
| G | 7 | Standard + 175% |
| H | 8 | Standard + 200% |
| I | 9 | Standard + 225% |
| J | 10 | Standard + 250% |
| | | |
As beneficial as a child rider would be for Jane and her children, the non-medical child rider would be even more beneficial to a parent who has a child with special needs, such as Down's syndrome.
Unlike leukemia, which can go into remission, Down's syndrome is a lifelong condition with considerably reduced life expectancy. You would be hard-pressed to find a carrier to approve an applicant with Down's syndrome. Some insurers will approve coverage if the condition is mild, but the applicant would be highly rated (Tables H-J likely used), causing the premiums to be very expensive. With a non-medical child rider, however, a special needs child would be covered by the child rider and could convert it into a permanent policy in the future.
If you have a child with special needs or a serious medical condition, tell your Quotacy agent. We can help find you the best insurance company for your situation.
Not every applicant or policy will qualify for a child rider, for example, most insurers do not give the option of adding a child rider if an applicant is over the age of 55. But for the majority of applicants who need a child rider, the option is there.
Adding a child rider onto a policy is quite inexpensive and can be very beneficial to your family. Start the process by getting free, no-obligation term life insurance quotes today.
» Learn more: Buying Life Insurance on Your Children
Note: Life insurance quotes used in this article accurate as of July 13, 2021. These are only estimates and your life insurance costs may be higher or lower.