As a first-time father, you have many new responsibilities. Protecting your new little one in every way possible is a top priority.
You won't be around to protect them forever. But you can plan ahead to ensure if anything happens to you, your family will still be okay.
Life insurance is one of the best ways to financially protect your loved ones from the unexpected. You hope to live a long, healthy life watching your child grow, but what if?
In this post, we'll compare term vs. whole life insurance so you're informed before you apply. Each has its own benefits. You decide which is best for your situation and Quotacy will help you accomplish your goal.
What Is Whole Life Insurance?
Just like the name says, whole life insurance provides coverage for your whole life.
It builds up value, based on the premiums that you've paid, which you can borrow against or withdraw from over the years when needed.
While that sounds like a benefit to having this kind of coverage, the premiums for whole life insurance are often very expensive—even if you are young and in great health. Insurers look at age and health to determine their risk in insuring you. So, the healthier and younger you are, the lower the probability of paying a death benefit any time soon and this makes you an attractive applicant.
Unlike term life, whole life insurance isn't designed to drop off when you no longer need the coverage (unless you just stop paying it).
If, for example, your son or daughter graduates from college and becomes well-established in their career early on, then you may need less insurance since they're now self-sufficient and have their own steady income and savings.
Like term life insurance, if you purchase a whole life insurance policy, your coverage amount and premiums will stay the same as long as your policy is kept current (meaning your premiums are paid up).
There are some circumstances when comparing term life vs. whole life insurance that will lead you to decide that a whole life policy makes sense—such as if you have a large estate or a child with special needs who will require financial protection for their entire life.
However, for most people that we work with, we find that term life insurance is a better fit for them.
What Is Term Life Insurance?
Term life insurance is much more flexible than whole life insurance when it comes to meeting the needs of growing families.
Term life insurance can be purchased in terms ranging from 10 to 40 years.
When looking at term life vs. whole life insurance, it's important to remember that it is unlikely that you'll need the same amount of coverage throughout your family's life together. For most families, insurance needs will differ over the years.
During the years when your new child is growing, infancy to college, this is when you need the most life insurance coverage. Why? If you die unexpectedly during this time, this is when your family would be most financially vulnerable.
» Calculate: Life insurance needs calculator
Purchasing multiple term life insurance policies at once to customize your coverage is a good strategy. This is called laddering.
Laddering life insurance policies allows you to cover different financial responsibilities while taking advantage of the low rates.
For example, you can purchase one 25-year policy with a $1,000,000 face amount to cover your child through college (and with the average college tuition reaching $40,000 in 18 years, that's important). And then a 40-year $100,000 policy to provide protection for your spouse or partner into the first few years of retirement, should you unexpectedly pass away.
The laddering strategy saves you money in the long run. With this method, policies are designed to expire as your coverage needs decrease.
Term Life Insurance Is Very Affordable
When looking at term life vs. whole life insurance, most people overestimate the costs of term life insurance (perhaps based on quotes that they've seen for whole life insurance). It's possible to find the right life insurance for parents that will meet most family's needs for well under the cost of your daily cup of joe.
The younger you are, the cheaper your life insurance rates will be. Same goes for your health. The healthier you are, the cheaper your life insurance rates will be.
Want to see what you'd pay for life insurance?
Compare the best prices from the names you know and trust, all in one place with no commitments.

Term Life vs. Whole Life Insurance: Making the Right Choice
So how do you make the right choice when looking at term life vs. whole life insurance? While here at Quotacy we believe that term life policies are the best option for the majority of families, permanent policies have their place. You'll still need to consider your family's specific circumstances when deciding between term life insurance and a whole life plan.
First, let's take a look at why, as a new dad, being aware of the benefits of term life vs. whole life insurance is so important at this point in your life.
Why New Dads Need the Best Life Insurance Early On
Your family relies on your paycheck to live. And life insurance is your family's safety net.
If the unthinkable were to happen, and you were to pass away unexpectedly, your family loses your income while still responsible for a variety of expenses.
A term life insurance policy provides a tax-free lump sum cash payout to your family, known as a death benefit. This can help cover end-of-life expenses such as:
Funeral and Burial Costs – Your funeral and burial may cost your family up to $10,000 depending on the type of funeral that they select (or that's stated in your will).
Legal Fees and Probate Costs – Your family may have to pay probate costs, based on how your will is structured. These fees may be up to 8% of the total value of your estate. Legal fees from any attorneys managing other duties related to the administration of your estate can also be costly.
Your Medical Expenses – Dying prematurely may bring large hospital bills. Whether death is caused by a serious health condition, such as cancer, or an accident, you and your family will have tried everything possible to increase your chances for survival, which likely means expensive doctors and procedures.
In addition, a term life policy will:
Maintain your family's standard of living.
The loss of your income can have a devastating impact on your family's standard of living—but it doesn't have to. Your term life policy can provide a replacement for lost income for your family for a term that you select, allowing them to avoid financial burden as they manage their grief.
Insulate them from the negative impact of personal debt.
It's not uncommon for young parents to be paying off their college tuition. If you have private student loans, then they may not be discharged after you are deceased.
Unlike federal loans, even if you die, your creditors may sue your estate for the balance of your loan (or your co-signer) if your loved ones are unable to make payments.
Other consumer debts—such as credit card debt and car loans—may also remain active. Your term life policy can pay off these debts or cover payments, allowing your family to remain financially secure.
Provide a financial cushion for your children, as well as pay for their education.
You may decide that you want your partner to have the funds to cover your child's college tuition in addition to maintaining a financial cushion to cover unexpected expenses, like medical bills.
If you use the laddering strategy mentioned above, then you'll be able to have one policy that can handle your children's educational costs and another policy to handle various expenses—such as if you want to contribute to them purchasing a first home—after they've become financially self-sufficient.
Term Life vs. Whole Life Insurance: Examining Your Options and Calculating Your Needs
Here are a few quick questions to ask as you're looking at your term life vs. whole life insurance options:
Do I have a special needs child or someone I am caring for who may need protection throughout their lives?
Although a whole life insurance policy may seem an obvious choice, term life insurance may also be an option for you, depending on your family's circumstances and the amount of care that your loved one may require.
Unsure which type you need? One of our insurance advisors can help you look at your options.
Do I anticipate my family's needs changing over the years?
Your answer most likely is yes. If you plan to have more children, plan to pay for your children's tuition, or wish to protect your spouse's retirement fund, then you may need different amounts of coverage at different times.
In this case, you may want to ladder life insurance policies to make certain that you have just the right amount of coverage when the need arises.
Do I have significant debt that I want paid off if I pass away?
If your aim is to leave your family debt-free upon your passing, then you should factor in all of your debt—such as your mortgage and other consumer debt—when assessing your coverage needs.
A simple way to get a good estimate of how much insurance you should purchase is to use our free life insurance calculator. You simply enter a few details on the amount of debt you'd like to cover as well as how much you'd like to leave your family, and you'll get an estimate of your coverage needs in seconds.
You won't have to enter your email, number, or any personal details until you're ready to apply. You can always contact us if you have any questions.
Find the Best Term Life Insurance for Your Family in Minutes
Our free life insurance quotes tool doesn't just let you compare quotes on a single page, it also allows you to see the most important consumer satisfaction and business ratings—such as those from the Better Business Bureau and Moody's—finding the best life insurance companies. You won't have to Google names to find out if your potential provider has a good reputation.
We know that as a new dad you'll want to get back to spending quality time with your family. That's why we've already done the hard work for you—finding the best life insurance companies, helping you find your insurance needs, and providing you with multiple quotes side-by-side.
We'll also help you make sure you're matched with the best carrier for your personal situation. Have high blood pressure? Have a history of cancer? Not a U.S. citizen? Our agents know which insurance company is the best fit for many different circumstances. After you apply, your agent will review your application before sending it off to the insurance company.
When looking at term life vs. whole life insurance, only you can ultimately determine what's right for your family. If you want to do more research, check out our term life vs. whole life insurance buyer's guide for more information.
» Compare: Term life insurance quotes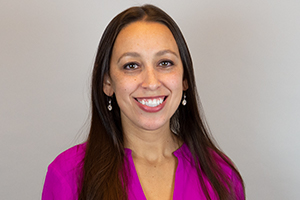 Natasha Cornelius, CLU
Senior Editor and Life Insurance Expert
Natasha Cornelius, CLU, is a writer, editor, and life insurance researcher for Quotacy.com where her goal is to make life insurance more transparent and easier to understand. She has been in the life insurance industry since 2010 and has been writing about life insurance since 2014. Natasha earned her Chartered Life Underwriter designation in 2022. She is also co-host of Quotacy's YouTube series. Connect with her on LinkedIn.