Congratulations! The next generation of your family has made its debut, and along with that welcome bundle of joy comes a slew of questions that, as new grandparents, you'll probably want answers to. Many will veer from the relatively insignificant (How did we end up with a redhead?) to the logical (Can I find affordable life insurance at my age?) to the slightly horrifying (Will tuition really be $130,000 a year when she's 18?).
The most important questions, however, are about providing stability for your loved ones in the future: What will the world look like in the next 20 years, and how can I care for my grandchild even if I'm not around?
» Calculate: Life insurance needs calculator
You won't be able to answer the first part, so don't even try. Not even the most savvy economist—regardless of what they might claim on your favorite news network— has the ability to predict the financial challenges that your new grandchild will face when he or she reaches adulthood.
You can, however, answer the second part easily. If you hope to leave your grandchild a legacy that's certain, you'll need to find an affordable life insurance policy.
See what you'd pay for life insurance
Comparison shop prices on custom coverage amounts from the nation's top carriers with Quotacy.
Finding Affordable Life Insurance: Think About Your Own Future First
As new grandparents, you're most likely more focused on your grandchild's immediate needs—and on how you can help your son or daughter navigate those first trying months of new parenthood—than on your own needs right now. But one important way that you can help them prepare for their family's future challenges is to think about your own needs.
For example, is your existing life insurance policy enough to cover your spouse's or partner's cost of living, handle any unpaid debts, and support them throughout their retirement if you pass on?
If you can't answer in the affirmative, then it's likely that you won't have the monetary assets—after providing for your spouse or partner—to be able to leave your grandchildren with the kind of inheritance that reflects how much they mean to you.
How Much Life Insurance Will You Need?
When determining how much insurance you'll need, you should consider the following:
Your Grandchildren May End Up Supporting You or Their Parents
You may be surprised to know that about 21% of millennials are providing care for their grandparents and just under 20% are supporting their parents in some way financially. The costs can be high—the average millennial caregiver spends about $18k per year caring for a parent or grandparent.
That means your grandchildren may end up supporting you—draining away assets that were originally meant to care for their own family's ever-expanding needs. An affordable life insurance policy will have lower life insurance rates while still allowing your son or daughter to prepare for their children's future without suffering financial hardship from your passing.
» Learn more: Gen X – The Sandwich Generation
Your Grandchildren's Cost of Education May Be Impossible to Cover Without Significant Debt
By the time your new grandchild is ready for college, the average cost of in-state tuition, fees, and room and board at a public college may be as high as $54,000, with private universities averaging around $134,000 per year.
Like many students today, your grandchildren may have to take out private student loans if their parents are unable to foot the bill for their education. Federally-backed student loans often cover only a fraction of tuition costs because they have strict yearly limits on how much students can borrow.
So many students still need to find a private lender.
Private student loans, unlike federal student loans, allow students to borrow funds that cover the entire cost of their education. Also unlike federal student loans, private lenders have no obligation to discharge the loan even if your grandchild becomes totally disabled (or dies). These lenders not only can come after your grandchildren's personal assets—if they default on these loans because of unemployment or their inability to negotiate lower payments—but they can also sue their parents if they've cosigned the loan.
If your grandchild experiences student loan default, they'll suffer a devastated credit score and, by extension, an inability to get an affordable interest rate on a mortgage, a new car, and in some cases, a higher paying job.
That means your grandchild may face a daunting challenge when paying for a college education and managing debt once they've received their degree. An affordable life insurance policy will allow you to protect your grandchildren—and your great-grandchildren—from the consequences of crippling student loan debt that can compromise their financial security.
Your Retirement Savings Might Not Be Enough
Regardless of the size of the nest egg you've carefully guarded over the years, fluctuations in the cost of living can severely impact your retirement plans. If your retirement funds can't go the distance, then it's likely that you'll be able to leave your grandchildren only a portion of what you'd planned.
An affordable life insurance policy will protect your spouse or partner from having to make up the difference between the assets that you've left them and what they'll need to live comfortably. It also means that your grandchildren will be able to count on your help after you're gone, regardless of how the economic landscape changes in the future.
Take a look at this state-by-state table showing estimates of how long $1 million will last a single retiree, based on current cost of living data. If you and your spouse or partner's savings are under $1 million each at the time of your retirement, then you may be financially vulnerable.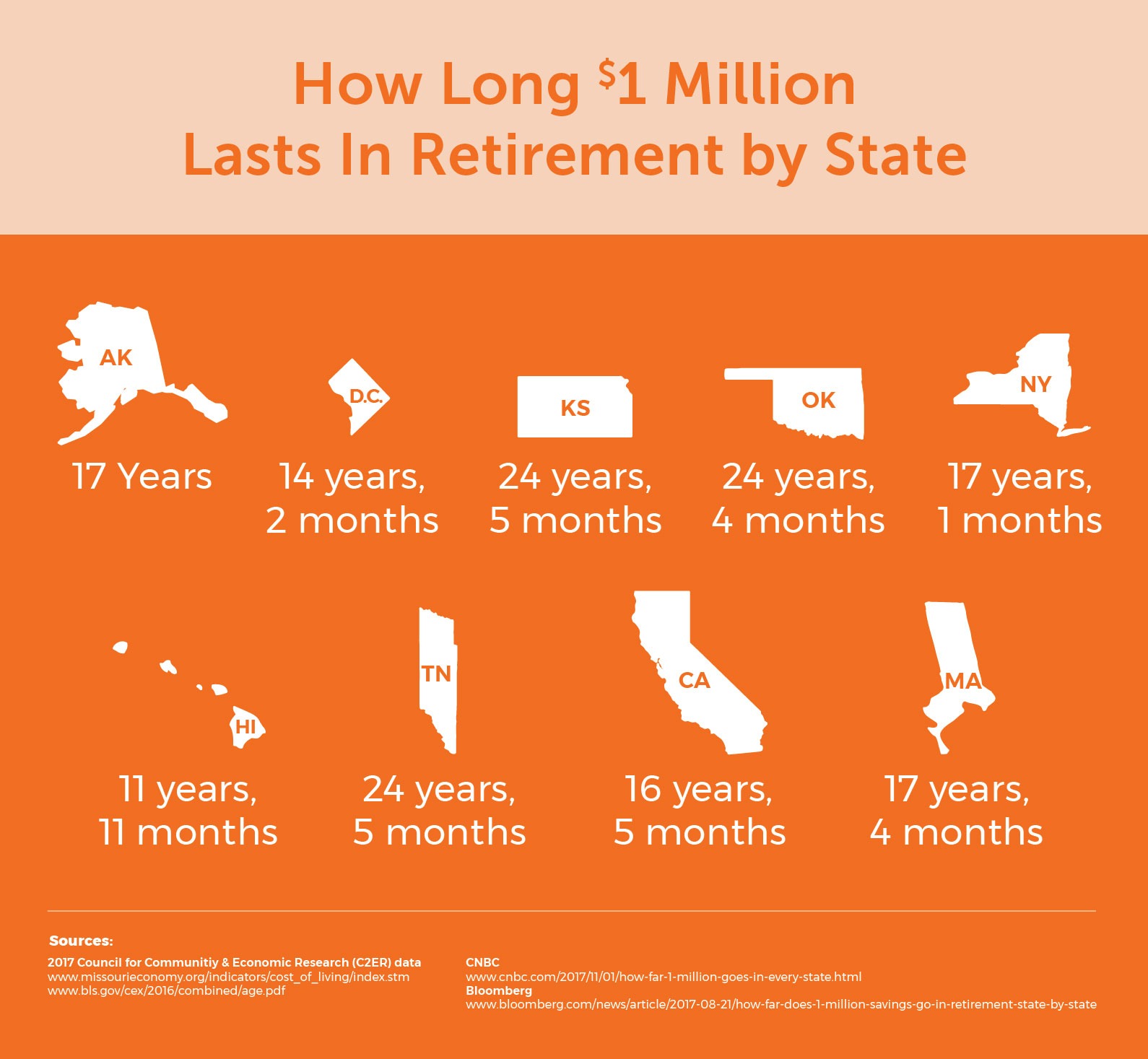 What You Can Do Now
As grandparents, you have an unique opportunity to help protect your grandchildren from financial insecurity that could influence their life choices for decades to come. There are plenty of affordable life insurance policies that will allow you to keep caring for your grandchildren even after you've passed on, enabling them to build a more secure future for their own children.
With Quotacy, finding the right policy couldn't be easier. Our free tool allows you to compare term life insurance quotes from multiple life insurance companies in minutes. Plus, our agents offer free, expert guidance on how to determine what policies make the most sense for you and your family.
If you're between the ages of 50 and 80, just looking for a small life insurance policy to cover your funeral and other end-of-life expensive, and maybe not in the best health, consider final expense life insurance. This type of insurance is also known as funeral insurance, burial insurance, guaranteed whole life insurance, and guaranteed acceptance life insurance. Learn more about final expense life insurance here.
Quotacy is the country's leading broker for buying life insurance online. We are obsessed with making it easy for everyone who has loved ones who depend upon them to have life insurance.
Ready to shop? Get an instant life insurance quote.
Use our life insurance calculator to find out how much you need.