Grandparents have always been important members of the family. Aside from the obvious fact that if it weren't for them, there'd be no you, grandmas are always ready with a pot roast when you visit, and grandpas always have a new joke… at least that's what I've come to expect from my grandparents!
As great as these moments are, as of late, grandparents have become even more essential in the lives of their grandchildren. With every year that goes by, more and more grandparents are raising their grandchildren.
The U.S. Census Bureau released in 2016, that there were over 7.2 million grandparents nationwide living with grandchildren under the age of 18. Of that 7.2 million, over 2.5 million were responsible for most of the basic needs of their grandchildren.
Back in 2014, according to a demographer from the Census Bureau, there were three main trends that contributed to an increase in grandparents raising their grandchildren:
Increased life expectancy;
Increase in single-parent families;
Increase in percentage of women who work outside the home.
These trends are still relevant. But more recently, a new trend has contributed to the increasing number of grandparents raising grandchildren: the opioid epidemic.
The graphic below shows the percentage of grandparents raising grandchildren in each state followed by a graphic that shows the states that prescribe the most opioids. Do you see a pattern?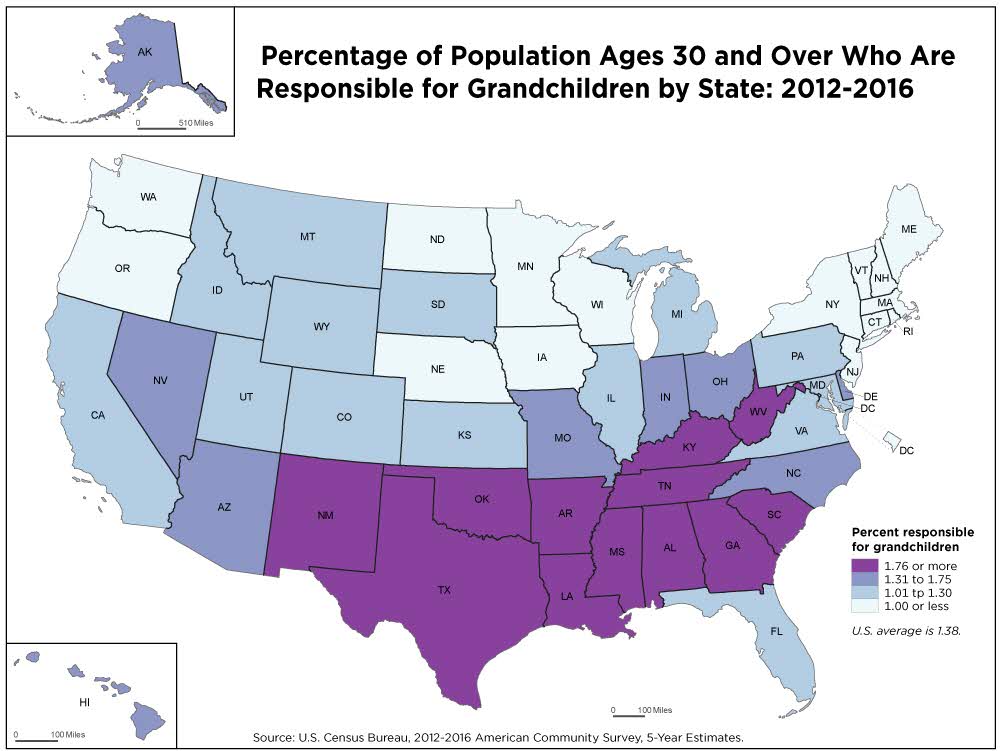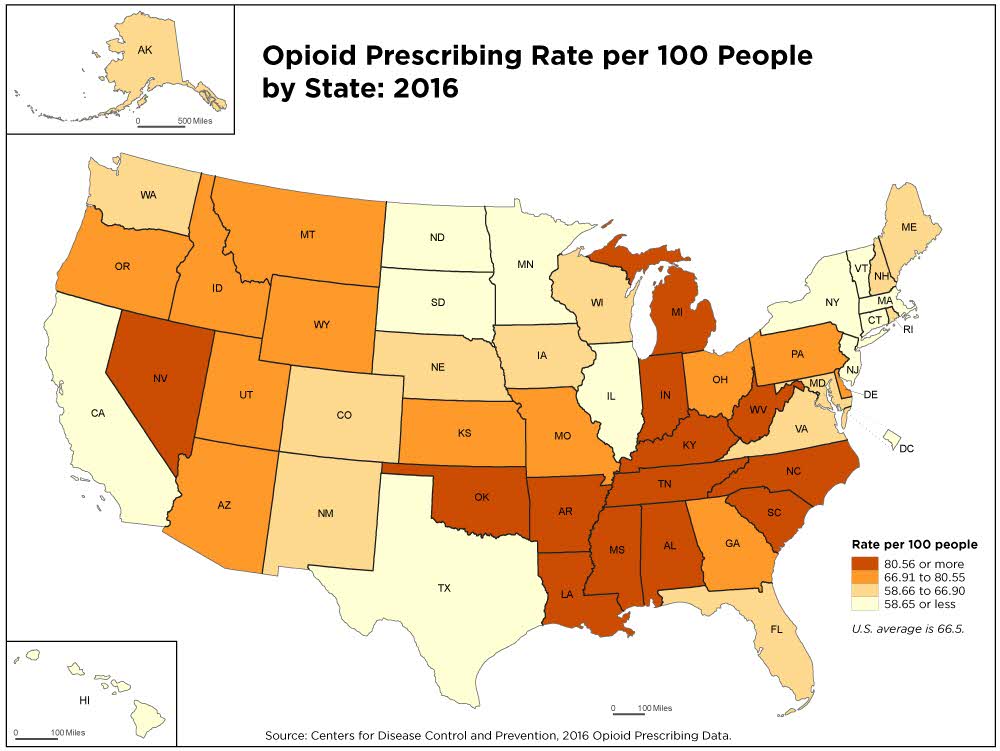 Parents with substance abuse disorders may be incarcerated, in treatment programs, or otherwise unable to care for their children. And more often than not, it's the grandparents who step in to care for these children. These children need not only emotional and mental support, but financial support as well.
See what you'd pay for life insurance
Comparison shop prices on custom coverage amounts from the nation's top carriers with Quotacy.
Life Insurance for Grandparents
As of 2018, the average life expectancy for an American woman is 81.4. For American men it's 76.3. Healthier people mean longer life expectancies. However, this doesn't always translate to having the financial means necessary to take care of yourself and your grandchildren during your retirement years.
It's a blessing when grandparents are willing and able to provide love and care for their grandchildren. But with more responsibility for their grandchildren, life insurance becomes very important if the grandparents are also the financial providers.
For grandparents whose responsibilities lie mainly in pot roast-cooking and joke-telling, life insurance can be important for estate and legacy planning. But for those grandparents who are financially responsible for their grandchildren, life insurance is important to make sure those children lead happy, healthy lives, even if one or both of the grandparents pass away.
If you're a grandparent looking to get life insurance to protect the financial futures of your grandchildren, it might not be too late. As far as age limits go, individuals can buy a permanent life insurance policy up until age 85 and a term life insurance policy to age 80.
The younger you are, the more affordable the life insurance premiums are. Work with a life insurance broker to comparison shop prices across multiple insurance companies. Apply through Quotacy and your dedicated agent will do this on your behalf. Our process is easy to understand and your agent will keep you updated every step of the way.
If you want your grandchildren to inherit the life insurance policy's death benefit, set up a trust for them. Life insurance companies won't write a check to a minor child. Nor do you likely want your minor child to be in charge of that amount of money anyway. A trust can be the life insurance beneficiary and you can leave instructions for how you would like the trustee to manage the funds.
If you already have life insurance it may be vital to review your policy. Is it set up with consideration for your grandchildren? Be sure to consider how much coverage you own, and who the beneficiaries are.
Other Financial Support Options for Grandparents Raising Grandchildren
If life insurance isn't in your budget or you're uninsurable, there may be other financial assistance options.
First, find out whether your family qualifies for your state's Temporary Assistance for Needy Families (TANF) program. One of the purposes of the TANF program is to provide assistance to needy families so that children can be cared for in their own homes or in the homes of relatives. This assistance may include cash to meet a family's on-going basic needs, food stamps, and free or low-cost daycare.
Next, find out if your grandchildren are eligible for Social Security, including benefits for children, survivor benefits, or Supplemental Security Income (SSI). You can find this out at your local Social Security office, by calling 800-772-1213, or visiting SSA.gov.
Also look into subsidized guardianship assistance. These are state-run programs designed to keep children out of foster care and permanently in the homes of their relatives. If guardianship is granted, the state issues a monthly subsidy check to the guardian for the care of the child.
Use our life insurance needs calculator if you are concerned about your current life insurance needs. Whether you need extra coverage, a new life insurance policy altogether, or you just aren't sure, we can help.
You can start by running term life insurance quotes to see some cost estimates. While some quoting engines require you to enter personal contact information to see quotes, Quotacy doesn't ask for that. You'll be able to window shop as long as you need until you're ready to apply. For your loved ones, and for your own peace of mind, consider life insurance today.