It's the busiest time of the year. When we're not at work, we're shopping for holiday presents, attending events, and getting everything wrapped up before year-end.
We're all busy. But this isn't the time to forget about getting life insurance.
Think life insurance is time consuming? It doesn't have to be.
Getting Life Insurance Quickly
Here at Quotacy we work with many different life insurance companies. A lot of these companies have fully embraced the 21st century and use technology and big data to enhance their processes.
Many offer accelerated underwriting to qualified applicants. While the different insurance companies' accelerated underwriting requirements vary slightly, for the most part, if you're under age 50, applying for less than $1,000,000 in coverage, and relatively healthy, you're eligible for accelerated underwriting.
Accelerated underwriting allows clients to skip medical exams and get approved much faster. Through this method, companies electronically pull all the data they need in a matter of hours. They can review and make a decision days, weeks, or even months faster versus using the traditional underwriting process.
Going this route, you can get life insurance in just a few days with little to no work on your part. Get a free online quote, take a few minutes to complete the online application, sign on the dotted line when you're offered coverage, and go on your merry way knowing your family is financially protected.
See what you'd pay for life insurance
Comparison shop prices on custom coverage amounts from the nation's top carriers with Quotacy.
How to Qualify for Accelerated Underwriting
When you run life insurance quotes through Quotacy, you will be shown different policy options. We work with over 25 life insurance companies and when you enter your basic information into our quoting tool, the policy options you're given are a result of that information. As an example, not all products are offered in certain states so we would only show you products available to you.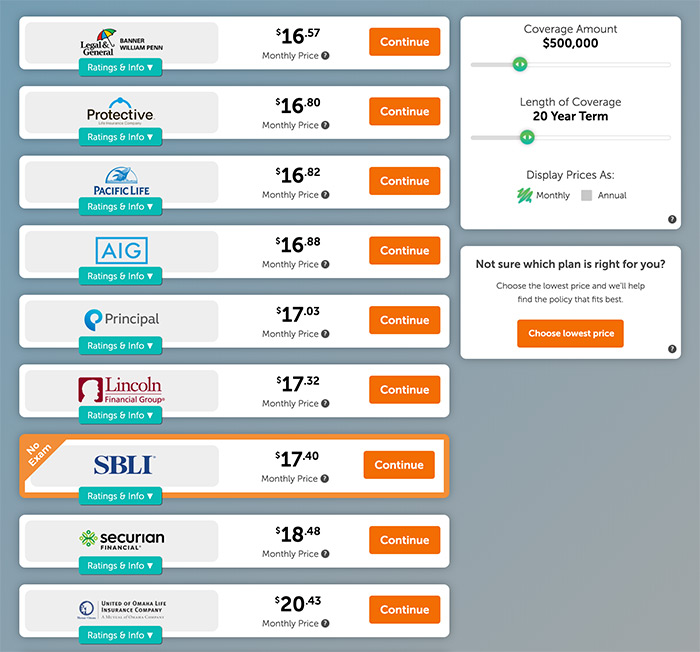 Don't be overwhelmed if you're given 20 different options. We recommend you simply choose the least expensive one. Why? Quotacy only works with A-rated or better carriers. This means they are financially-stable and trustworthy. The policy you end up with, no matter the insurance company, will be a solid one.
In addition, your Quotacy agent will review your application before officially submitting it. This is a free service we provide.
Your agent reviews your application to make sure you're applying to the insurance company that's the best fit for you. For example, perhaps you chose to apply to a company that does not have an accelerated underwriting process that you'd likely qualify for. If this is the case, your agent will reach out and ask if you'd like to switch companies to potentially have coverage much sooner.
Or perhaps you chose to apply to a company that is very strict with a certain risk factor of yours. Maybe you've been diagnosed with anxiety and the company you chose is strict with that health condition. Your agent will reach out and ask if you'd like to switch to a company that is more lenient with an anxiety diagnosis to save you money.
Apply for Life Insurance Today
Applying for life insurance is easy. Our quoting tool lets you see term life insurance quotes instantly without even providing any contact information.
Take a look at your options, and then apply right online in just a few minutes. Your Quotacy agent will let you know if accelerated underwriting is a good option for you.
Once your application is officially submitted to the life insurance company, your agent will keep you updated every step of the way.
It's only a few minutes out of your day to get life insurance quotes and apply. Then let your Quotacy agent do the heavy lifting behind the scenes while you get back to your day.