We just did something really cool.
For the past year, we've been working with the team at Samsung as a premiere launch partner for the newest version of their voice assistant, Bixby. For the first time ever, people will be able to seamlessly use voice commands to shop for life insurance on their Samsung devices.
Considering that Samsung accounts for almost a third of all smartphones in the US, we're pretty excited. This partnership will let us take a huge step towards our goal of helping one million families protect their loved ones with life insurance.
It's taken a lot of hard work behind the scenes to get ready for this partnership to go live, and it all started when Samsung reached out personally to Chris, our senior information architect and all-star programmer. The folks at Samsung asked him to be one of the first outside developers to test their early tools and develop for their platform.
See what you'd pay for life insurance
Comparison shop prices on custom coverage amounts from the nation's top carriers with Quotacy.
As one of a select few outside developers Samsung reached out to for Bixby 2.0's third-party launch lineup, Chris got direct access to the Bixby toolset. Alongside a few other ideas, he started brainstorming ways to connect our life insurance quoting tool into the voice assistant.
Over the course of a few weeks, the first version of the Quotacy assistant came together. Samsung liked what they saw enough to invite him to their 2018 developer's conference in San Fransisco as one of six finalists whose capsules shone brighter than the rest.
As a part of SDC 2018, Chris was able to meet and collaborate face-to-face with many other Samsung developers, including Adam Cheyer, VP of Engineering at Samsung and one of the original architects of Siri.
During the conference, Chris won the judges' award for the most impactful application and took home a cash prize – giant check and all.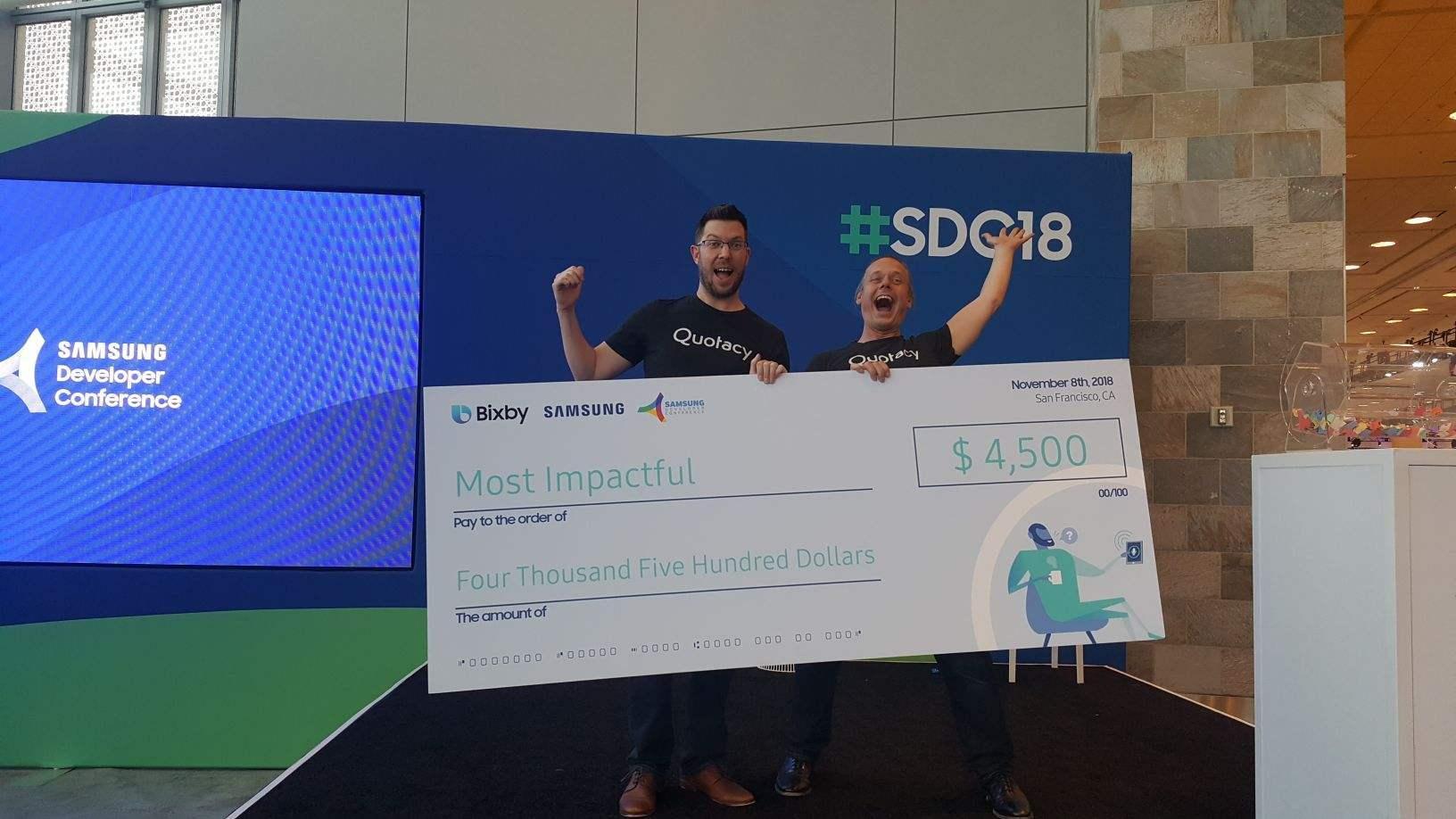 We're really excited for people across the US to finally get their hands on the new Bixby and our life insurance assistant, and we're thrilled to help our industry take another step towards embracing new technology.
The Quotacy assistant on Bixby will give you term life quotes in a matter of seconds from the top insurance companies in the US.

You can even start your purchase of life insurance from Bixby. Our life insurance assistant will pass all your information along, so you can jump right in to buying coverage and protecting your family with Quotacy's life insurance experts in your corner.
Saving families has always been our mission. We're excited to partner with Samsung to help bring simple, accessible life insurance one step further with Bixby.