The medical examination is often the most invasive part of a life insurance application. A urine test, a blood check, and several questions about your health and lifestyle help the insurance company's underwriters confirm the information you provide during your phone interview. However, if you're a trypanophobic like me, it's never fun being stuck with a needle – even in your own home.
For most life insurance applications, the medical exam is mandatory. But at Quotacy, we're always looking for ways to make applying for life insurance as simple as possible, and luckily, several of our carriers offer the ability for certain price ranges and age groups to bypass the exam process in favor of "Accelerated Underwriting" programs, sometimes called no exam life insurance.
» Compare: Term life insurance quotes
While many of these programs are only open to people matching very specific criteria, the exam-free underwriting program offered by SBLI is simple, easy, and extremely reliable for applicants who are under the age of 60.
SBLI's no medical exam life insurance is available to any applicant 60 years of age or younger seeking policies with coverage amounts of $500,000 or less.
Ready to get your life insurance quote?
You're a few minutes away from great life insurance
How much life insurance do you need?
Figure out your action plan with our needs calculator
How No Exam Life Insurance Works
SBLI's no exam life insurance is available to any applicant 60 years of age or younger seeking policies with coverage amounts of $500,000 or less. The program is available in all states except for New York and Montana, due to state-level insurance regulations. Only your age, the face amount of your policy, and your location are factors in your eligibility to skip the exam.
Any Quotacy applicants who fit those criteria and apply for an SBLI policy are automatically placed into the no exam life insurance program. Even if you're assigned a higher risk class or table rated during your application, you won't need to have a medical exam.
Even though you don't have to have a physical exam done to be approved for coverage, the final price of your policy will still be influenced by your health. A medical record check is still required for your application to be improved, and any medical conditions noted by your doctor will have an impact on your final price and eligibility for coverage, just like any other life insurance application.
How to Apply for No-Exam Life Insurance with SBLI
If you're 60 or younger, applying for $500,000 or less in coverage, and in any state other than New York or Montana, you can sign up for SBLI's accelerated underwriting, no exam life insurance program. Simply start a quote and look for SBLI on the list of carriers during the "Choose a Policy" step. All you have to do is select SBLI on that screen, and you're off to the races.
» Calculate: Life insurance needs calculator
For example, John Doe, a 29-year-old male from Washington, was looking for $200,000 in life insurance. He was quoted at best-class by SBLI and applied for coverage that was priced at $18.62 per month, and qualified for no exam life insurance underwriting.

John completed his phone interview very quickly, and his doctor was able to send the underwriters all of the relevant medical records electronically. Thanks to his speedy responses and his doctor's efficiency, John was approved for coverage at his original price within a week of his initial application, which is extremely fast for a life insurance application.
Even if you're moved into a higher risk class during your application process due to your phone interview or medical history, as long as you still fit the price, age, and location criteria, you won't need a medical exam.
Jack Smith, a 42-year-old male from California, was looking for $500,000 in coverage. Jack applied through SBLI and was initially quoted for best-class rates at $25.54 per month. Jack also qualified for accelerated underwriting and an exam-free process.

While the underwriters on Jack's case processed his medical and financial records, they discovered that he had a history of heavy alcohol use, which bumped him into the "Preferred Non-Nicotine" rate – one step down from best-class. Jack accepted the new offer at $33.15 per month, ending up with coverage within three weeks after his initial application.
By applying for no exam life insurance through Quotacy, you'll cut down on even more paperwork thanks to our online-focused process. You'll also be matched up with a dedicated independent Quotacy agent who will keep you posted on any updates along the way, and answer any questions you have throughout the process.
» Learn more: What Is Accelerated Underwriting or No Medical Exam Life Insurance?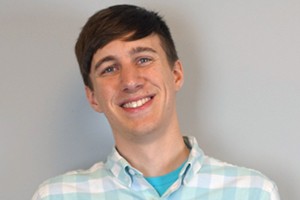 Eric Lindholm
Communications Coordinator
Eric started in Quotacy's sales department, but moved to marketing after helping hundreds of people through their life insurance buying journey. Aside from writing about buying life insurance, he also edits Quotacy's monthly newsletter, runs our YouTube channel and produces Real Life, our podcast. Eric lives in Minneapolis, where his coworkers are trying to convince him to take his humor into the spotlight. Connect with him on LinkedIn.