Life insurance is a financial tool that helps you protect your family's finances. If you die while you have a policy inforce, your beneficiaries receive a death benefit payout.
The death benefit can provide funds quickly to help your family pay for your end-of-life expenses, like a funeral and medical bills, and help them maintain their standard of living.
The easiest way to get life insurance is to go online and get instant term life insurance quotes. No need to talk to anyone in an office or on the phone. Get real quotes in real time without giving away any contact information.
» Compare: Term life insurance quotes
See what you'd pay for life insurance
Comparison shop prices on custom coverage amounts from the nation's top carriers with Quotacy.
The best type of life insurance for most families is term life insurance because it's affordable and can fit into most budgets.
One of the best things you can do before buying a life insurance policy is to shop around and compare prices. Not all life insurance companies evaluate applicant risk factors the same way, which can greatly affect an applicant's life insurance rates.
The easiest way to get life insurance is to work with a good broker. They can do a lot of the legwork on your behalf, such as reaching out to each contracted insurance company to find out which will offer you the best price.
A life insurance broker has the ability to offer products from many different life insurance companies. They are not employed by an insurance company and therefore are not limited as to what products they can sell, unlike a captive life insurance agent.
A broker is your advocate. They work to find you the best life insurance for your individual needs.
Quotacy is an online life insurance broker and can help you find affordable life insurance coverage to protect your loved ones.
The Easiest Way to Get Life Insurance:
Get term life insurance quotes online without being required to provide any contact information.
Choose your term length and coverage amount and see instantly how adjusting these factors change your estimated monthly premium.
Compare pricing and policy options from many different top-rated life insurance companies all on one page.
Choose your policy and apply online in just a few minutes. Your Quotacy agent will let you know after you apply if you need to do anything else (e.g. complete a phone interview or a medical exam).
After the insurance company completes their underwriting process, your Quotacy agent will share with you the insurance company's final offer. You can choose to accept their offer, walk away, or your Quotacy agent can help you find a different option.
Getting Term Life Insurance Quotes
Avoid companies that ask for your contact information before showing you quotes. These companies may sell your information and you'll become bombarded with emails and phone calls from insurance agents.
Here at Quotacy can you can see term life insurance quotes without handing over any contact information. It's anonymous and allows you to comparison shop in peace on your own time.
» Compare: Term life insurance quotes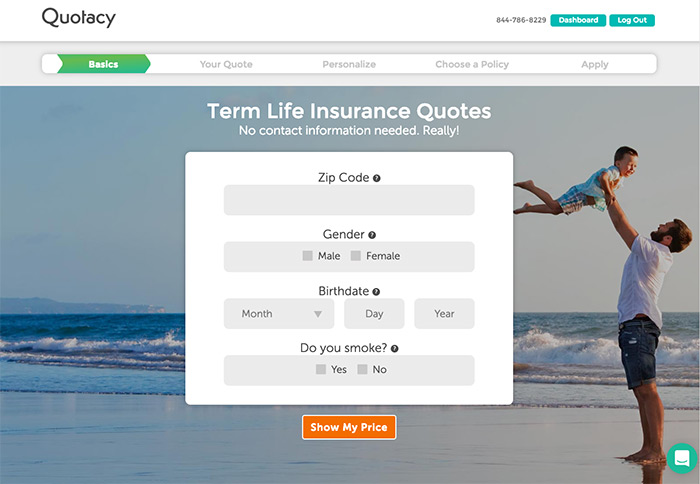 Term life insurance lasts a specific period of time of your choosing. If you have very young children who will be dependent on you for quite a while or if you have a 30-year mortgage, then a 30, 35, or 40-year term length may be ideal. However, not everyone needs life insurance coverage for that long.
» Calculate: Life insurance needs calculator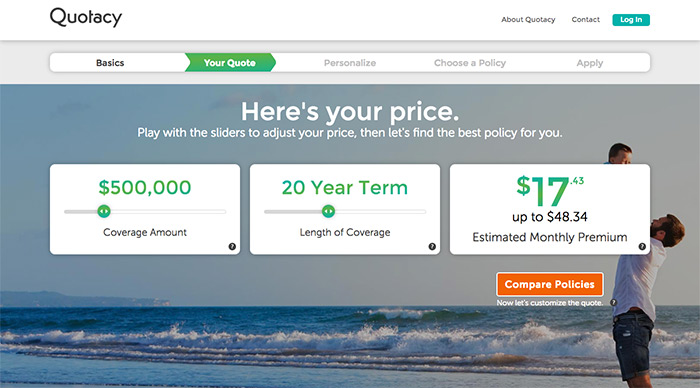 If you're unsure what term length or coverage amount to choose, a Quotacy agent can help you determine your life insurance needs.
Quotacy works with over 25 of the nation's top life insurance companies. In addition, your Quotacy agent will make sure the policy you chose on our website is the best for your unique situation. Because of this, we recommend you simply choose the least expensive option available to you if you're unsure which company to go with.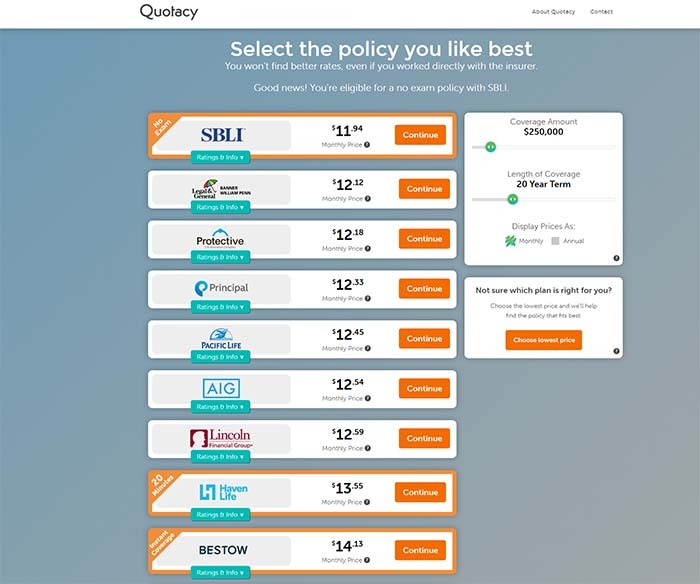 The Life Insurance Buying Process
After you submit your online application, your Quotacy agent starts going to work for you.
First, your agent reviews your application to ensure the life insurance company you chose is a good fit. If you have a medical condition or not-so-stellar financial history, then it may be possible a different insurer will treat your application more favorably.
If this is the case, your agent will contact you to let you know that they think they can save you money by applying to a different company. You can go with your agent's suggestion or continue on with your original pick.
Your agent will send you a Docusign to verify your official application and then officially submit it to the company of your choosing. Note: Submitting an application does not commit you to purchasing a policy.
Next you'll complete either a short phone interview or online form (called the online Part B), depending on the company. This step is to verify that you, the person to be insured, is actually who you say you are and consent to the coverage.
You may qualify for an accelerated underwriting life insurance process which doesn't require a medical exam. Your Quotacy agent will let you know. If a medical exam is necessary, an examiner will come to your home or office on a date and time that's convenient for you. The exam typically takes 20-30 minutes and it's completely free to you.
Once you have completed your phone interview and medical exam, all you have to do now is wait. Your Quotacy agent will keep you updated during the company's underwriting process.
If the insurance company approves your application, their final price may or may not be the same as your initial quote. If it's higher than your initial quote, your Quotacy agent will work with you to find coverage that fits in your budget.
You also have the option to walk away. You are not obligated to buy the coverage. However, it's important to note that life insurance gets more expensive the longer you wait to buy it. Your age comes into play, and so will any health or lifestyle issues that occur.
Life insurance is a great financial tool to help protect your loved ones. Start the process by getting a term life insurance quote today.
Note: Life insurance quotes used in this article accurate as of March 2, 2022. These are only estimates and your life insurance costs may be higher or lower.