We understand how frustrating it can be to enter a bunch of your personal information online in an attempt to get a quote for a service and end up with nothing except the promise of spammy phone calls. We don't operate that way. Quotacy created a quoting tool with the main goal to provide you with an actual term life insurance quote instantly without having to give up your personal contact information.
Life insurance is important for families—it should be made easier to purchase, not harder. If you visit Trustpilot.com and view our customers' reviews, you'll see many of them referring to how easy our process is.
Most Americans overestimate the cost of life insurance by 3-5 times the actual price. By giving American shoppers easier access to see real life insurance quotes, maybe this statistic will go down. Our hope is that more families who need life insurance will be able to obtain it.
Are You Looking for Term Life Insurance Quotes?
On the Quotacy homepage, we give you the option to get a free quote now. And we mean business. In less than a minute, you'll be able to see term life insurance quotes from the top-rated life insurance companies—without giving away any contact information.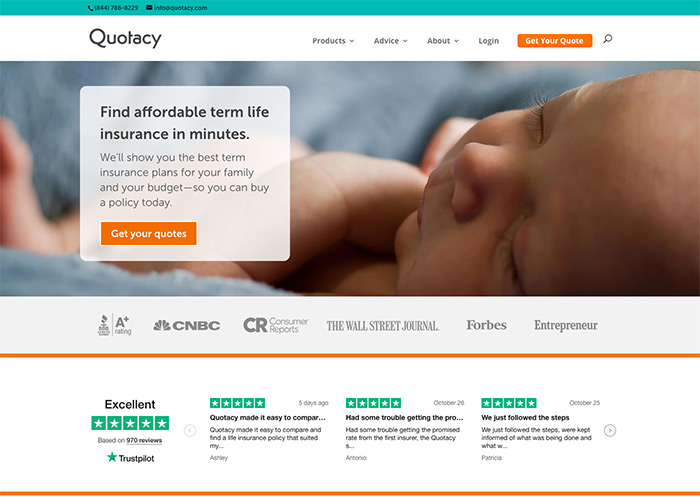 You're instantly brought to a page where you enter basic information such as:
Your zip code

The state you live in may affect what life insurance products are available.

Your gender

Women statistically live longer so your gender will affect pricing.

Your birthdate

Mortality risk is one of the biggest factors in determining life insurance pricing and the older you are, the closer you are to death.

Your smoking status

Life insurance companies have two different pricing models, one for tobacco users and one for non-tobacco users.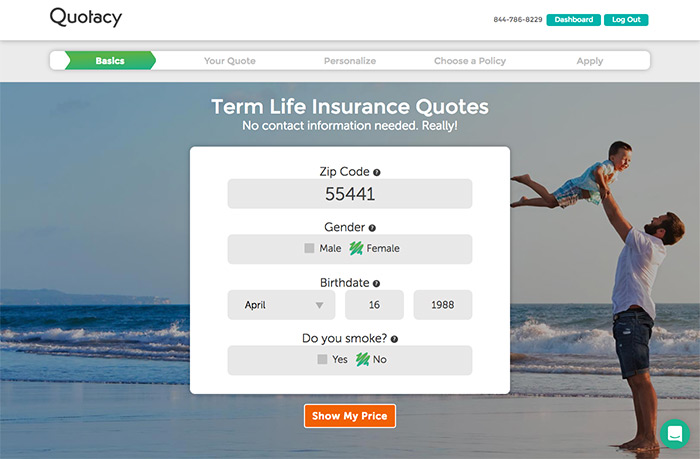 After you enter this information, you will instantly see an estimate for on how much a term life insurance policy will cost you per month. You can adjust the sliders in the Coverage Amount and Length of Coverage boxes to change the term life insurance quote.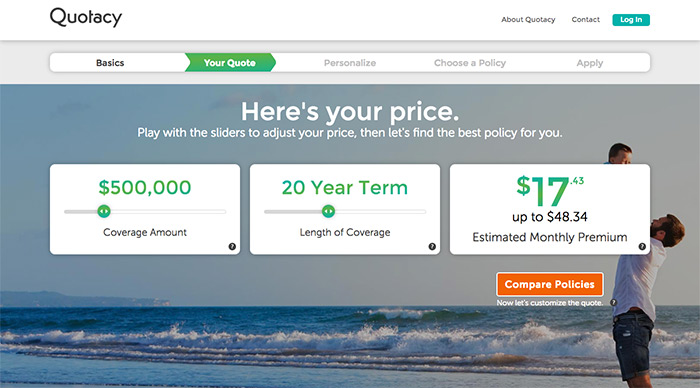 The quote shown here is based off only the information you provided previously—your zip code, age, gender, and smoking status. To get a more refined term life insurance quote, keep going through the tool.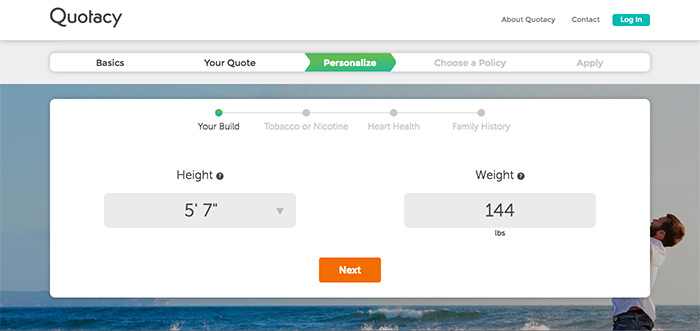 Next, the tool will ask you to explain your tobacco habits, if you have any. If you currently use any form of tobacco or nicotine, or used to, you can provide more specific information here.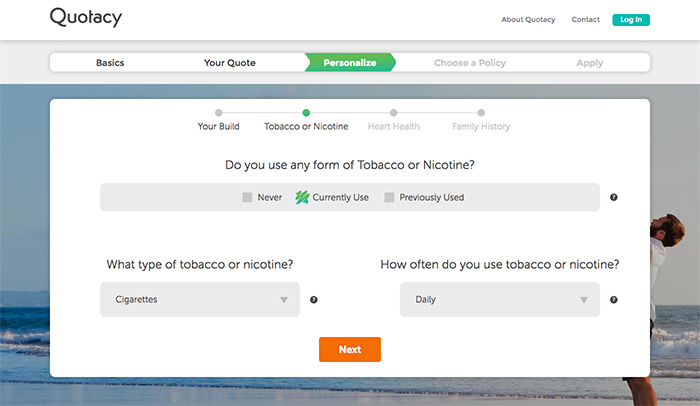 If you take any blood pressure or cholesterol medication, we ask that you provide recent blood pressure and cholesterol readings. If you aren't sure what your blood pressure or cholesterol ratio is, you can just skip this part and keep going. The more information you provide in the quoting tool, however, the more accurate your final term life insurance quote will be.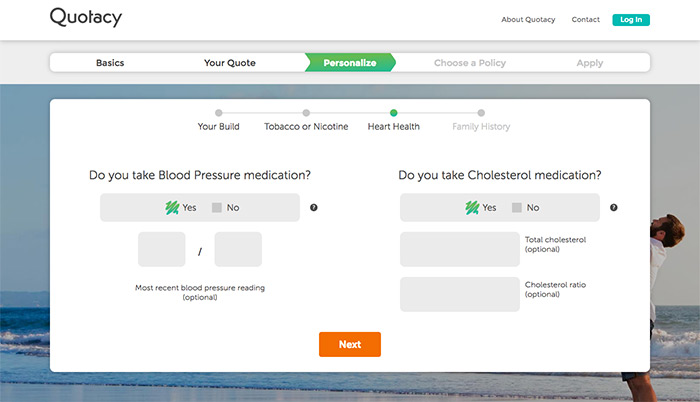 If any of your immediate family members—mom, dad, siblings—have been diagnosed with or died because of a serious medical condition—like heart disease, diabetes, or cancer—you can add the information here.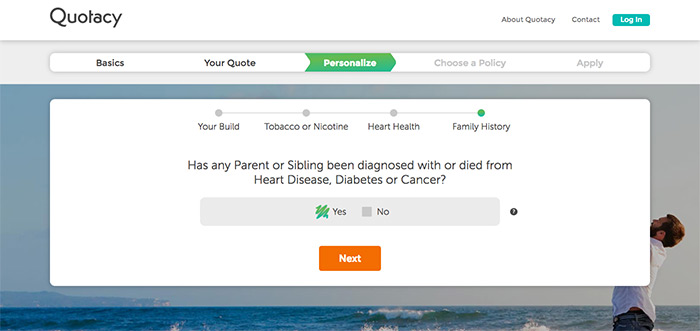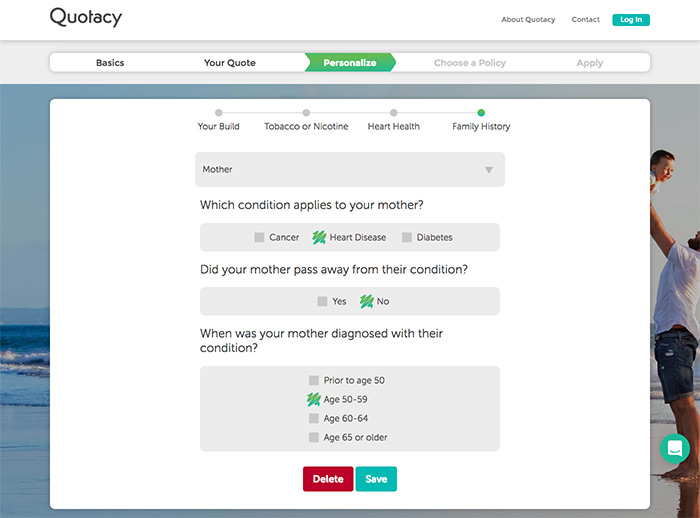 Insurance companies want to know about your family medical history because some conditions are hereditary. Your future health can be affected by conditions that run in the family.
See what you'd pay for life insurance
Comparison shop prices on custom coverage amounts from the nation's top carriers with Quotacy.
After completion of these few steps, you're brought to the page in which you can review the life insurance offerings provided to you and see term life insurance quotes from all the different life insurance companies you may be approved through.
Depending upon information you provided in the quoting tool, like your zip code, some insurance companies we work with may not be available to you. For example, a few companies do not do business in New York, so if you live there then fewer companies will be shown on this page.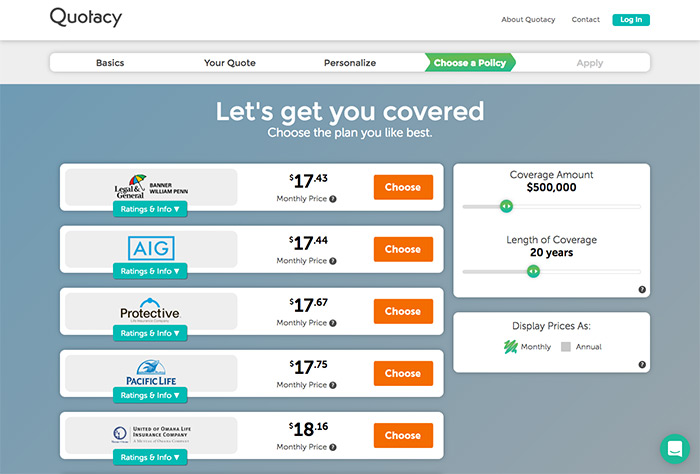 Here you can again change your coverage amount and length of coverage by adjusting the sliders. Moving the sliders will change your term life insurance quotes accordingly. You can also opt to display the quotes to pay annually instead of monthly.
For more information about each policy option, hit the Ratings & Info tab below any company logo.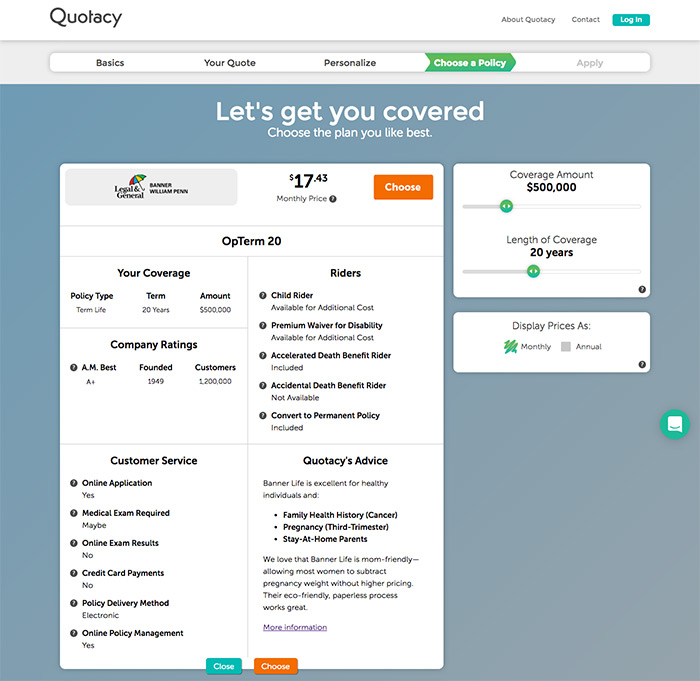 We provide details about the life insurance company itself, such as their financial strength rating, and other helpful information that may be useful when deciding which policy to apply for.
If you're looking for basic term life insurance coverage for your family, we typically advise you to just go with the least expensive option. Then after you apply, your Quotacy agent will review your application thoroughly to ensure your lifestyle and health factors match up with company you picked.
Because the life insurance industry is highly competitive, some insurance companies favor certain niches over other insurance companies. For example, if you disclose in your life insurance application that you're a marijuana user, we'll double-check that the company you want to apply to will give you the best price. If there is a company out there that will be more lenient in pricing, we'll contact you and let you know.
If you want to switch companies and apply to the more lenient one, it's easy to do. We'll take care of it on the back-end.
Not Sure How Much Term Life Insurance You Need?
Sure, our quoting tool is easy to use, but what if you're not sure how much coverage to get a quote for? We can help you with that too.
Our life insurance needs calculator can help point you in the right direction. Simply answer three questions about your assets and income. Then you'll be shown the amount of term life insurance that's practical for your family.
If you're unsure about how much life insurance you need, what type you need, or have any other questions about life insurance, contact us.
We work for you, not the insurance companies. Our goal is to get you the best priced life insurance so you can protect your loved ones from the what-ifs in life.
» Compare: Term life insurance quotes