If you're looking for term life insurance, no medical exam, then you'll be interested in accelerated underwriting. Accelerated underwriting is essentially a way to buy term life insurance without having to go through a medical exam.
Today we are diving into what you need to know about this life insurance option.
» Compare: Term life insurance quotes
First, it's important to know that term life insurance with no medical exam is a bit more involved than it sounds.
You won't have to take a medical exam, true, but there are several other important factors related to your health and lifestyle that insurance underwriters will take into account when evaluating your application.
Sound confusing? Don't worry! We've got you covered (pun intended) with these 9 things you need to know about accelerated underwriting, which will help you choose between no medical exam and traditional term life insurance policies.
1. A term life insurance policy with no medical exam will likely be more expensive than a traditional term life insurance policy that requires an exam.
Since the life insurance company won't have the latest information on your health from a new medical exam, they will have to rely on existing medical records and national averages to determine your risk class (or to estimate your mortality risk).
A life insurance medical exam helps keep insurance costs low for the population as a whole. If you opt out of this exam, life insurance companies account for this unknown risk by increasing your premiums. They also need to consider that you health may have changed for the worse since your last medical exam on record.
We'd definitely recommend going the route of getting an exam if you are healthier than an average person in your age group, your health has gotten better since your last exam (for example, if you quit smoking), or your family has a medical history but none of the problems have affected you.
2. Your medical history will still matter.
When you run life insurance quotes, you only need to provide the most basic health information. However, even during the accelerated underwriting process, underwriters will still need some medical information to determine your risk class.
Having a history of serious illnesses, for example, or being from a family with a history of inherited diseases will impact the rates that you receive. Don't let this discourage you. You'll see many options when you run term life insurance quotes. Quotacy works with multiple top-rated life insurance companies and we're experts at helping families obtain life insurance even if you have unique challenges.
3. Your job, smoking status, driving record, and hobbies will impact your premiums.
Exam or no exam, your term life insurance application will include your age and lifestyle. Underwriters will have to thoroughly evaluate your hobbies, job, and other risk factors.
If you have a dangerous job or a death-defying hobby like scaling ice-covered cliffs, your life insurance quotes will most likely be much higher than if you stuck to playing UNO.
4. Accelerated underwriting is usually faster.
After you run life insurance quotes and apply, the process for getting approved for a traditional term life insurance plan may take 4-6 weeks.
With accelerated underwriting, it is possible to complete the application process and be approved within just a week. That said, for some life insurance companies, you may not find out if you qualify for accelerated underwriting after you submit your application.
That means the application process may end up taking more time if you don't qualify right away.
5. Term life insurance that doesn't require a medical exam usually provides less coverage than a term life insurance policy with an exam.
Many insurance companies place a cap on how high the face value (or coverage amount) of your plan can be. The most common face amount maximum is $500,000. This restriction is based on the insurance company's need to limit their financial risk due to applicants not completing a health exam during the underwriting process.
While that may be an option for some, it may not be enough to cover, for example, a mortgage, household debt, and income replacement for a family of four.
6. Your age and gender are always taken into account.
This is another element of getting term life insurance with no exam that mirrors getting term life coverage with an exam.
Women get less expensive life insurance quotes (except in Montana, where gender cannot be used to determine life insurance premium rates) because they tend to have a longer lifespan (sorry fellas).
Your age, of course, has a lot to do with longevity, so insurance companies weigh this heavily in determining your premiums. Don't let this put you off, however, older applicants can—and do—still find affordable life insurance quotes with us.
A life insurance medical exam helps keep insurance costs low for the population as a whole.
Ready to get your life insurance quote?
You're a few minutes away from great life insurance
How much life insurance do you need?
Figure out your action plan with our needs calculator
7. There are usually recommended height and weight guidelines for approval.
Despite the fact that you won't take a medical exam, there are parameters that give you an edge when applying for term life insurance with no exam.
If you fall outside the range listed below, it may be beneficial to have an exam done. They are quick, non-evasive, and can give your future life insurance company a more holistic view of your height and weight profile.
| | |
| --- | --- |
| Height | Weight (lbs) |
| 4'8" | 82-138 |
| 4'9" | 85-143 |
| 4'10" | 88-148 |
| 4'11" | 91-153 |
| 5'0" | 94-158 |
| 5'1" | 98-164 |
| 5'2" | 101-169 |
| 5'3" | 104-175 |
| 5'4" | 108-180 |
| 5'5" | 111-186 |
| 5'6" | 114-192 |
| 5'7" | 118-198 |
| 5'8" | 122-203 |
| 5'9" | 125-209 |
| 5'10" | 129-216 |
| 5'11" | 133-222 |
| 6'0" | 136-228 |
| 6'1" | 140-235 |
| 6'2" | 144-241 |
| 6'3" | 148-248 |
| 6'4" | 152-254 |
| 6'5" | 155-261 |
| 6'6" | 159-267 |
| 6'7" | 163-274 |
| 6'8" | 168-281 |
| 6'9" | 172-288 |
8. Medical exams for term life insurance plans are confidential, easy, quick, and convenient.
Although a term life insurance medical exam won't be as fun as, say, a day at the beach, it will probably be one of the least stressful exams that you'll ever have.
The medical professionals life insurance companies use to administer exams are caring and adept at making applicants feel as comfortable as possible. You will have a quick blood draw, give a urine sample, and have your blood pressure and heart rate checked–all in a time frame of about 30 minutes.
Plus, a medical professional can come to your home or office. And they will be conscientious of any issues that you might have, such as a fear of needles.
Not so bad, right?
9. If you want to purchase term life insurance that doesn't require a medical exam because of past medical issues, know that you have other options.
Life insurance companies accept all kinds of applicants. Although it may be a challenge, it is possible to be approved for a term life policy that requires an exam—even if you have less-than-perfect health.
At Quotacy, we believe it is always worth the 5 minutes it takes to apply, even if you feel like you won't qualify.
Applicants with medical challenges ranging from smoking to depression to epilepsy have been able to find coverage with our partners. Our insurance advisors will always do their best to provide accurate information that guides you to an insurance company that is capable of providing you with the coverage your family needs.
Term Life Insurance No Medical Exam: Making the Right Choice
When shopping for life insurance, it often comes down to asking yourself this question: How can you best ensure your family's financial security, and can term life insurance with no medical exam provide the right coverage to do the job?
The answer, of course, depends on your family's goals and immediate needs.
Here's a quick checklist to help you decide if a term life insurance no medical exam plan is right for you.
Do I have a mortgage that will outlast the length of the term life insurance (no exam) policy that I'm approved for?
If you find that the plan you are interested in only offers a coverage term of 10 years and you have a 30-year mortgage with a considerable balance, this type of plan may not be the right choice.
Does the amount that my family would need to replace my income if I pass away exceed the face value of the plan I'm considering?
Rather than risk your family having to pull funds from their savings to make up for the loss of income they suffer upon your passing, it may be wise to apply for a generous term life insurance plan that requires an exam—and look into additional options like laddering.
» Learn more: Laddering Life Insurance Policies
Do I own a business that holds debt that I've personally guaranteed?
Have business debt that you are personally responsible for? Still considering a term life insurance policy with no medical exam? If your loan is under $500,000 and has a relatively short repayment period, then a 10-year plan may work for you.
However, as we mentioned above, term life insurance without a medical exam will cost you more than a traditional term life policy, so consider carefully if the extra costs are a good fit with your long-term financial strategy.
Do I have other consumer debt that may impact my family's standard of living if I were to pass away unexpectedly?
If you have consumer debts that are not dischargeable upon your death—such as private student loans—you will still be expected to pay the balance. In the event that your family is unable to keep up payments, your creditors may be able to sue your estate.
As unnerving as this may be, an easy solution is to purchase a term life policy that provides coverage for all of your family's needs (such as income replacement and debt repayment) through the life of your loans. You can also ladder or purchase multiple term life policies of different lengths to address the varying coverage needs that you may have.
Of course, there are many other situations which may apply in your case. The most important thing to remember is that you already have the tools at your fingertips to protect your family's future.
Term Life Insurance Plans with a No Medical Exam Option: How to Get the Best Quotes
You can find great term life insurance quotes with or without a medical exam easily online.
Starting with our life insurance needs calculator, you can find out how much coverage makes sense for your family. This will take mere seconds and won't require you to fill out any forms or talk to any financial advisors (unless you want to!).
You'll then be able to click through to our free (and also anonymous) term life insurance quotes tool to get customized quotes based on how much coverage you want to purchase. Just adjust the slider to see how much your premiums would go up or down based on your coverage amount.
Then you'll have the option to answer a few short questions and get a range of customized quotes from leading insurance companies. You'll be able to complete your online application in less than five minutes.
At Quotacy, we're dedicated to providing you the unbiased information that you need to make an informed choice. Learn more about how to get term life insurance with no medical exam and get your free quotes today!
» Calculate: Life insurance needs calculator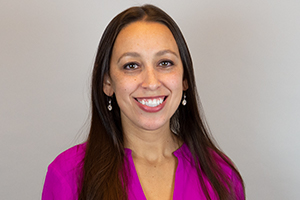 Natasha Cornelius
Writer, Editor, and Co-host of Quotacy's Q&A Fridays
Natasha is the content manager and editor for Quotacy. She has been in the life insurance industry since 2010 and has been making life insurance easier to understand with her writing since 2014. When not at work, she's probably studying and working toward her Chartered Life Underwriter (CLU) designation while throwing a tennis ball for her pitbull mix, Emmett, or curled up on her couch watching Netflix. If it's football season, the Packers game will be on. Connect with her on LinkedIn.