How do I get the best life insurance for same-sex couples?
The best life insurance for most same-sex couples—or any couple—is often an affordable term life insurance policy. In this post, we'll share our agents' tips on getting the best life insurance for same-sex couples.
Don't worry, it's simple to get a great policy at Quotacy, and we're here to help you every step of the way as you go from quote to covered.
» Compare: Term life insurance quotes
If you're happily domesticated within a same-sex couple living arrangement without being legally married or if you are legally married to your same-sex husband or wife, it's easy to get the best life insurance.
It won't matter to your life insurance company whether you are married or not or whether you are LGBT+ or not.
What does your life insurance company care about when you apply for life insurance as part of a same-sex couple?
What is insurable interest for same-sex couples?
The life insurance company is looking at the same factors for you (as a same-sex couple) as they do for anyone else. One of these underwriting factors is insurable interest.
In simple terms, the life insurance company wants to know that you and your same-sex partner are dependent on each other for your financial well-being. This means that if you (or your life partner) died, the other could potentially suffer financially.
It is illegal to profit from another person's death according to life insurance regulations. This makes common sense because you don't want your neighbor to be legally able to take out a life insurance policy insuring your life as that would be creepy and alarming.
» Learn more: Can Someone Buy Life Insurance on Me Without My Consent?
Life insurance companies understand that you don't intend to leave your estate to your neighbor—even though you're willing to loan them your lawn mower or a couple of missing eggs for their kid's favorite chocolate chip cookie recipe.
The main reason you (and most people) wish to buy life insurance is to protect your family from losing your home and income after a death in the family. We all have a natural wish for our loved ones not to suffer financially after our death. An affordable term life insurance policy is the answer to ensuring that won't happen.
How do I prove insurable interest as a same-sex couple?
For the sake of your life insurance application, it's easiest for you (and your same-sex partner) to use common terms for each other that life insurance underwriters clearly understand. One of our star life insurance agents (thank you, Cydney) told me to tell you:
Have a same-sex couple refer to each other as 'my domestic partner, my husband, or my wife.' If they just write down partner, the life insurance company may ask for clarification about whether they mean a business partner or a life partner.
Proving insurable interest is simple as you probably already share common expenses together as a same-sex couple, such as:
mortgage or rent payments
loan payments (car, student loan, credit card, etc.)
household expenses (groceries, utilities, etc.)
childcare costs
If you own a home together, are raising children as a same-sex couple, or own a business together, it's clear to the life insurance company that you share a financial life and are dependent on each other's income to support your well-being.
That's proving insurable interest in a nutshell, and it's really nothing to worry about for same-sex couples, especially if you have our team guiding you step-by-step through your life insurance application and underwriting process.
How do I get the best life insurance for my same-sex partner and myself?
Let's take the potential hurdle of being denied coverage based on you being a same-sex couple off of the table. It's not going to be an issue for you. So, let's address how to quote and buy the best life insurance for you and your life partner.
You're probably asking yourself a few questions right now:
What type of life insurance should I buy?
How much life insurance do I need and how long should my policy last?
How much does life insurance cost?
How do I buy the best life insurance online?
Answers to your life insurance questions:
We created our quoting tool to help you find out how much term life insurance will cost you and to compare your policy options easily online. If you take a moment right now to test drive our quoting tool, you'll probably find out two things (as most people do) in less than a hot minute:
I can afford to buy life insurance (it's way less expensive than I thought), and
I can do it easily online at Quotacy (880+ customer reviews tell this story for us).
Some people may want an overview of what's waiting for them before they commit to even getting our free, anonymous term life quotes. They think that because our tool is so simple, it can't be the real deal. But, there are many financial advisors using this exact quoting tool to help their clients buy term life insurance from Quotacy…so, that's simply your mind sayin' it can't be so.
How do I buy the best life insurance online today?
As the Amazon of the life insurance industry, we've made shopping for life insurance easy. Here's what you can expect from working with Quotacy. Our six-step process is super simple.
We've helped many same-sex couples get the best life insurance for their needs. We'd be happy to help your family, too.
Ready to get your life insurance quote?
You're a few minutes away from great life insurance
How much life insurance do you need?
Figure out your action plan with our needs calculator
What type of life insurance should I buy?
Most people investigate pricing for whole life insurance and then ultimately choose to buy a term life insurance policy for two reasons:
Term life insurance is 5 to 10 times more affordable than whole life insurance.
Term life insurance can be laddered (by owning multiple policies) to cover your evolving needs.
Affordable pricing is a pretty clear reason. Most of us know that life insurance is a key part of a solid financial plan, but we're on a budget.
Term life insurance is an affordable option for same-sex couples.
Let's say you're a 30-something, non-smoking female named Natasha. You hope to find an affordable term life insurance policy for under $20 per month to cover your wife, Angelina. By using our quoting tool, you've found out that it's possible at Quotacy with Banner Life who offers you a 20-year, $500,000 term life insurance policy for $17.54 per month.
By reading our review and ratings of Banner Life, you've checked that Quotacy's quoted price is not from some discount, fly-by-night insurance operation. You see that Banner Life is financially backed by Legal & General America, an established life insurance company that has placed $678 billion in life insurance covering millions of families.
Natasha and Angelina decide to each buy a term life policy and name each other as beneficiaries. They are relieved to know that if something happens to one mom, the other mom will have enough money to cover childcare for their daughter, Greta, for less than $40 per month for two policies. It's a win for the entire family.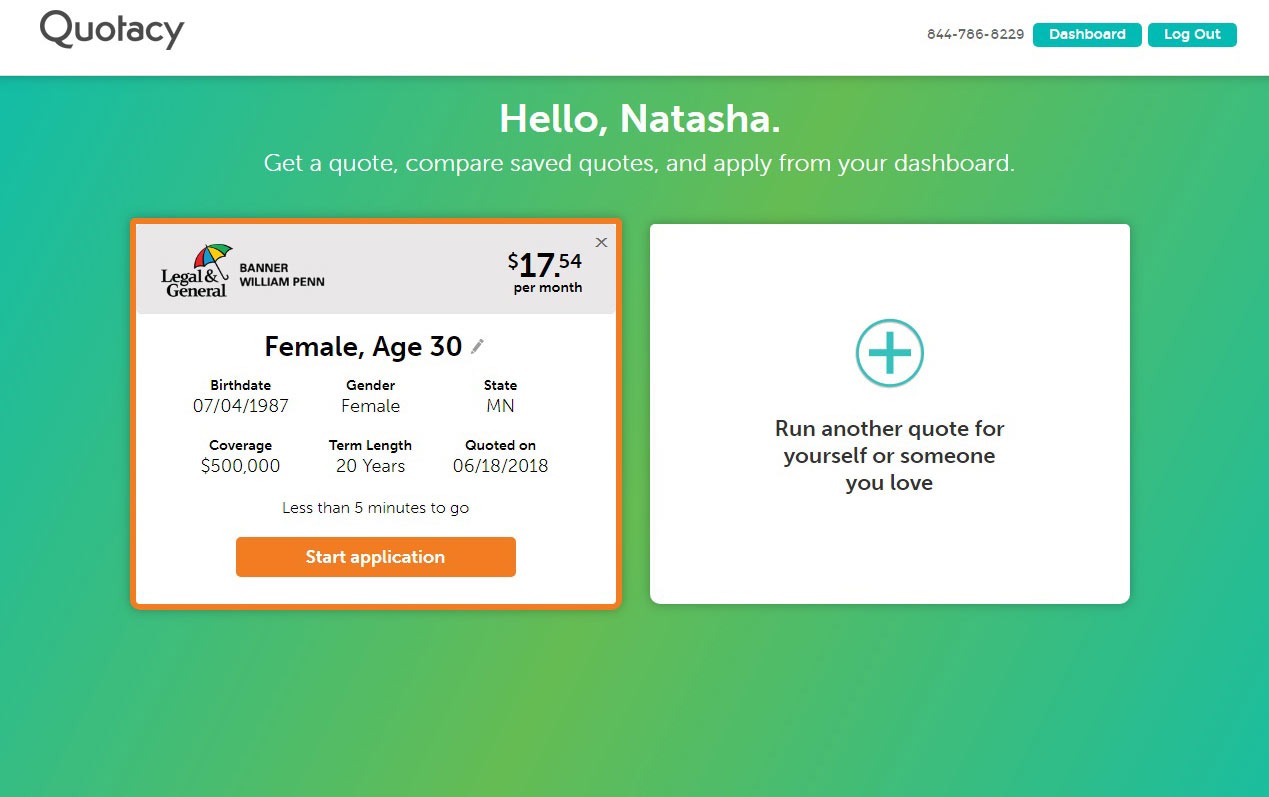 How much life insurance do I need? How long should my policy last?
To calculate how much life insurance you need, test drive our calculator. It's the easiest way to figure out how much life insurance to buy.
To do this, our calculator asks you three simple questions;
How much debt do I want paid off?
How much monthly income do my loved ones need?
How many years do my loved ones need income?
By moving the sliders (right to increase and left to decrease), your life insurance needs calculator will tell you how much coverage to buy and for how long.
For example, Jack wants to get a 10-year term life insurance policy to cover the remaining years of mortgage payments on the townhome that he owns with John, his life partner. In addition to covering the mortgage, Jack wants John to be able pay off his student loan debt of $40,000, plus have a monthly income of $8,000. It took Jack a few minutes to play with different scenarios and calculate his life insurance game plan online at Quotacy to determine he needed coverage of $1,000,000.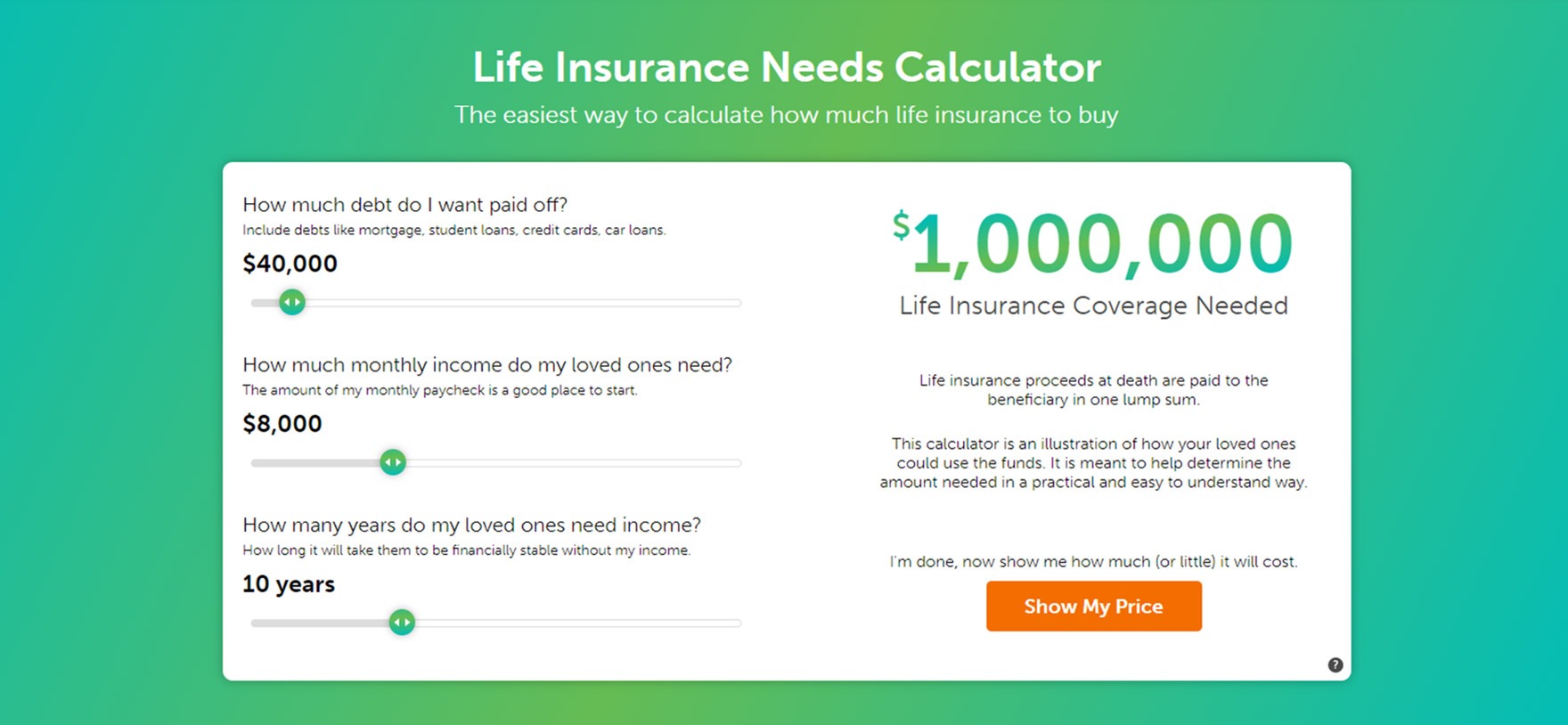 Jack's life insurance proceeds upon his death will be paid to his beneficiary (in this case: John) in one lump sum. Even though Jack intends for John to use the money to pay off his student loan and the townhome mortgage, his life partner can use the $1,000,000 in any way necessary at the time of Jack's death. Whether Jack dies two years after purchasing the policy or 9 years and two months into the policy term, his life partner, John, will receive all of the funds at one time to use however he pleases.
If you're curious about how much a $1,000,000 life insurance policy would cost you (or any other coverage amount), test drive our quoting tool. Satisfy your curiosity and get on the road to protecting your loved ones with the gift of life insurance today at Quotacy. We'd be honored to serve your family.
» Calculate: Life insurance needs calculator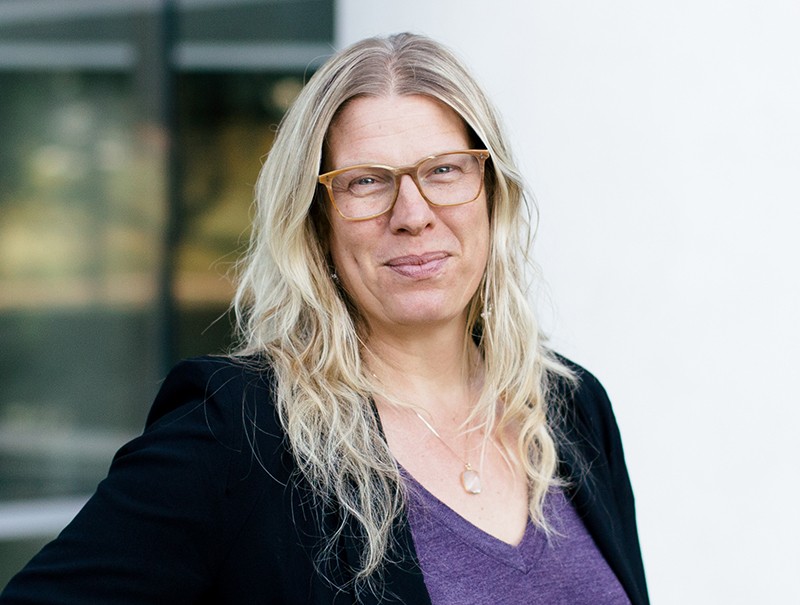 Kate Thomas
Director of Inbound Marketing
Kate is Director of Inbound Marketing working on business strategy, SEO, and writing for QuotacyLife. Kate's gift is explaining complex financial planning and life insurance topics in a simple and direct way to help families become more financially savvy and empower themselves to make wise choices. She works with Quotacy's underwriters to ensure the financial tips shared in her blogs are spot-on and truly helpful to anyone researching the ins and outs of life insurance online. If you would like a topic to be covered in our blog, leave Kate a comment below or connect with her on LinkedIn.