When you shop for life insurance through Quotacy, you have access to the country's top-rated life insurance companies. Is Haven Life the right term life insurance company for you? In this video, we review Haven Life to help you make an informed buying decision.
Video Transcript
Hey everyone we're Jeanna and Natasha. We work at Quotacy.
Quotacy is an independent life insurance broker. This means we have the ability to sell policies from multiple life insurance companies, giving you more options.
Today we're going to give a review of Haven Life, one of the life insurance companies we work with. Haven Life is owned by Mass Mutual. Mass Mutual has been in business since 1851 and they created Haven Life in 2015 to exclusively sell term policies.
Overall, if you're healthy and looking for a basic term life insurance policy, Haven Life's product is a great option.
Quotacy only works with top-rated life insurance companies which means they are rated A or better and Haven is no exception. Being A rated or better means the company is financially secure so you won't have to worry about your policy's death benefit not being paid.
To stand out in the competitive life insurance industry, Haven created a term product that you can be approved for instantly. Haven Life is excellent for those with no health issues and who are a U.S. citizen needing insurance for personal coverage.
Let's talk a little more about Haven's policy and their buying process.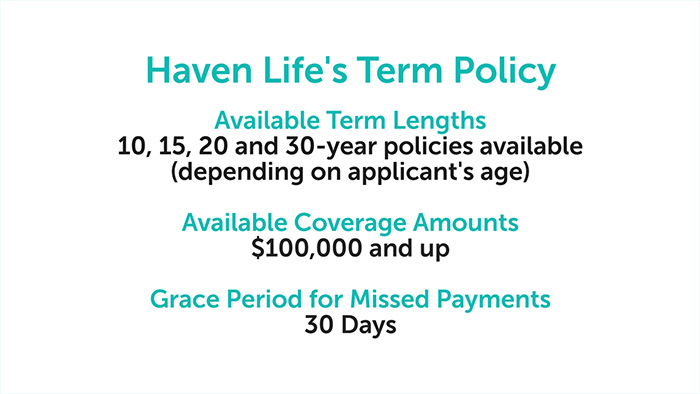 Haven offers policies in term length amounts of 10, 15, 20, and 30 years. The smallest amount of term life insurance you can purchase is $100,000, but this is pretty standard.
Overall, if you're healthy and looking for a basic term life insurance policy, Haven Life's product is a great option.
Ready to get your life insurance quote?
You're a few minutes away from great life insurance
How much life insurance do you need?
Figure out your action plan with our needs calculator
Depending on the life insurance product, there will be different policy riders available. Life insurance policy riders are additional benefits that you can add on to your policy at the time of purchase.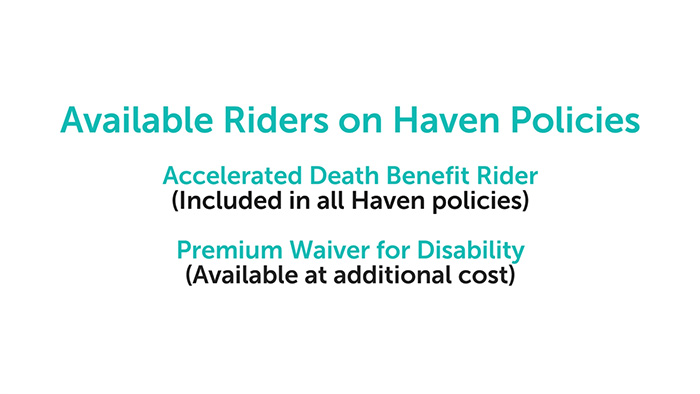 Haven's term policy offers an accelerated death benefit rider and premium waiver for disability rider.
Let's break these down.
An accelerated death benefit rider is included in Haven term policies at no charge. This rider gives you access to a portion of your policy's death benefit if you are diagnosed with a terminal illness resulting in 12 to 24 months or less to live.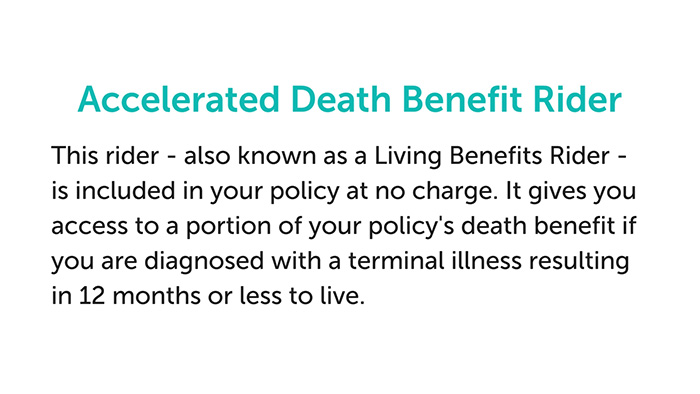 A premium waiver for disability rider is available on Haven term policies for an additional cost. With this rider, Haven will waive your premium payments during a period of total disability lasting six consecutive months or more.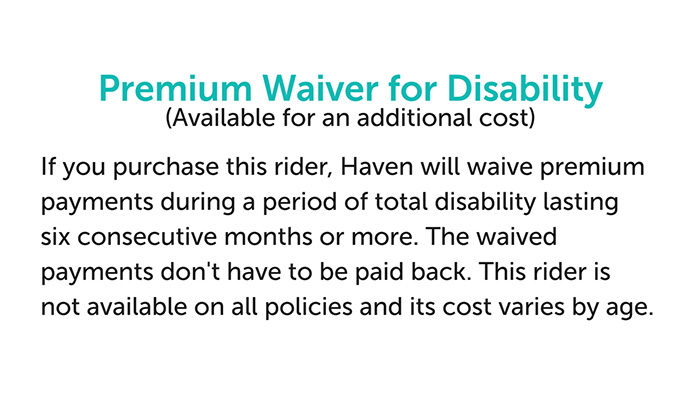 There are a few things you should be aware of when it comes to Haven's term policy.


Haven's term policy cannot be bought to replace an existing policy. It also cannot be bought by non-U.S. citizens, those on active military duty, or purchased to insure a business. You also cannot convert a Haven term policy into a permanent policy. Unlike most term products, Haven policies do not include a conversion option.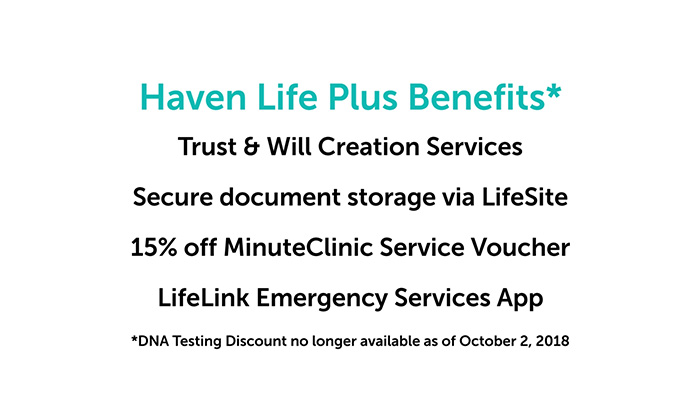 What they do offer in addition to their term product is a benefits package they call Haven Life Plus. This is offered to owners of their term policies. Haven Life Plus provides its policyholders benefits such as will and trust creation services, and MinuteClinic discounts.
You can apply for Haven Life's term product through Quotacy. When you run a term quote on our website, if you're eligible to apply based on your information, Haven will be offered as an option for you.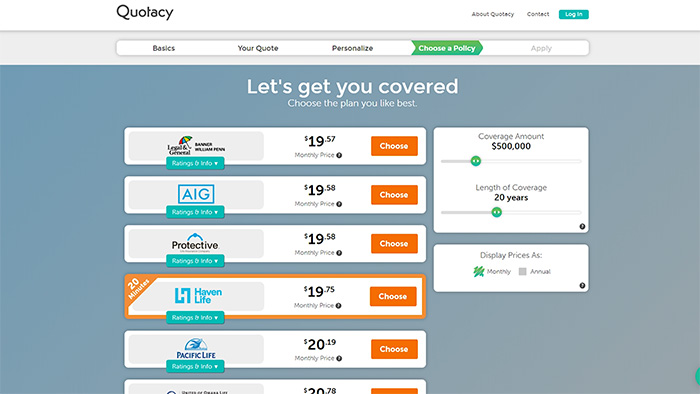 If you choose Haven, you'll be redirected to their application portal. Once you complete the online application, you'll know instantly if you're approved for coverage. You can even print off proof of insurance immediately.
» Compare: Term life insurance quotes
If you aren't approved instantly based on the information you provided, more underwriting will be required, which includes an exam. For those who are instantly approved, you may still need to take an exam to confirm your health but you have 90 days to get this done. If you fail to do so, Haven will retract your policy, but refund you the premium payments.
Quotacy can help you get life insurance from Haven Life or any other top-rated life insurance companies we work with.
And why should you get life insurance through Quotacy?
Our agents are licensed in all 50 states, and they work on salary, not commission, so we'll never try and upsell you. We work for you, not the insurance companies. You won't pay any extra fees or charges to use our services.
Get a free, instant term life insurance quote now from multiple top-rated life insurance companies without giving away any contact information. Bye!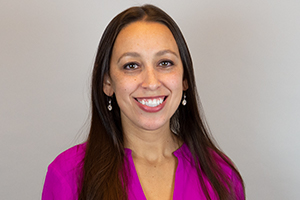 Natasha Cornelius
Writer, Editor, and Co-host of Quotacy's Q&A Fridays
Natasha is the content manager and editor for Quotacy. She has been in the life insurance industry since 2010 and has been making life insurance easier to understand with her writing since 2014. When not at work, she's probably studying and working toward her Chartered Life Underwriter (CLU) designation while throwing a tennis ball for her pitbull mix, Emmett, or curled up on her couch watching Netflix. If it's football season, the Packers game will be on. Connect with her on LinkedIn.