Trying to find the best term life insurance companies online is like searching for great mortgage rates. If you don't use a mortgage broker's service, it could take hours to ensure you're locking in the lowest 30-year interest rate. At Quotacy, as a life insurance broker, we do all the work of searching for great life insurance rates for you at no cost. We know how to find the nation's best term life insurance companies and what it looks like when a life insurance company has your family's best interests at heart.
» Compare: Term life insurance quotes
Today we'll share ten ways to know you're working with a great life insurance broker—like Quotacy.
1. The best term life insurance companies don't upsell you policies.
The best term life insurance companies are focused on helping you secure your family's financial future. That includes preventing you from wasting money on policies that may not be a good fit for your budget and financial goals.
Some policies make insurance companies more money than others, but they should provide you with a holistic look at their offerings, regardless of which one impacts their bottom line more. That's why brokers like Quotacy are especially great when you want to get an unbiased look at your life insurance options.
For example, while you may find that you will need whole life insurance because of a special circumstance (for example: a loved one has special needs and will always need care), a term life insurance policy is often the best option for most families.
Here's why:
It's a great value. Term life insurance provides families with excellent coverage for highly affordable premiums. For example, a healthy, 30-something female, non-smoker could purchase a 20-year term life insurance policy with a coverage amount of $500,00 for less than $250 per year—that's less than $20 per month, if she chooses to pay her premiums on a monthly basis.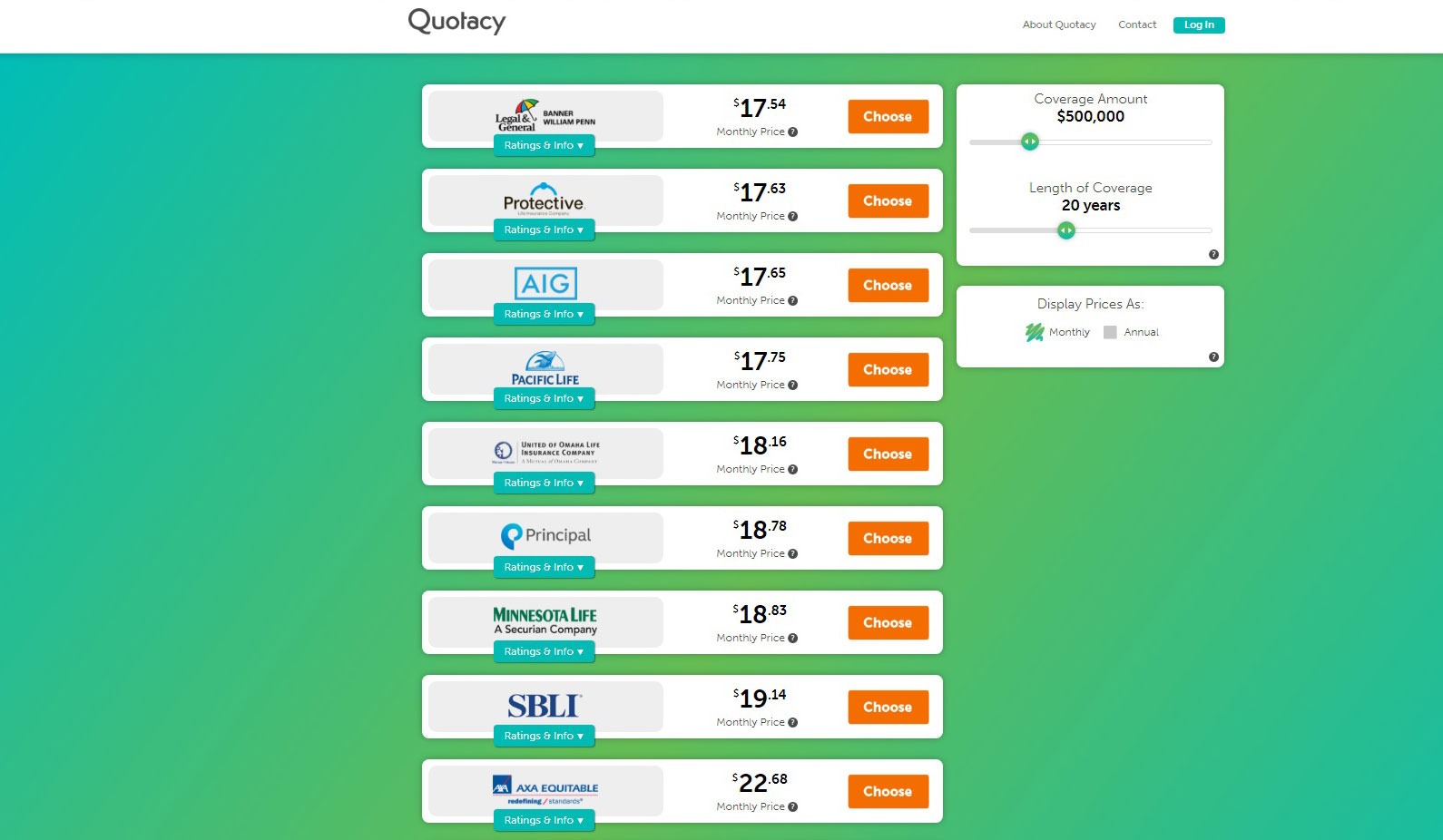 It offers a range of coverage options. Term life policies can be purchased in multiples (a practiced called laddering) to provide different amounts of coverage for various periods of time, based on your family's needs.
It's flexible. Many term life policies allow you to purchase riders—add-ons that offer extra protection for your family in special circumstances, such as in the event you can't pay your premium due to disability. This policy add on is called a disability income rider.
Quotacy tip: This rider is very similar to a long-term disability insurance policy, but it can be conveniently added to your term life insurance policy rather than you having to purchase it separately.
So, you might be asking: What makes a term life insurance company one of the best—aside from unbiased quotes?
Well, Quotacy works with some of America's best term life insurance companies and this is what they have in common:
2. The best term life insurance companies are transparent about pricing.
One of the most important hallmarks of a life insurance company with your best interests at heart is that it's always transparent about how much your life insurance premiums will cost.
It isn't just a bottom line issue: knowing how much you're paying goes hand-in-hand with knowing exactly what you're paying for.
The best way to ensure that you're getting the complete story when it comes to premiums and coverage is to compare plans from life insurance companies side-by-side. Quotacy's life insurance comparison tool is free, completely anonymous, and allows you to look at a range of prices for coverage amounts from leading insurance companies in just seconds.
Here's how it works: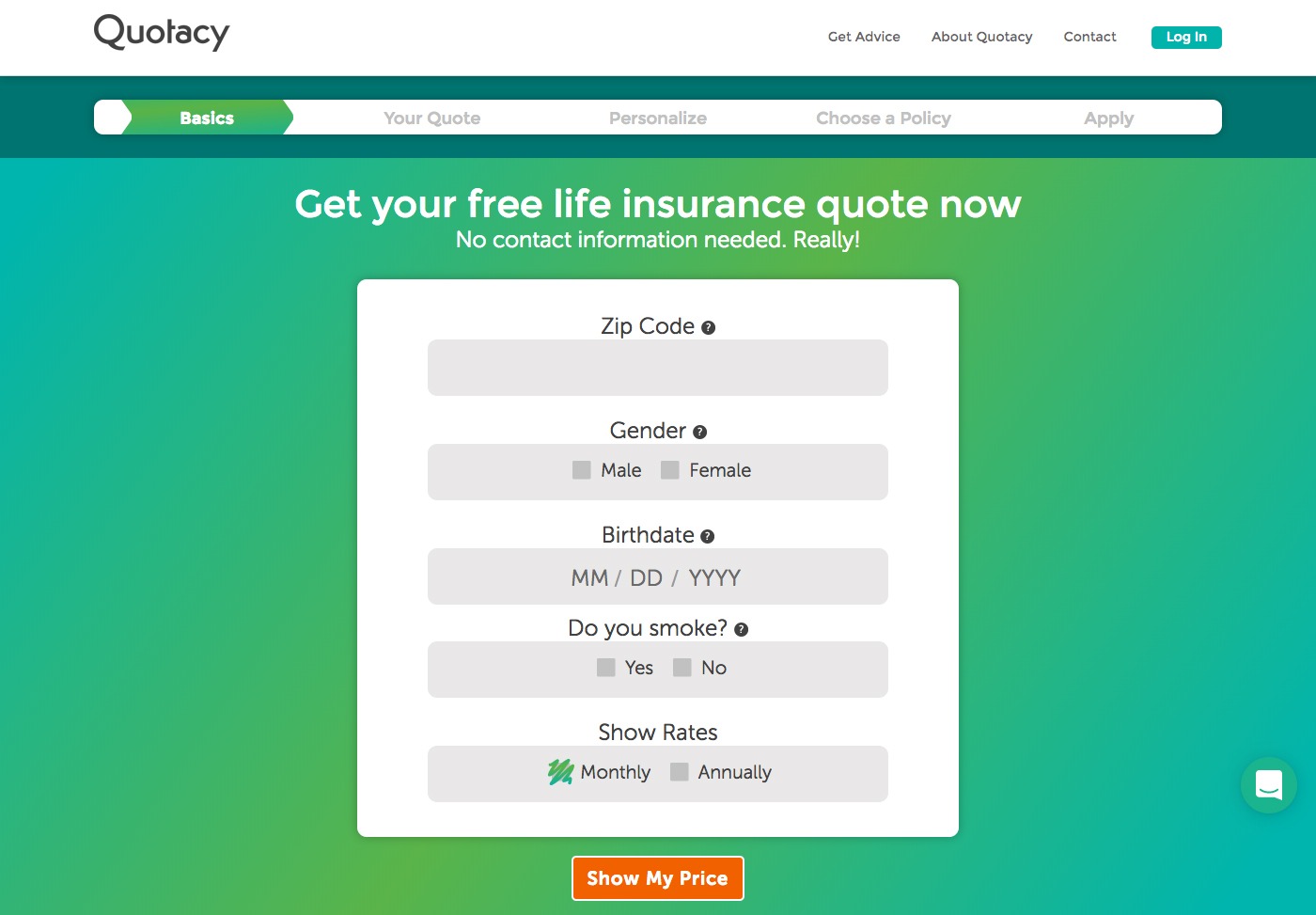 Enter your zip code, gender, birthdate, and smoking status (no need to type in your name or any contact info).
Click Show My Price. You'll see two sliders that you can use to select the amount of coverage that you're interested in and the term that you'd like. As you adjust the coverage amounts and terms with the sliders, you'll see a range of possible premium rates on the right side of your screen.
Click Compare Policies and answer five short questions about your height, weight, tobacco use, heart health, and family medical history.
Click View Policies and you'll see a range customized quotes from leading life insurance companies for you to compare side-by-side on one screen of your mobile, laptop, or tablet computer.
If you see a policy quote that interests you, start your application online at Quotacy and be done in less than five minutes.
3. The best term life insurance companies have positive customer service reviews and business ratings.
At Quotacy, we've developed strong relationships with America's leading life insurance companies. They've been vetted by the top business reputation review agencies in the country, have solid financials, and outstanding histories of excellent customer service.
The financial health of the life insurance company that you choose is just as important as their customer reputation, since their ability to pay a death benefit is dependent on their solvency.
Here are the ratings systems that we use to evaluate the best term life insurance companies for our clients.
A.M. Best
A.M. Best is a renown independent rating agency that evaluates and ranks the financials of life insurance companies from AAA (best) to D (the lowest rank). Quotacy will only work with life insurance companies that are A-rated (or better).
Standard and Poor's (S&P)
Standard and Poor's (S&P) is the world's top credit ratings agency—providing evaluations of creditworthiness for numerous industries, from banking to life insurance. S&P's scale ranges from AAA (excellent) to D (poor). The life insurance companies that Quotacy has developed relationships with are all rated A- or above for credit worthiness.
Moody's Investors Service is a leading provider of credit ratings, research, and risk analysis. Moody's rating scale ranges from AAA to C with numerical modifiers 1, 2, and 3 to indicate whether ranking is on the higher or lower end of that rating category.
Again, we only work with the best term life insurance companies—ones that are A-rated (or better) for financial solvency.
Here a few examples of the life insurance companies that provide excellent coverage for the families that we've helped. Click on a company name to read our review.
Life Insurance Company

A.M. Best Rating
S&P Rating
Moody's Rating

BBB
Rating

J.D. Power Score
(out of 1000)

Compare Quotes

A
A+
A2
A+
751
A+
AA-
N/A
A+
N/A
A+
A+
A2
A+
N/A
A+
A+
A1
A+
N/A
A
A+
A2
A+
771
A++
AA+
Aa2
A+
787
A+
AA-
A1
A+
763
A+
AA-
A1
A+
781
A+
AA-
A1
A+
808
A+
A+
A1
A+
785
A+
AA-
N/A
A+
774
A+
AA-
Aa3
A+
777
A
A-
N/A
A+
N/A

Securian Financial

A+
AA-
Aa3
A+
777
A+
A
A1
A+
N/A
A+
A+
A1
A+
789
A
A+
A2
A+
751
A+
AA-
N/A
A+
N/A
While the characteristics listed above are some of the biggest signs that your life insurance company has your best interests at heart, the following are important as well:
4. Your life insurance company should empower you with information.
An educated consumer is an empowered consumer—and the best life insurance companies will want you to have the data that you need to compare the strengths of their insurance plans with their competitors. Concise, clear information about your policy options should comprise the bulk of your first interactions, not a sales pitch.
That's why your team at Quotacy works tirelessly to bring you the best life insurance resources possible—we want you to feel empowered and educated about the policies and providers we work with.
It takes only minutes to review your best life insurance policy options from multiple companies at once—sales pressure-free—at Quotacy.
Ready to get your life insurance quote?
You're a few minutes away from great life insurance
How much life insurance do you need?
Figure out your action plan with our needs calculator
5. The best life insurance companies are honest about what they can (and can't) provide.
If your insurance company rarely offers term life insurance coverage to applicants with complicated medical histories, you shouldn't feel pressured to take an expensive whole life insurance plan—there's the possibility that another insurer may cover you, but you simply didn't know.
Working with a life insurance brokerage service—like Quotacy—allows you to review your options from multiple life insurance companies at once, pressure-free.
6. A life insurance company with your best interests at heart will work to get you covered.
Some applicants face challenges in getting approved for coverage, whether it's due to their health history, a high risk occupation, or a penchant for cliff diving (it's a thing).
Our team of agents work on salary not commission. So, they are still motivated to help you get your term life insurance policy in place…even if your case will take longer to shop due to your lifestyle or medical conditions. One of our core company values is to do the right thing. That means that our sales team is here to serve your needs first. They're a great bunch of people and we're so grateful that our customers recognize it and give them high marks for their customer service over at Trustpilot.
7. The best life insurance companies care about your financial goals.
If your life insurance company has your best interests at heart, they'll bear in mind your financial goals when helping you determine your coverage needs.
While term life insurance premiums are highly affordable, it's important to have a firm grasp on the amount of coverage that makes sense for your family now, as well as a good estimate of how much insurance you'll want down the road. That way you'll never have to worry about overpaying for coverage that you don't need, or purchasing a policy that won't offer enough protection for your family as their needs change.
8. The best term life insurance companies are flexible.
Regardless of the type of family that you're a part of—whether its a same-sex marriage or a single-parent household—your insurance company should be able to cover you.
9. An insurance company with your best interests at heart wants to talk to you.
If your insurance company isn't available for support through the application process, or can't offer you key information on their business, customer service record, and the details of their policies when you get in touch, you might want to reconsider your relationship with them.
At Quotacy, we partner with you and provide all of the facts that you need before you make a choice—you won't have to listen to hold music for 15 minutes to just get basic information about your potential rates. What's more, we'll even evaluate your application after you have filled it out online to see if there are other companies that may be a better fit for you.
Learn more about how Quotacy shops your case.
10. Term life insurance is the foundation of your financial security—your insurance company should help you make an informed decision.
At Quotacy, we never push our clients to choose a quote from an insurance company if it doesn't meet their requirements.
If your insurance company is pressuring you to finalize your decision when you're having doubts—or shutting you down when you need more answers—they may be focused more on sales than what's best for your family.
How to cut time off of your term life insurance research to find the best policy to protect your family…
It can be challenging to navigate the process of pre-qualifying life insurance companies, selecting term life insurance quotes, and then managing your application for coverage. We've put together a term life insurance buyer's guide to help you learn the basics about insurance. You'll get the details on how insurance works and learn how to determine your term life insurance needs.
We also have a great list of our top-rated term life insurance companies for you. Do a deep dive into their business and customer service ratings, and then click through to compare quotes. That means you'll save hours of research time because you'll be able to compare the companies that you're interested in and look at quotes side-by-side.
At Quotacy, we're passionate about getting families the financial protection that they need. Over the years we've helped thousands of families find excellent coverage at highly affordable rates. We've simplified the process so that you'll spend less time than the average TV commercial break to find quotes from America's best life insurance companies.
Want to find out more? Learn what you need to know about term life insurance company ratings before you buy a policy, then click through to our comparison tool to compare quotes in seconds.
» Calculate: Life insurance needs calculator

Quotacy is the country's leading broker for buying life insurance online. We are obsessed with making it easy for everyone who has loved ones who depend upon them to have life insurance.