You may know you need life insurance to help financially protect your family. But a trickier question to answer is: how much life insurance do I need to adequately protect them?
To answer this question, you can, of course, reach out and ask a Quotacy agent to help you determine the coverage amount. Our agents are happy to assist you.
If you're more of a do-it-yourselfer, then you will probably like using an online life insurance calculator. On your time, whether that's over the weekend or after the kids go to bed, you can easily get an idea for how much life insurance to buy.
Using Our Online Life Insurance Calculator
Quotacy's life insurance calculator is free and easy to use. Answer a few questions as best as you can and the tool with calculate a suggested amount of life insurance coverage for you.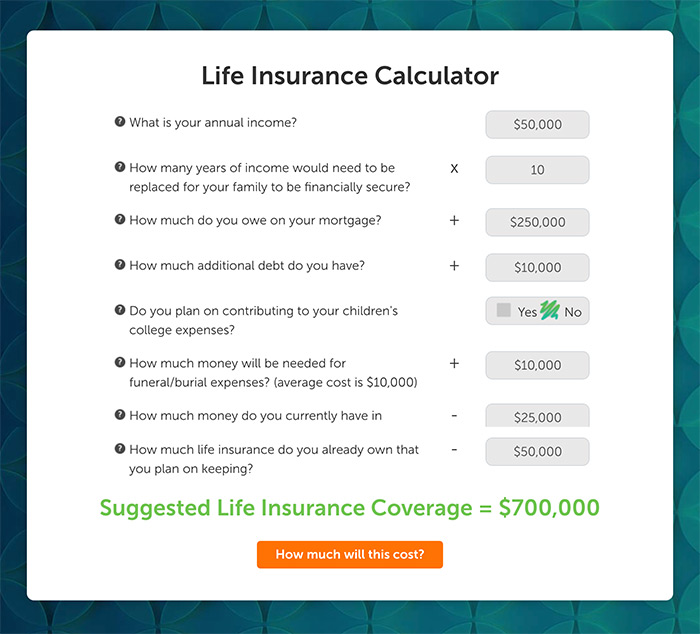 The calculation is simply a suggestion. You can increase or decrease the coverage when you officially apply for life insurance.
After the calculator provides your suggested amount, you can instantly run quotes for that amount with our life insurance quoting tool. Find out how much it may cost you to buy that life insurance policy.
Using Our Term Life insurance Quoting Tool
When you press the "How much will this cost?" button on the calculator, you're brought to the quoting tool. Here you answer enter basic information: your zip code, gender, birthdate, and whether or not you smoke.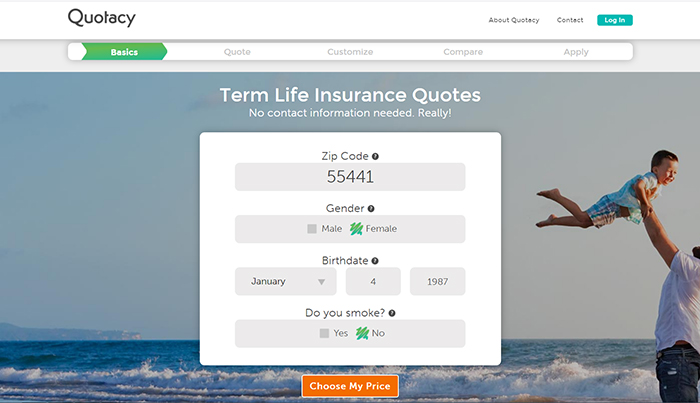 Next, you're shown a quote for the amount of insurance suggested by the online life insurance calculator. You can easily adjust the coverage amount here to see different pricing.
With the quoting tool, you can also adjust how long you want your term life insurance coverage to last. We suggest you buy a term policy that lasts the length of your largest source of debt. For most people, this is the mortgage. When you adjust the term length, you can also instantly see how it affects the pricing.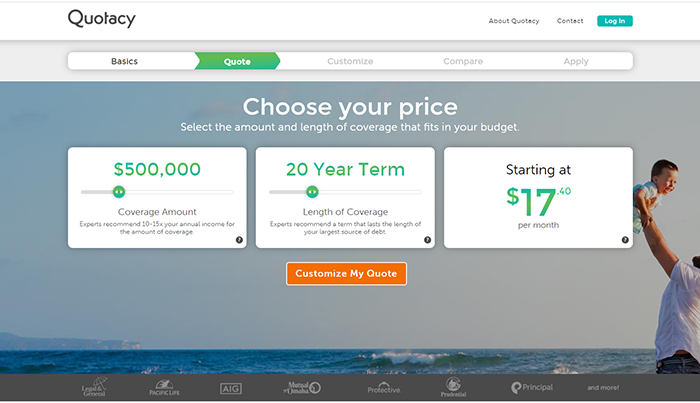 Once you find a coverage amount, term length, and quote you're comfortable with, you can move on to fine-tune your quote. After answering a few more questions, such as your height and weight, your initial quote may or may not change. But, don't worry, you can adjust your policy's coverage amount and term length again before officially applying if you choose to.
Finally, you're shown all the options Quotacy has for you based on your answers in the quoting tool.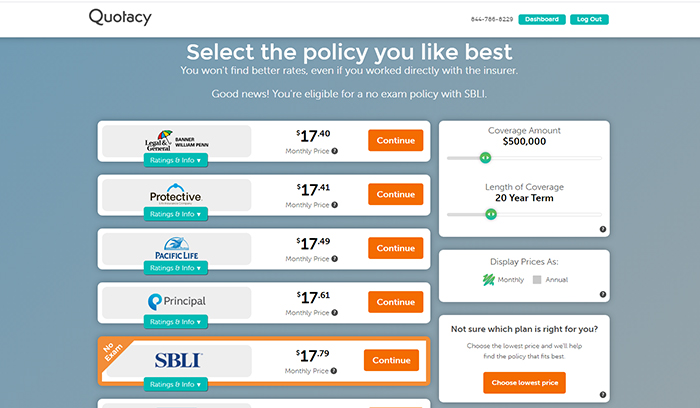 If you're interested in learning more about each optional insurance company, we provide information such as their strength rating and features they provide. However, know that we only work with the nation's most top-rated insurance companies, so, it's OK to just choose the least expensive option.
In addition, once you submit your online application, your Quotacy agent double-checks everything before officially sending it to the insurance company you've chosen.
If you're more of a do-it-yourselfer, then you will probably like using an online life insurance calculator.
Want to see what you'd pay for life insurance?
Compare the best prices from the names you know and trust, all in one place with no commitments.

Applying for Life Insurance Online
Your agent double-checks it to make sure nothing in your application pops out as a risk factor that may increase your rate with that particular insurance company. Not all life insurance companies view risk factors in the same light.
Applicant risk factors encompass many things. Risk factors can range from obesity to marijuana use to a bad driving record. And some insurance companies are more lenient with certain factors over others. Your agent will make sure you're matched with the best one.
As your application moves through the buying process, your Quotacy agent will keep you posted every step of the way. Any time you have questions, you can reach out to your agent.
Depending on your individual circumstances and the life insurance company you apply to, you may need to get a medical exam. This exam is free and can take place on a date and time of your choosing. The examiner will even come to your home or office, wherever is most convenient for you.
Before offering you a final price for your policy, the insurance company reviews your application, pulls medical, driving, and criminal records, and reviews your medical exam results, if applicable. This process, called underwriting, will allow the insurance company to determine your risk class.
Your agent will update you with a final offer when the insurance company is done with their thorough review. You have the option to accept the offer, adjust your coverage, or walk away. No hurt feelings.
Keep in mind that life insurance pricing only increases the older you get. If you're offered a final price that is higher than your initial quote, your agent can help by providing policy options that fit better in your budget.
Overall, we recommend buying life insurance as soon as you have the need. If you think you can make changes in your life that will decrease your rate, such as losing weight or quitting smoking, we still suggest you accept the policy now and later on reapply to see if you become eligible for a lower premium. But the decision is completely up to you.
Ready to get life insurance? If you're not sure how much you need, hop on over to our online life insurance calculator. Or else skip over to our term life insurance quoting tool and start running quotes instantly. No contact information necessary to see rates. Quotacy is here to help make life insurance easy to understand and simple to get.
Note: Life insurance quotes used in this article accurate as of December 16, 2020. These are only estimates and your life insurance costs may be higher or lower.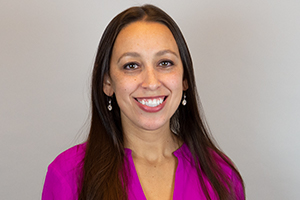 Natasha Cornelius
Marketing Content Manager
Natasha is a writer and content editor at Quotacy. She is also co-host of Quotacy's YouTube series. She can't get enough of life insurance and outside of work is also working toward her Chartered Life Underwriter designation. Connect with her on LinkedIn.