We understand buying life insurance can seem overwhelming, especially if you don't have a clear understanding of what the process looks like.
To help give you a clear picture of what it takes to get coverage, here's a snapshot of the life insurance buying experience from start to finish.
Step 1: Decide how much coverage you need
There can be a number of variables that will determine how much coverage your family will need in the future. In general, we suggest that you consider buying a policy that
a) Simply covers 10 times your income, or
b) Would cover your financial obligations minus your savings.
One of the most important considerations is to buy what can comfortably fit in your budget. To help you determine the right amount of coverage, check out our easy-to-use Life Insurance Calculator
Step 2: Comparing quotes
Comparing life insurance quotes through Quotacy is incredibly easy. To get started, simply enter in some basic information and choose the amount and length of coverage by adjusting the sliders for ballpark pricing.
Next, customize your quote by answering a few simple health questions. This will give you more accurate pricing. Once that's entered, you'll be able to compare rates from top-rated carriers instantly.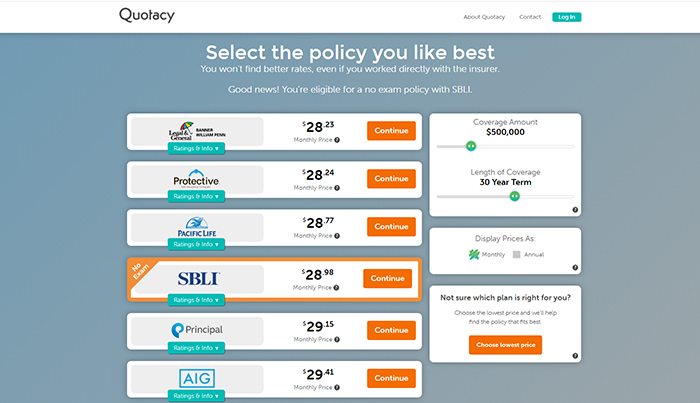 To help you compare options, check the "Ratings & Info" drop downs for more information. If you can't decide, choose the lowest price and we'll let you know if there's a better fit.
Step 3: Choose and apply
Once you find the policy that fits best, click continue to fill out some additional health and lifestyle information, which should only take five minutes.
Before we officially submit your application to the carrier of your choice, your personal Quotacy agent will review your information to make sure you're matched with the carrier that will give you the best possible price.
Step 4: Phone interview/online questionnaire
After your application is formally submitted to the carrier, they will reach out to complete your phone interview. You'll verify your information and provide any needed details, which typically takes 15-30 minutes.
Some carriers will allow applicants to provide the needed information online, so if a phone interview doesn't fit in your schedule, check with your Quotacy agent to see if you qualify.
Step 5: Complete a medical exam (if needed)
Most life insurance companies require applicants to complete a simple medical exam. The exam provides the company with a better understanding of your health.
The life insurance medical exam is free, should only take 10-15 minutes, and the examiner will come to you. Just pick the time and place that's most convenient for you.
Step 6: Review and activate your coverage
Once the carrier finishes reviewing your information and any necessary records, they'll either approve your quoted price, offer you a different risk class, or decline your application.
If they offer a different risk class, this means your rate will be higher than your initial quote. If this happens, your Quotacy agent will present options with pricing that's more in line with your original quote or you can accept the policy as is.
When you're ready to move forward with an approved option, all you need to do to activate your coverage is sign your policy packet and make your first payment.
If you're declined, your Quotacy agent will provide alternative coverage options if they're available.
Ready to get started?
Take our quoting tool below for a test drive.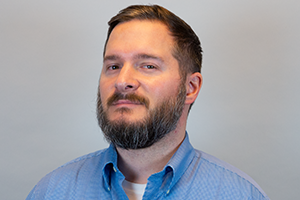 Greg Lewerer
Director of Creative Strategy
Greg is Quotacy's Director of Creative Strategy. He has an eclectic past from working on movie scripts to creating ad campaigns for major brands. His love of creative solutions drove him to strategy, and he now uses his powers to help families protect their loved ones. Outside of work, Greg spends his time off the grid hunting, fishing, camping, biking, hiking, and walking his dogs.