After you submit the online life insurance application on the Quotacy website, we work together with you to turn that into an official application to send in to the life insurance company. Here's what happens after you send in your online life insurance application.
1. Your agent ensures you're matched with the best life insurance company option.
Through Quotacy you are given many policy options. As a life insurance broker, we have the ability to offer plans from different top-rated life insurance companies. Once you choose a plan and submit the application, your Quotacy agent will review it to make sure you and your chosen life insurance company are a good match.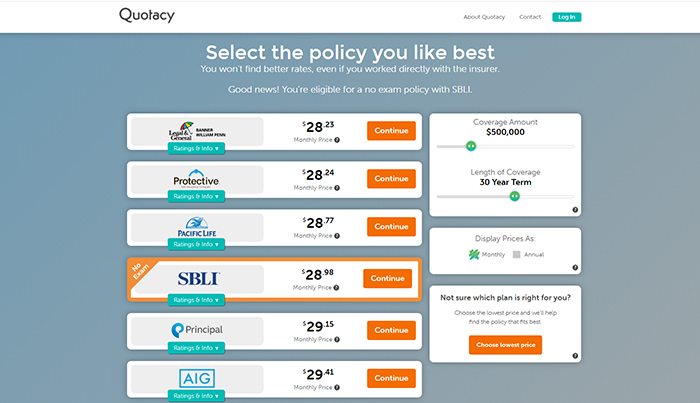 » Compare: Term life insurance quotes
If you have a medical condition or participate in an activity that an insurance company might deem risky—for example, rock climbing—your Quotacy agent may email you with a few questions about it. These risk factors can impact the final price of your policy.
Not all life insurance companies evaluate risk factors in the same way, which means they would not offer you the same final price. One of the tasks your Quotacy agent does is make sure you're getting the best possible price on your life insurance coverage.
For example, if you have asthma but you chose to apply to an insurer that we know will end up moving you into a risk class with higher premiums, we'll touch base with you and let you know of a life insurance company that will treat your application more favorably. You do not have to switch companies if you don't want to. We just want to give you the option.
» Learn more: Why Life Insurance Companies Have Different Rates
2. Your official application is sent in to your chosen life insurance company.
When the right company is determined, your agent will email you forms to complete via a secure software called DocuSign. These forms are where you fill in your personal information such as driver's license and Social Security numbers so we can prove you're who you say you are.
On these forms are also where you fill out the beneficiary information. (Note: Your beneficiary designation is not set in stone at this step and if you so wish you'll be able to edit the distribution of your policy's payout later by asking your agent.) These forms complete your application and then we send it off to your chosen life insurance company.
See what you'd pay for life insurance
Comparison shop prices on custom coverage amounts from the nation's top carriers with Quotacy.
3. The life insurance company will contact you for a verification phone interview.
Typically within 24 hours of receiving your application, a representative of the insurance company will contact you for a confidential phone interview. The phone interview lasts approximately 30 – 45 minutes. They will confirm your personal and health information, as well as the other information given on your application.
To ensure the phone interview goes quickly and smoothly, we recommend having the following information on hand:
Your driver's license number and Social Security number
Names, addresses and phone numbers of doctors, hospitals/clinics you've visited in the past ten years
Reasons for and dates of medical treatment
Names of any prescription medicines you are taking
Other life insurance policies including company names, coverage amounts and policy numbers
Financial information including income, assets, liabilities and net worth
Not all life insurance companies require a phone interview and instead have the option to verify your information electronically. Your Quotacy agent will let you know if this option is available to you.
Once the phone interview is complete, some companies will ask if you want to schedule your no-cost medical exam at this time. Others will opt to call you later to schedule the exam separately, if the underwriter decides one is necessary.
4. Complete your no-cost life insurance medical exam (if needed).
Most life insurance applicants will need to take a short medical exam. There is no cost to you for this exam and the certified professional examiner will come to where it is convenient for you, like your home or workplace. You can also choose to go in to one of their facilities to complete the exam.
» Learn more: 12 Tips to Get the Best Results on Your Term Life Insurance Medical Exam
The medical exam will consist of:
Providing your medical history and that of your family's (mom, dad, siblings)
Recording your height,weight, and blood pressure
Obtaining a blood sample
Submitting a urine sample
Once your phone interview and medical exam are complete, an underwriter at the life insurance company will begin the process of reviewing all your information to determine whether they can approve your application. Sometimes insurance companies need your medical records to aid their evaluation.
» Learn more: What Is Life Insurance Underwriting?
Ordering medical records can often be what turns a two week application process into a two month application process. The majority of doctors' offices still have old paper medical records and store them offsite, only sending an administrative staff member out to fulfill orders one or two times per month. In this case, it can sometimes help speed up the process if you call your doctor's office and personally ask them to send out the records.
Other doctors' offices have a more advanced records-keeping process and have all of their medical records digitally stored. If this is the case, they send them off in just a few days.
5. Getting your final offer from the life insurance company.
The underwriting evaluation determines the final price of your life insurance policy.
There are typically four things that can happen here:
Your policy is approved as applied or
After a full review of your application, it was determined that you could not qualify for the risk class you applied for and your approved risk class resulted in a higher price than your original quote or
Your policy is postponed or
Your policy is declined.
If you're approved as applied, all you need to do next is review, sign, and accept your life insurance plan. If you're approved but at a higher premium, we will let you know why, and then give you some more options to choose from if you don't want to go with their initial offer.
If the insurance company decides to postpone an offer, this means that based on your current circumstances, they do not want to approve you at this time but will consider it in the future. If you are declined coverage, unfortunately you won't be able to get traditional life insurance at this time. If either final expense life insurance or accidental death life insurance is an option for you, your agent will share this information with you.
6. Accept and activate your life insurance policy.
Once you're approved and select the policy option you want to activate, the insurance company will send you the policy. It can take a couple days up to a week to receive your policy depending whether or not the life insurance company does e-delivery or if they send you a paper policy packet via snail mail.
Once you have the policy, you just need to review it and sign off on it, and then you're 100% covered! Your Quotacy agent will be available now and in the future if you have questions or want to make any changes or need more life insurance.
All of these steps may seem overwhelming reading them on paper, but it's easier than it sounds. Your Quotacy agent will walk you through every step and keep you routinely updated so you know where you are in the process. If at any time you have questions or want an additional update, please don't hesitate to call or email. Start the process by getting a free and anonymous term life insurance quote today.