It's always a good idea to confirm that you have the best term life insurance rates for you and your loved ones—even if you already have coverage.
Perhaps you chose your term life policy without comparison shopping because your local insurance agent assured you it was the best offer?
Maybe you got a term life insurance quote from the insurance company directly, but you didn't fully research your options or understand how to comparison shop for the best policy online?
» Learn more: 10 Tips to Ensure You Get the Best Term Life Insurance
Neither scenario is ideal if you're looking to find the best coverage for your family.
Why?
Because you might not have the best term life insurance rates if you left it to Google or a captive life insurance agent who can show you options from only one company.
Additionally, your needs may have changed since getting your policy or, if your needs are the same, a broker like Quotacy may be able to get you a better deal on the same amount of coverage you have.
Even if you have coverage, it's always a good idea to confirm that you have the best term life insurance rates for you and your loved ones.
Ready to get your life insurance quote?
You're a few minutes away from great life insurance
How much life insurance do you need?
Figure out your action plan with our needs calculator
Why You May Not Have the Best Term Life Insurance Rates
Knowing where to look is key to finding the best term life insurance rates. Here's a few tips on how to comparison shop for term life coverage, including a few steps to avoid as you research your policy options online.
Avoid Buyer's Remorse—Get Multiple Life Insurance Quotes
Protecting your family with life insurance is one of the best gifts you can give your loved ones. Term life insurance is much more affordable than most people think and the best way to experience that yourself is to do some comparison shopping online for the best term life insurance rates for your needs and lifestyle.
» Compare: Term life insurance quotes
Just as you would shop online for the best home loan rates with a mortgage broker, likewise you can easily get unbiased, customized-for-you quotes from a third-party life insurance broker like Quotacy. We'll give you a side-by-side look at over a dozen different policies from the most trusted life insurance companies in the country.
Understand Your Needs Before Searching
It may be tempting to simply select the quote that offers the most coverage for the lowest monthly premium, but this isn't the way to find the best term life insurance rates.
That's because you might end up with more—or less—coverage than you actually need.
With our life insurance needs calculator, it only takes a few minutes to get a clear understanding of your financial goals and what your family may require down the road. Our tool will also ask the right questions to help you think about how your needs may change over time.
It's a simple step toward getting the right coverage amount that you need to protect your family or business.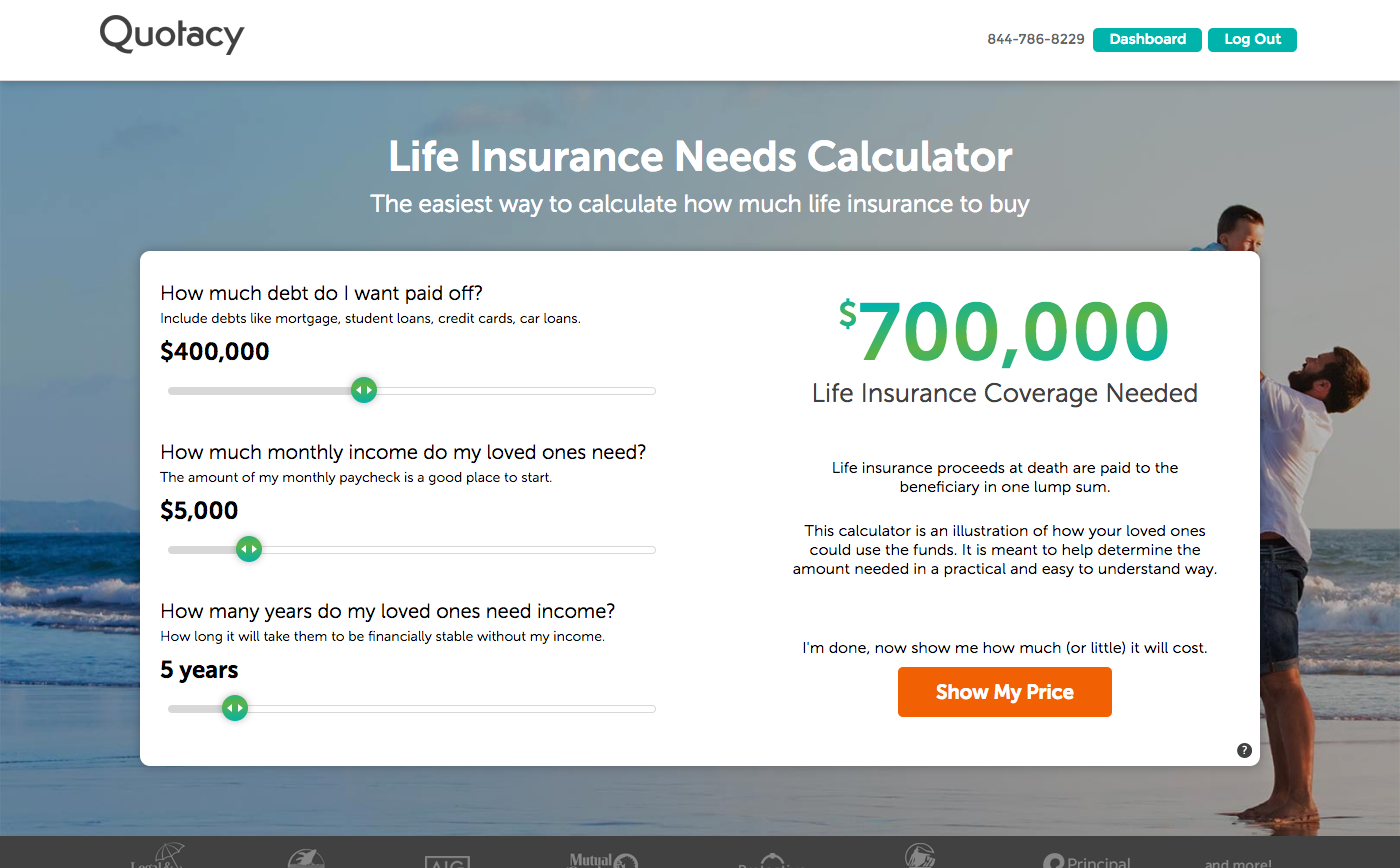 Know Your Options
Did you know that you may purchase more than one policy to cover different periods in your life when your family may need more or less life insurance?
This strategy is called life insurance laddering, and it's just one option that a Quotacy insurance advisor can explain to you if you contact us via phone, email, text, or livechat.
As life insurance brokers, we've not only created an instant quoting tool that can look at your family's unique requirements and present you with several of the best term life insurance rates from your mobile or laptop, we've also invested in creating a wealth of online life insurance resources that can answer any questions you may have, helping you make an informed decision.
» Calculate: Life insurance needs calculator
How to Find the Best Term Life Insurance Rates
How do you find the right quote online?
We recommend using a quoting tool—one that saves you time without sacrificing information accuracy or thoroughness. Here's what to look for:
Instant term life insurance comparisons: The search tool that you choose should offer you a range of policy options from different life insurance companies, allowing you to compare them side-by-side.
Company ratings: A quote from a company that you know nothing about isn't useful to you. You should have access to information about the company's reputation—such as BBB ratings—and not just a website address.
Product detail: You should be able to clearly see how much coverage is provided for the premiums that you have been quoted, and have the option to change the desired coverage amount in order to see different premium rates.
Professional support: A website can't truly offer you the best term life insurance rates if they can't give you the option to speak to a real person when you have additional questions.
On the Quotacy website, you'll find all of the above, along with an extensive FAQ where you can find answers to all of your term life insurance questions. Here's how use the Quotacy tool to find the best term life insurance rates for you.
Get the Best Term Life Insurance Rates Now
Step 1: Find a Price That Fits Your Budget & Coverage Needs
You don't need to hand over your email address, name, or phone number to get a term life insurance quote.
Use our free quoting tool and you'll have an anonymous quote in minutes.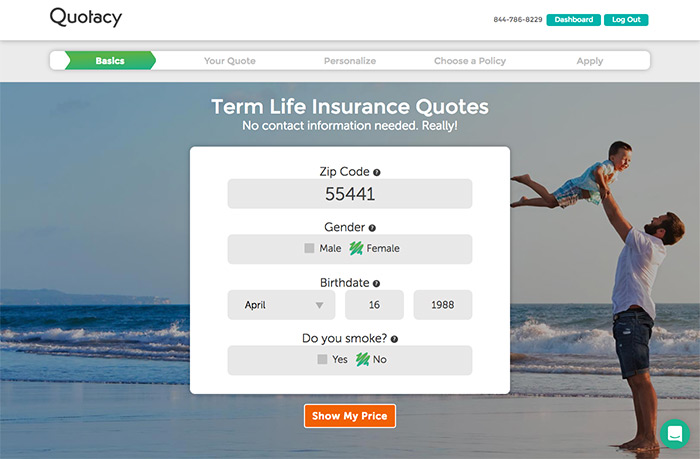 Here's what you'll enter to get your quote:
Your zip code: Insurance options differ by state so we'll need your zip code—but not your full address—to find you the best term life insurance rates.
Your gender: Women live longer than men, and insurance companies generally offer women lower rates (except in Montana).
Your smoking status: If you do smoke, or have recently quit, your rates will be higher. A Quotacy insurance agent will work with you to find the best rates.
Your date of birth: You age will impact the amount that you pay in premiums; the earlier you seek coverage the better as you lock in your rates based on your birthdate when you apply.
That's it! Once you've entered this information, you'll be able to use our pricing slider which will show you a range of term life insurance quotes.
This scale gives you the ability to see the cost range from lowest to highest for policies.
Simply move the coverage amount and length of coverage sliders to see how the pricing varies when you change each one.
In the example below, the premium amount of $59.34 is for a 30-year-old, non-smoking female living in an area with the zip code of 55404. This price includes a coverage amount of $1,000,000 for a period of 35 years.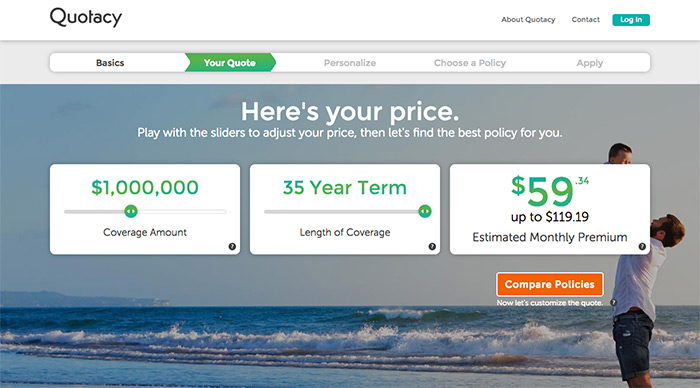 To reduce the monthly payment, this customer can lower her coverage amount to $350,000 to drop the premium cost to $25.82 per month.
Dropping the term period can also decrease the monthly payment.
Below, you'll see that decreasing the coverage amount from $1,000,000 to $500,000, as well as dropping the term from 35 to 20 years, causes this monthly premium to decrease to almost a third of the original price (~$59 to ~$17 per month).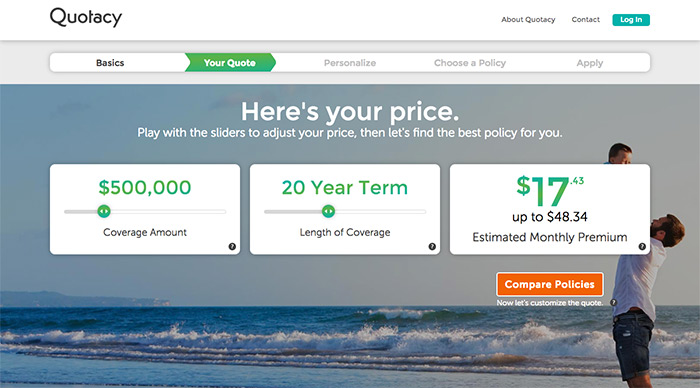 You can adjust the sliders to see how changing the coverage amount and length affects your monthly premium.
Also keep in mind that the monthly premium you're seeing here is just an estimate to help you understand how life insurance is priced. By customizing your quote in step 2, you'll see the price you're likely to pay.
Step 2: Customize Your Quote
Now that you have your quote in hand, your next step is to start customizing it to get a clearer picture of how much you'll pay.
This step gets the price right about two-thirds of the time, so it's worth your time to tackle it.
You'll need to enter a few more details:
Height/weight: Most people are surprised to learn that this is one of the biggest factors when it comes to life insurance pricing, so it's helpful to hop on a scale and get an accurate weight, if you have time.
Tobacco use: I mentioned that cigarette use will cause you to fall under smoking rates, but certain carriers will give non-smoker rates to the occasional cigar, daily Nicorette, pipe, or chewing tobacco user, as they may not consider them in the same category.
Heart health: Blood pressure and cholesterol medications are common prescriptions underwriters take into consideration when creating your policy. As long as your condition is under control, many carriers will still give you the best rates (even if you currently take these medications).
Family history: Pricing may increase if your parents and/or siblings have died (or have been diagnosed) with heart disease, diabetes, or cancer when they were younger than age 60.
Step 3: Complete a Pre-Application to Tailor Your Quote
While these four variables—height/weight, tobacco use, heart health, and family history—are considered first, they're not the only factors under scrutiny.
There are many other variables that can affect the pricing of life insurance.
Because of this, your new quote needs a bit more fine-tuning. This is where our insurance advisors come in.
To help you get the right coverage to meet your needs, our team will advocate on your behalf with the top insurance carriers.
» Learn more: Quotacy Shops Your Case—What Does that Mean?
For us to do this to the best of our ability, we need to know a bit more about you. Spend just five minutes of your time completing a health and lifestyle questionnaire and we'll find policy options that are right for you. We'll take all of your answers and analyze them using our expertise before we start the formal application process with one specific carrier.
Note: You will need to submit your contact information for us to review your pre-application.
We'll be there every step of the way, helping you get covered as soon as possible.
Wondering how we find such great fits for our customers? Learn more about the carriers and insurance companies we work with to bring you the best term life insurance rates and policies we can find.
See why it's so important to customize your quote? Once you enter this information, you can feel confident knowing that the quote you're given is as close to the one you'll actually be paying as possible before the life insurance underwriters take over from Quotacy.
We've helped many families get affordable term life insurance. We would be honored to help yours.
Quotacy is the country's leading broker for buying life insurance online. We are obsessed with making it easy for everyone who has loved ones who depend upon them to have life insurance.