Welcome to Season 2 of Real Life. This year, we're teaming up with The Life Foundation to bring you stories from the winners of their scholarship essay contest. In our Season premiere, Chuck and Eric had the opportunity to interview Shane LaBarge, the 2013 grand prize winner, about losing his father when his family needed him most.
Shane LaBarge's dad died early on during his first year of college, which meant that he had to grapple with the reality of supporting both himself and his family without the financial safety net that a life insurance payout would have given them.
We spoke with him about the feeling of helplessness that the loss of a breadwinner can bring, the struggle of paying his own way through college and law school, and the lingering feeling of financial uncertainty that's still in the back of his family's minds almost ten years later.
Despite his family's financial hardship, Shane was able to graduate from law school in 2018, and successfully passed the bar in Pittsburgh, where he is now a practicing lawyer. He has also dedicated a lot of his time to raising awareness of the importance of life insurance.
If you'd like to learn more about Shane LaBarge and read his winning essay, you can visit LifeHappens.org here.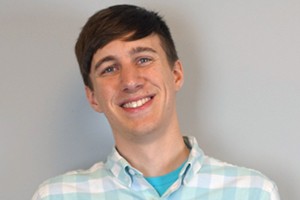 Eric Lindholm
Communications Coordinator
Eric started in Quotacy's sales department, but moved to marketing after helping hundreds of people through their life insurance buying journey. Aside from writing about buying life insurance, he also edits Quotacy's monthly newsletter, runs our YouTube channel and produces Real Life, our podcast. Eric lives in Minneapolis, where his coworkers are trying to convince him to take his humor into the spotlight. Connect with him on LinkedIn.