Deciding to look for the best term life insurance quotes isn't a casual decision. It's one that you make because the people who matter most in your life will still need you well into the future.
» Compare: Term life insurance quotes
If you have loved ones relying on you, we know that you don't want your care for them to end when you pass away. Regardless of the turn that your life story may take, you want to know that your loved ones won't have financial uncertainty after you're gone.
Here's how Elizabeth's decision to buy life insurance played out in her mind.
Term Life Insurance for Business and Family: Elizabeth's Story
Like many startup founders, Elizabeth had saved for years before launching her farm-to-table grocery delivery business. She started the company with her younger sister Ellie, who had just graduated from college, and her best friend, Amy.
Elizabeth had taken on a small business loan to get started, using her credit cards to finance many of their day-to-day expenses. Meanwhile, Amy, who was a veteran of the grocery business and a busy new mother, brought her expertise. She had taught Elizabeth how to select the right vendors and plan a long-term growth strategy. Her unique contributions made her essential to the business running smoothly.
» Learn more: Protecting Your Small Business Loan with Life Insurance
During her maternity leave, Elizabeth paid Amy her full salary, even though she only worked part-time. She had already devoted more than a year, unpaid, to launch their company and Elizabeth felt that it was worth taking out an additional loan to repay her.
Amy had suffered financially because of her commitment to their company. Her husband made up for their lack of income by taking on a part-time job, but they had accrued significant credit card debt to make ends meet during that first lean year of building the business.
They were dependent on Amy's salary during her time off to stay afloat.
During that time, Ellie also depended on Elizabeth to make her student loan payments while she worked full-time without salary.
She shared Elizabeth's apartment as she handled deliveries and logistics for the growing company. With the time Ellie spent working on-site with Elizabeth and her extra hours traveling to meet with vendors, it was impossible for Ellie to take on even a part-time job to generate additional income.
Her sister had to support her until the business became profitable enough to offer her a full-time salary.
Elizabeth's sense of urgency in finding the right term life insurance quotes was based one glaring fact: both of her business partners depended on her financially—and would conceivably continue to do so until the business took off.
Ready to get your life insurance quote?
You're a few minutes away from great life insurance
How much life insurance do you need?
Figure out your action plan with our needs calculator
Finding the Right Term Life Insurance Quotes: Important Questions
Elizabeth already knew that term life insurance was a good fit for her. It was affordable, and would offer her coverage for up to 30 years. But, looking at quotes, she still had a few questions.
What about job risks?
Although her job didn't involve any high risk activities now, Elizabeth had interest from a supplier of exotic teas and coffees who could provide her company with exclusive products. Those products could help her build a larger local customer base and bring much-needed revenue into the business. She had to see if it would work.
However, in order to verify product quality and processing safety, the growing demands of her job would now require her to travel abroad at least twice a year to remote areas.
That meant she would visiting across areas with few, if any, nearby hospitals, and limited access to major roads. That would also mean she'd have to take flights in whatever type of small plane or helicopter that was available at the time.
She knew that life insurance companies looked at occupational hazards when calculating premiums.
What about medical history?
Elizabeth had been obese when she was younger, and had received a diagnosis of prediabetes. Following the recommendations of her doctor, she changed her diet, lost weight, and was now in good health. But she had also been a smoker in college, and wondered if this would keep her from finding an affordable policy.
With all of this in mind, Elizabeth went online and found term life insurance quotes—without knowing how any of the above factors would impact her application or even what she was looking for in a life insurance quote.
Know Your Needs
If, like our fictional entrepreneur, you've been online looking for the right policy, you may have found a few life insurance quotes that seemed affordable.
You might not be sure, however, if they really offer the right amount of coverage or if they are the right policy for you. Or, perhaps you've seen a few more expensive policies, but you're not sure if you need as much coverage as they're offering.
Fortunately, Quotacy offers a free needs assessment tool that allows you to find out how much term life insurance coverage makes sense for your situation.
» Calculate: Life insurance needs calculator
Life Insurance for Business Owners and Families
After answering a few short questions, our insurance heroine Elizabeth will get a list of side-by-side quotes that allows her to compare life insurance quotes that (should the unexpected happen) will help her provide for her sister, pay off her business debts, and reimburse her partner for her financial sacrifices that made their dream a reality.
You may not be in the exact same position as Elizabeth, but you can always find a quote that fits your unique situation. Some options to explore:
Key Person Term Life Insurance
This type of insurance will protect Elizabeth's business if one of the partners should pass away. It enables the business to meet outstanding obligations at the time of the key person's death and covers the expenses necessary to keep the business running smoothly (as well as any loss of income) while a replacement is sought.
A Buy-Sell Agreement Funded by Life Insurance
A buy-sell agreement is a written legal contract between two parties—the entity and the owners or between the owners themselves—that states the buyout details of the owner's interest in the business if the owner leaves the business.
These types of agreements are commonly funded by life insurance. This will protect each of the partners in the event that one leaves the business or passes away. Among other benefits, a buy-sell agreement can make funds available to help the business thrive after an untimely death of a partner, help preserve management continuity, and convert marketable stock into cash.
Term Life Insurance for Families
In Elizabeth's case, her sister Ellie is dependent on her for her livelihood and the payment of her student loans.
If Elizabeth passes away, Ellie will be left without a safety net, she'll have to manage her debt, and find new employment at the same time. By naming Ellie as a beneficiary, Elizabeth can make sure that Ellie's student loans are paid off and she'll have enough income to live comfortably, regardless of how their joint business venture turns out.
Term Life Insurance for Friends and Partners
If someone has an insurable interest in your life, you can name them as a beneficiary of your term life insurance policy. Elizabeth can select Amy as her beneficiary and know that, in the event of her death, Amy's young family will be well-cared for. For a friend who is as close as a member of your family, this is one of the most meaningful gifts that you can give them.
If you are looking for a simple way to navigate and compare multiple quotes, connect with us. At Quotacy, we're here to help you build a financially secure future for your family.
» Learn more: Using Life Insurance to Secure Your Business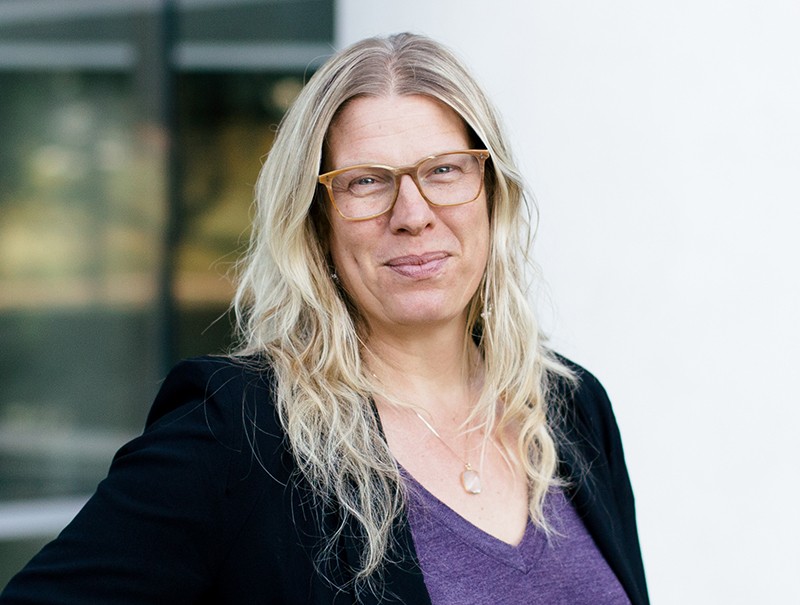 Kate Thomas
Director of Inbound Marketing
Kate is Director of Inbound Marketing at Quotacy, where she is happy helping one million people protect their loved ones with the gift of life insurance. Her writing has had audiences in the art, academic, and advertising worlds. She lives in Minneapolis, where she enjoys meditating, making snow angels, and supporting the vibrant arts community. Connect with her on LinkedIn.
Quotacy is the country's leading broker for buying life insurance online. We are obsessed with making it easy for everyone who has loved ones who depend upon them to have life insurance.