Hey there. This is Eric Lindholm, one of Quotacy's staff writers, and now, the editor and co-host of our new podcast: Real Life.
Real Life is a podcast about life, death, and expecting the unexpected. We decided to take on this project because of something we noticed when talking to our clients – people generally don't think about life insurance until something bad happens. It could be that a friend just lost a parent, or that a neighbor was recently diagnosed with cancer, or that a co-worker got into a really scary accident. Sometimes, those tragedies hit a little closer to home.
It makes sense that these kinds of events make you question what you're leaving behind, but when something happens to you or a loved one, that reminder can come too late.
Real Life is our way to help people share their stories and get others thinking about protecting the people they care about. Over the course of the show, we'll interview people whose lives have been directly impacted by life insurance, people who have had close calls that opened their eyes, and people who work directly with those affected by tragedies.
And even though death is a heavy subject, we want to address it with a smile.
We hope that you'll meet our guests as new neighbors and friends, and that their stories will help you think about what's really important, even if it's only for a few minutes.
Episode 1 of Real Life is focused on introducing your co-hosts (myself and Chuck Anderson), as well as our executive producers here at Quotacy.
We're working on submitting our podcast to iTunes and other podcasting apps, but for now, you can keep track of new episodes here at Quotacy.com, or on Twitter at RealLife_Pod
I hope you enjoy listening.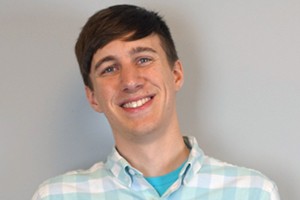 Eric Lindholm
Communications Coordinator
Eric started in Quotacy's sales department, but moved to marketing after helping hundreds of people through their life insurance buying journey. Aside from writing about buying life insurance, he also edits Quotacy's monthly newsletter, runs our YouTube channel and produces Real Life, our podcast. Eric lives in Minneapolis, where his coworkers are trying to convince him to take his humor into the spotlight. Connect with him on LinkedIn.