June is typically the month that kicks off wedding season. However, because of the current pandemic, wedding season may be different for a while. This doesn't mean couples aren't looking forward to starting the rest of their lives together. Let's discuss the wedding gift every couple should have.
Prior to finding your soulmate, you mainly focused on just your future. Your hopes and dreams. But now for the first time, your partner's and your family's dreams will become just as important.
» Calculate: Life insurance needs calculator
Life events, like getting married or having children, are a great time to stop and think about the important things in life, especially the "what-if" situations.
What if you lose your job?
What if the furnace goes out in the middle of February, do you have savings to pay for it?
What if you or your spouse were to get sick and not be able to work? Or the unthinkable should happen and one of you unexpectedly pass away?
No one ever thinks the unexpected will happen to them. That's why it's called the unexpected. Life insurance can help. Term life insurance is the ideal plan to protect against the what-ifs in life. It's one of the best gifts a newlywed couple can give each other this summer and one of the first steps in financially preparing for the future.
See what you'd pay for life insurance
Comparison shop prices on custom coverage amounts from the nation's top carriers with Quotacy.
Buying Life Insurance on Yourself for Your Spouse
It's easy to apply for a life insurance application. You'd be the owner of the policy and the person who is insured, then you list your spouse as the primary beneficiary.
One of the great features of term life insurance is that it's very customizable. You choose the coverage amount and how long the protection lasts.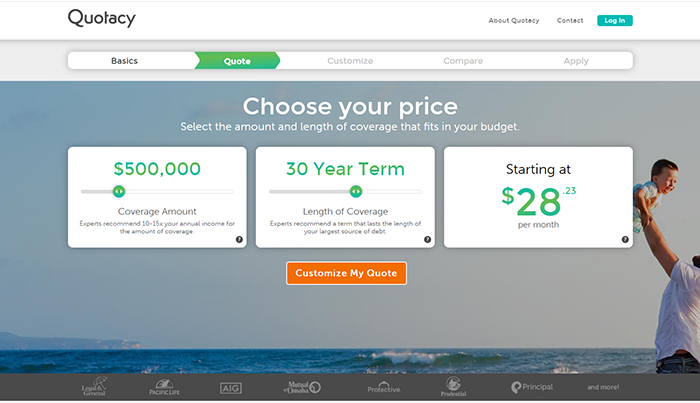 » Compare: Term life insurance quotes
Term life insurance is affordable and can fit into most budgets for a wedding gift, too. Coverage options range from $50,000 to millions. Term lengths vary from 10 to 40 years, depending on your age.
Run term life insurance quotes for free and without having to hand over any contact information. Play around with the quoting tool until you find a plan you're comfortable applying for.
Rest assured that your Quotacy agent will review your online application before officially sending it to the insurance company to double check you're matched with the company that will offer you the best price possible.
Buying Life Insurance on Your Spouse
Instead of owning your own life insurance policy, some couples opt to own policies on one another instead. You're the owner and beneficiary on a policy insuring your spouse.
In some relationships, both spouses manage bills and financial plans equally. In others, one of the spouses may be more knowledgeable and take control. In these relationships it's common for one spouse to own both policies. You can own your own policy and your spouse's.
| | |
| --- | --- |
| Policy One | Policy Two |
| Owner: John Smith | Owner: John Smith |
| Insured: Jane Smith | Insured: John Smith |
| Beneficiary: John Smith | Beneficiary: Jane Smith |
Whether you're buying life insurance on yourselves or owning policies on each other, life insurance is a wedding gift of financial protection. It can bring great peace of mind as you're beginning your lives together. You're saying the unspoken: that even if you're not here to share life's joys with them, you still want them to be able to pursue their hopes and dreams.
Term life insurance is affordable and can fit into most budgets. And the younger you are, the cheaper it is.
So, be safe this summer. Enjoy the sun and smell of campfires and bug spray. When you head inside for a break, visit Quotacy.com to see how easy it is to protect your loved ones with life insurance.
It's never too soon to buy life insurance, it's only too late. Be prepared and get a free and anonymous term life insurance quote today.