Making the decision to purchase life insurance isn't always easy. Maybe you've been putting it off because of things you are unsure of. When you buy a car, you do some research, when you are buying life insurance, you should do the same thing. It's important to educate yourself when you're making an important purchase and, in this case, protecting your family.
At Quotacy, we believe everyone who has a need for life insurance should be covered. We also believe that you should know what you're buying when you decide to purchase a policy. Transparency and education are crucial.
We've put together a list of some of the most common (and imperative) questions you should think about when purchasing life insurance.
How much life insurance do I need?
Determining how much life insurance you need is one of the biggest questions and it's fairly simple to calculate. Ask yourself these questions:
How much monthly income will your loved ones need?
How much are you providing to your family with your monthly paycheck? Take that amount into consideration when determining your coverage.
How much debt do you want paid off?
Your debt may include your mortgage, car loans, student loans, credit card debt or any other loans you may have. Factor these debts into your total coverage amount.
Besides debt, what other financial obligations should be considered?
Some overlooked expenses include: childcare costs, your children's college education, your family's health care coverage. These are all valid and important expenses that you may want to include when determining your coverage amount.
Quotacy has a great needs analysis tool to help you determine how much life insurance you need. Feel free to play around with it.
» Calculate: Life insurance needs calculator
We believe everyone who has a need for life insurance should be covered. We also believe that you should know what you're buying when you decide to purchase a policy. Transparency and education are crucial.
Ready to get your life insurance quote?
You're a few minutes away from great life insurance
How much life insurance do you need?
Figure out your action plan with our needs calculator
How long of a term should I choose?
Do you need coverage for twenty years? Twenty-five years? How about 30 years? The term indicates how long the policy will be inforce, or active. Your term life insurance policy needs to last as long as your longest financial responsibility.
Consider these financial concerns when determining the length of the term:
If you have a thirty year mortgage, then you want your policy to last as long as that financial burden.
Cosigned loans. Did your parents cosign a loan for you? They will be on the hook for paying your loan if you die. It's smart to buy life insurance to cover the time it would take to pay off those loans.
Children: This is a big one. Make sure your family has the financial means to raise the kids and send them to college.
» Learn more: How Long Should My Life Insurance Last?
Can I save money when buying life insurance?
While there aren't coupons or Groupon specials on life insurance, you can save by buying sooner than later and by comparing rates from multiple carriers. Your health and age are the biggest factors when determining your life insurance rates, so buy when you are young and healthy.
Here are a few other factors that you can control to help you save a few dollars:
Don't buy more than you need
Don't smoke
Maintain a healthy weight
Keep your driving record clean (yes, your driving record can affect your rates)
Pay annually
What happens if I can't pay my premiums?
If you stop paying your life insurance premiums then your policy will lapse and you will lose coverage. However, life insurance policies do have a built in grace period. Most grace periods are 30 days and as long as you submit your payment within the grace period your policy will not lapse.
If you cannot make the payment and your policy lapses, your policy becomes inactive. If you die, your beneficiaries will not receive a death benefit. There is no refund for any of your past payments if you allow it to lapse. There may be a chance for reinstatement, but each insurance carrier has different guidelines and may even require you to be underwritten again.
» Learn more: What if I Can't Pay My Term Premiums on Time?
I'm not the primary breadwinner, why should I have life insurance?
While it's important for the primary breadwinner to have life insurance, it's also important to recognize that the person that is maintaining the home and caring for the family has a huge financial value. They might not be bringing home a paycheck, but losing this person would be financially devastating. If they were not working inside the home, you would need to pay someone to take care of their workload.
Think about the following duties and cost that could be associated with them:
Driving children to and from school and activities
Cooking meals
Cleaning the house
Grocery shopping
Laundry
Don't forget about the dog walking (if you have a pup at home)
» Learn more: Life Insurance for the Stay-at-Home Parent
I already have life insurance through my employer. Do I really need more?
First of all, that's great that your employer offers life insurance for their employees. It offers some peace of mind when you know you have $50,000 or $100,000 in coverage if you die while working at that job.
It can be easy to get comfortable with your work policy, but it's important to know that that policy doesn't follow you from job to job and things can get tricky if your health declines.
If you become ill or get into a horrible accident and need to be hospitalized and are unable to work for a period of time, you may not have coverage when your loved ones need it the most. Your employer may terminate your employment if you are unable to work (it's good to check your contract).
If you get your health back, what happens if you find a new job, but they don't offer life insurance? Now you have to buy your own policy and you could be dealing with high rates or even denial of coverage because of your pre-existing health issues.
Point being, it's a good idea to buy individual life insurance on top of your coverage through work. You never know what life has in store for you, so being as prepared as possible is the best option.
» Learn more: Do I Need Individual Life Insurance if I Have Group Life Insurance?
How do I buy life insurance?
When asking how to choose a life insurance policy, who you buy from can determine how painless, or stressful, the process will be. You can purchase life insurance directly through a carrier, from an insurance agent or broker, or you can buy it online.
Here at Quotacy, we offer an easy and hassle-free approach to buying life insurance. Getting a quote is easy using our online, no strings attached quoting tool. We are always here to answer any questions you have about life insurance. Contact us anytime.
» Compare: Term life insurance quotes
Photo credit to: Pablo Garcia Saldaña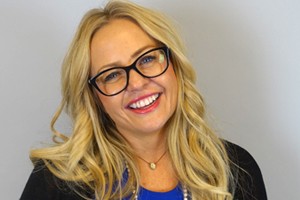 Jeanna Simonson
Marketing Content and Social Media
Jeanna has a passion for letting her creativity shine. At Quotacy she manages social media, is a co-host of Quotacy's Q&A Friday YouTube channel, and enjoys writing here and there. When she's not at the office, you can find her hanging with her husband and rescue animals, brunching with girlfriends, or loving up on her nieces and nephews. Connect with her on LinkedIn.