It's the most beautiful summer day. The kids are playing and laughing, and your spouse is giving you that smile that you adore. Life seems about as close to perfect as you could imagine.
You ask yourself, is this a good time to talk about my life insurance?
Think about it, all of this happiness that you're experiencing now could be gone tomorrow. It's not the easiest topic to discuss, but it is an important one.
Bringing up the possibility of your death to your family is both uncomfortable and scary. No one wants to think about the possibility of losing one you love.
The Life Insurance Conversation with Your Family
What do I say?
Explain that just because you're prepared for the unexpected, it doesn't increase your chances of dying. There's no reason to worry about that. The reason you have life insurance is so they don't have to worry. Focus the discussion more around the future and how just as you provide for them not, you'll provide for them even if you're not around.
How do I say it?
You are in charge of setting the tone of the conversation. It's best to make it more relaxing and casual rather than serious and heavy (even though it is serious.)
When do I say it?
There's really not a perfect time to bring up the subject, but doing so while you are happy and enjoying the moment, rather than during a stressful time may be a better option.
Another way to begin the conversation is to tie it into an event that's in the news or an anecdotal story about someone your family knows who died unexpectedly and didn't have life insurance.
Ready to get your life insurance quote?
You're a few minutes away from great life insurance
How much life insurance do you need?
Figure out your action plan with our needs calculator
Why life insurance?
The most important thing is to let your family know they are the reasons why you have life insurance. You love your family and do everything you can to protect them. Their best interests are always on your mind. That's why you buy life insurance.
Buying life insurance gives you the peace of mind that your family will be financially protected if you are no longer able to provide for them. Let your family know how the life insurance proceeds can pay off debt, the mortgage, and even provide for college tuition. You don't want their quality of life to suffer if you are no longer there to take care of them.
Where is the policy?
The next most important thing is to make sure your family knows where your policy information is kept. If something happened to you, the last thing you want is your loved ones stressing out trying to find the policy information.
The original documents should be kept in a safe place, like a locked filing cabinet or fire-proof safe in your home. It's a good idea to give a copy to the beneficiaries and also a trusted sibling or parent. If you have a lawyer, they should have a copy as well. The goal is to make it easy for your loved ones to locate the policy in the event that they would need it.
» Learn more: How to Find Out if Someone Has a Life Insurance Policy
Buying life insurance gives you the peace of mind that your family will be financially protected in the event of the unthinkable. The smiles, the hugs, the laughter and the love are the reasons you buy life insurance. Don't have life insurance? Get a free term life insurance quote now. You can see estimated prices instantly without giving up any contact information.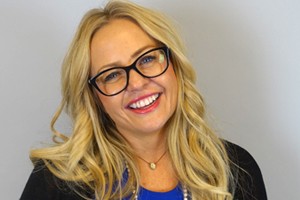 Jeanna Simonson
Marketing Content and Social Media
Jeanna has a passion for letting her creativity shine. At Quotacy she manages social media, is a co-host of Quotacy's Q&A Friday YouTube channel, and enjoys writing here and there. When she's not at the office, you can find her hanging with her husband and rescue animals, brunching with girlfriends, or loving up on her nieces and nephews. Connect with her on LinkedIn.