In case you forgot, the holiday season is a time for festive feasts, sugary sweets, giving gifts, and spending quality time with friends and family. We have put together a stress reducing survival guide for you!
It's magical for some, but for others it can be a major source of stress thanks to ever-increasing expectations, the fact that there are only 24 hours in a day, and the giant price tag of it all.
Thankfully, there's a way to curb your concerns and enjoy the season. It all starts with our handy holiday survival guide filled with tips, tricks, and easier ways to significantly reduce your level of stress and boost your holiday spirit.
Plan Ahead
If you find yourself getting stressed by just the thought of the holiday season countdown, then planning ahead is going to be your saving grace. It's tempting to push all the holiday to-dos to the back of your mind, but by planning ahead, you'll alleviate the worry and be on top of everything.
To-Do Lists
Love 'em or hate 'em, lists are a great way to get all the to-dos (big, small and random) out of your head and onto paper. When you look at your tasks written down, you might find they're not as overwhelming as when they're pushing and shoving for position in your brain.
Holiday Lists to Make:
Family and friends you'd like to see
Presents to buy
Work to finish before the holidays
Big meals you'll be making
Events to go to
Decorations to sort out
Travel arrangements
Holiday Budgeting
According to LendEdu, the average American spends around $630 on Christmas. That includes gifts, travel, and decorations. As money is the biggest source of stress in our country, holiday budgeting is a solid way to reduce financial unhappiness.
Buying Gifts
Finding ways to reduce the cost of holiday gifting can not only alleviate stress, it could also be a great opportunity to teach kids about responsible spending. Plus, just because a gift costs a lot of money, doesn't necessarily make it a meaningful one.
Budget-Friendly Gift Ideas
Secret Santa: A whole-family secret Santa gifting system is a fun and mysterious way to keep gift costs down for everyone.
Make gifts: From a plate of fresh biscotti to a candid photo, hand-made gifts can be nearly free and more impactful.
Breakfast, lunch or dinner: Gifts can really run-up holiday costs, but a meal is a meaningful win-win for all parties involved.
Choose thrift shops: From books to funny knickknacks, thrift shops are treasure chests filled with unique Christmas gifts.
Tie up Loose Ends at Work
The perfect work/life balance includes being able to put work aside and focus on life. This is crucial over the holidays. Tie up loose ends, set your out of office, and organize a to-do list for the New Year. This can help you get started on the right foot and hit the ground running when you get back.
The most important holiday tradition we should all try to continue is spending quality time with family and friends.
Ready to get your life insurance quote?
You're a few minutes away from great life insurance
How much life insurance do you need?
Figure out your action plan with our needs calculator
Manage Your Expectations
Dark nights and Christmas lights. Hot cocoa, roaring fires, and gifts stacked up under the tree… this is a best-case, picture-perfect holiday. However, one of the best holiday stress relief tips we have is to manage your expectations.
The Myth of the Perfect Holiday
Witnessing the perfect holiday could be just as rare as a bigfoot sighting but spending time with the people you love is the experience you should be looking for. Even if there are ups and downs. That's it! You don't need picture-perfect decorations or a festive spread.
When you focus on the fundamentals of the holiday season, all the other stress can melt away. It's about hugging your family, laughing at the dog chewing up your wrapping paper, and putting your feet up.
Family Relations 101
You know your family better than anyone else. You know what topics will cause arguments and which questions will stress you out. The best way to reduce the risk of family fights is to plan ahead.
Awkward and Annoying Topics
Will Aunt Barbara quiz you about having children? Will your dad bring up his political views? Prepare and line up a couple polite responses to whatever uncomfortable or hot button issues you foresee coming up.
You are in complete control of how you react to family annoyances. Try to promise yourself to appreciate the short time you have with your family.
Everybody is entitled to their views. You can remind yourself that you're allowed to disagree with each other. After all, it's wonderful to be part of a family with diverse interests!
Coping with Loneliness
The holidays are focused around families, which means there's a lot of pressure on those who might not get to see theirs. The kids might be with your ex, or your parents might be taking that holiday cruise they've been talking about. Whatever the cause, loneliness can be very stressful. But there's no need to panic.
Tactics to Stay Social
Here are some ways to enjoy the holidays if you're worried about loneliness.
Volunteer – homeless shelters, hospitals, and retirement homes often need volunteers around the holiday season. Helping out can give you a huge sense of community and happiness.
Events – Christmas Day runs, sea swims, and other events are popular. You'll make friends the moment you arrive so it's fine to not know anybody else at first.
Phone/face time/skype – From distant family to your oldest friend, arrange a time for a chat on the phone. These small moments of connection can have a huge impact on how you feel.
Looking After Yourself
With more food than you can imagine, alcohol-fueled parties, shorter days, and the cold outdoors, looking after your health during holidays can be a struggle. However, the holidays are not a reason to forego your health. You'll feel less stressed if you maintain healthy habits the whole time.
Festive Food
Keep eating healthily over the holidays to keep your energy up and avoid that "too stuffed to move" feeling. Pick vegetables, fruits, and whole grains over unhealthy, sodium-rich foods, and sugar. This way, you'll have energy even in stressful situations and be able to cope easier.
Drinking
It might be a tradition, but drinking a lot of alcohol will make you feel less than your best. Winter weather can be dehydrating, so opt for water and save the alcohol for small amounts at celebrations.
Avoiding alcohol lets you wake up feeling bright and positive and can transform your outlook on the holiday season for the better.
Get Active
With shorter days and cold weather, the last thing on your mind is exercise. We need sunlight to boost our spirits though and a simple walk will do you the world of good.
Organize family strolls outside or invite the dog for a run in the park. Walking gives you fresh air, deeper breaths, and all-round stress relief.
Log off
The most important holiday tradition we should all try to continue is spending quality time with family and friends. But in order to make it count, you need to be there both physically and mentally.
It's tempting to look at your phone or check work messages, but you deserve a digital break. When you log off from the online world, you get to be more present with your loved ones in real time!
Time to Enjoy the Holiday Season
A stress-free holiday season is within reach. Don't forget that spending time with your loved ones is what matters most. With a little forward planning, budgeting, and self-care, you can sail through the holidays.
At Quotacy, we understand the importance of life and the impact it has on a family. Life insurance is essential to keep your family's life in balance and save them from having to leave behind the future you're helping them shape today. Get your free life insurance quotes now.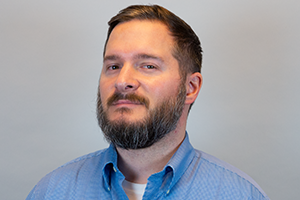 Greg Lewerer
Director of Creative Strategy
Greg is Quotacy's Director of Creative Strategy. He has an eclectic past from working on movie scripts to creating ad campaigns for major brands. His love of creative solutions drove him to strategy, and he now uses his powers to help families protect their loved ones. Outside of work, Greg spends his time off the grid hunting, fishing, camping, biking, hiking, and walking his dogs.