Being in a relationship can be tough. Sometimes, you'll be in perfect sync, sometimes you might split up to tackle different challenges, and sometimes, you might find yourself in a position where you have different ideas about what moves to make. All too often, this kind of tension comes from your finances, like deciding whether or not to purchase life insurance. This week we are going to talk about reasons why your partner wont buy life insurance, and how to reframe your thoughts on the topic.
We all know how important life insurance is – if your partner suddenly passes away, the bills and tasks and obligations you used to perform together suddenly come crashing down on the survivor. Life insurance gives a family protection against those issues until they can reorganize their life around these new responsibilities.
However, life insurance isn't fun to think or talk about, and nobody ever really thinks about their own death until it's close enough to be too late for coverage. Working with people on their own life insurance journeys, we've heard a lot of the reasons to hesitate, or stall, or wait a few years to get covered.
After we explain the facts, life insurance suddenly seems a lot more achievable for most people. If your partner doesn't feel comfortable looking into life insurance, ask them why. Odds are that their argument will touch on one of these six common pain points.
Pain point 1: I have enough life insurance already.
According to a 2019 report by LIMRA (a life insurance association that tracks trends in the industry), about a third of all people that were interested in life insurance but decided to stop shopping in 2019 decided that their existing coverage, either through work or through their personal plans, was enough to take care of their family after they were gone.
Having coverage through work is great, but it's important to think about where that coverage goes if you need to leave your job, and how quickly a new job will be able to replace your protection. A personal life insurance policy in your back pocket gives you the freedom to change jobs without worrying about what could happen if you're hit by a bus on your way to interview for your dream gig.
If you've already got a personal life insurance policy, that's awesome, you're already doing a great job. However, life changes over time, and it's important to take a moment every now and then to think about whether your coverage meets your needs.
Did you get a promotion last year? You might be making a bit more money, and losing your income might be a bigger blow than it was when you initially picked up your life insurance. Did you have another kid since your first policy? Sending one more kid to college might have your current coverage looking a little bit light.
Doing this kind of self-audit once every year or so is a great way to make sure that you aren't leaving your family in a worse situation than you've planned for. You can use our life insurance calculator to lay out how much debt you'll be leaving behind if you pass away unexpectedly, and see how it stacks up to your existing coverage.
Pain point 2: I can worry about life insurance later.
This argument accounted for around one fifth of all shoppers, and it makes sense. In the minds of most people, dying isn't something to worry about now. Dying only ever happens… later. Much later.
For most people, that's true, but consider this: according to the CDC, around 6 percent of deaths every year happen because of accidents. Falling down the stairs, car crashes, something unintentional. Something that nobody could see coming. Life insurance pays out in all of these situations.
In this regard, life insurance is a lot like car insurance. If you drive, you have a car insurance policy, just in case something happens out of the blue. Like life insurance, it's a protection against a "what if" and what ifs don't happen on anyone's schedule.
While it's definitely good to manage your other priorities, like paying the mortgage and building money for retirement, it's important to imagine how your partner would meet those needs on their own if you were suddenly taken out of the picture. Your life is built around the income and time both of you can provide together. Accidents happen, and losing your partner's support would mean a dramatic shift in your life.
Pain point 3: Life insurance is too expensive.
Worries about cost account for around 15% of stalled life insurance shoppers. Luckily, this is a pretty easy idea to dispel.
On average, Americans dramatically overestimate the cost of term life insurance. According to LIMRA, when asked to guess how much $250,000 in coverage would be for a healthy 30-year-old, people typically thought it would cost over $500 per year, or a little over $40 per month. Among millennials, 42% actually guessed that it would cost over $1000 per year.
In reality, that coverage only costs around $160 per year – less than half the average guess, and far less than $1,000 annually. Once you get past the misconceptions about price, coverage suddenly starts to look a whole lot more affordable.
However, it's true that your health and lifestyle might bring your prices back up. Life insurance pricing changes depending on your health, with healthier people paying lower rates due to their statistically lower risk of death. This rating of how risky you are to insure is called your "Risk Class."
Almost every life insurance company offers a way to get quotes for life insurance based off of a few pieces of information. Here at Quotacy, our online quoting tool accurately predicts an applicant's final prices about 70% of the time by using a few of the most important factors you can easily provide in 5 minutes.
Unfortunately, life insurance companies collect a lot more information than we can in order to give you your final price, including your medical records and test results based on a free medical exam during your application. This means that there's no way to get a 100% guarantee on life insurance prices without starting an application and allowing the insurance company to collect all the data they need.
Luckily, you can walk away from a life insurance application at any point up until you actually sign the final pieces of paperwork, submit your payment, and begin your coverage, all at no cost to you. (And even then you still get a "free look period" after it's activated to cancel it at no cost in case you change your mind.)
If you or your partner would like a concrete price that they'll be guaranteed to pay with a life insurance company, you can start an application. If you like the price they offer, you can accept the policy. If your final price ends up being too expensive, you can adjust your coverage to lower the price, or walk away from the process with no strings attached.
See what you'd pay for life insurance
Comparison shop prices on custom coverage amounts from the nation's top carriers with Quotacy.
Pain point 4: Life insurance is too complicated to shop for.
We won't lie, shopping for life insurance can be pretty daunting if you don't know what you're looking for. Between term and permanent insurance, what your face amount and term length will be, and which riders you'd like to add to your policy, there are a lot of choices involved. We'll break down the very basics here.
Term or Permanent?
Most people only need term life insurance, not permanent life insurance. If you're currently making money or managing your household as a stay-at-home spouse, a term policy is the most cost-effective way to match your value for your partner in case you pass away.
If you just want a small policy to help your family pay for your funeral, or if you have a financial need that will always be relevant, such as a special needs child or an inheritance you need to equalize, you might need permanent life insurance.
» Learn more: Term versus Whole Life Insurance
How much life insurance to buy?
The typical rule of thumb is to get a face amount (the amount of money the policy pays out) equal to 10x your annual income. If you make $50,000, a $500,000 policy will provide your loved ones with money equal to 10 years of your income.
The life insurance calculator we mentioned before can also give you a more personalized recommendation for how much life insurance you should buy, based on your current debt, income, and financial obligations.
» Calculate: Life insurance needs calculator
For stay-at-home parents, most insurance companies will allow you to get a face amount that matches the working spouse's coverage, or covers you up to a certain percentage of your working spouse's coverage.
For example, if your working spouse gets a $1 million policy, some companies might approve a stay-at-home spouse for $1 million in coverage, and some companies might approve them for 50% of their spouse's coverage, up to $500,000.
How long should the policy last?
It's typically a good idea to get coverage that lasts as long as your longest-lasting source of financial stress – typically either your mortgage or the amount of time your children will be dependent on you.
If your mortgage will last another 20 years, a 20-year term policy will ensure that your family can stay in your home if you pass away at any time during that period.
» Learn more: How long should my life insurance policy last?
Which life insurance riders should I add?
Riders are perfect for addressing specific situations that many other financial products offer, but not everyone needs every rider.
Almost every policy includes two riders for free right off the bat: an accelerated death benefit rider and a term conversion rider. An accelerated death benefit rider allows you to pull money from your death benefit early for medical costs if you come down with a terminal illness. A term conversion rider gives you the option to convert some or all of your term coverage into permanent coverage within a certain period of time.
If you have children, for example, it might be smart to look into adding a child rider to your policy, which gives all of your children $10,000 of coverage for a flat fee. Child riders also allow your kids to turn that coverage into their own standalone policy when they reach adulthood.
As for other riders, they begin to get a bit more specific, and you should do a little research and talk with your life insurance agent about which riders you truly need.
Pain point 5: Not trusting life insurance companies.
Between the Hollywood image of life insurance salesmen as either bald white men in drab suits or smooth-talking wheelers and dealers, as well as a general unease around insurance as a whole, it's no surprise that some people don't want a life insurance agent anywhere near their finances.
While I can't vouch for every insurance agent out there, Quotacy was founded by people who wanted to challenge those perceptions and break from the norm. First off, we're an independent life insurance broker, which means that we're not tied to any one life insurance company.
The upshot of this is that if you'd prefer to use company B over company A, we'll be fine with that. If we ever notice a way to meet your coverage needs for a lower price, we let you know and ask how you want to move forward. You're in control.
This is because our agents are paid a salary, not gunning for commissions on needlessly pricey policies. One of our core values here at Quotacy is to do the right thing. No upsells, no pricing tricks, no back-channel deals, just honest advice from a life insurance expert.
When you shop at Quotacy, there's no obligation to buy a life insurance policy you're shopping for until you've signed the final piece of paperwork and sent in your first payment. We won't harass you with phone calls or push you to buy a product you're not comfortable with – you're in control of your application, we're just here to guide you.
Pain point 6: Thinking about death isn't fun.
Well… yeah. We agree with you. Unfortunately, if you wait for the perfect time to talk about your end-of-life plans, you'll find yourself on your deathbed, and it'll be too late to plan ahead.
It might help you avoid the nasty, unpleasant feeling of talking about death by reframing life insurance in your mind. We like to think of life insurance as love insurance.
A life insurance policy is a promise that you'll still be there to take care of your family even after you're gone. If you were to pass away tomorrow, it's not just the mortgage and the kids' college tuition that will be put in jeopardy, although those are pretty big worries as well.
Life insurance means your kids won't need to say goodbye to their friends at school. It keeps your family in the home you built together. It pays for the food on your family's table. It keeps them warm in the winter and cool in the summer. It pays for skating lessons, and trips to go get ice cream, and the ability to pack up and take a family vacation without worrying about money. Life insurance helps your family live the life you're working to give them today.
Yes, applying for life insurance can be daunting, and tedious, and a little bit scary, but the peace of mind you get when you know that your family will be OK if the worst thing possible happens is pretty nice.
No matter where you are on your life insurance journey, we'd be happy to help you, even if you'd just like to talk with an agent for a bit of free advice.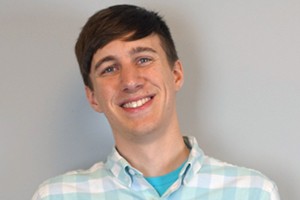 Eric Lindholm
Communications Coordinator
Eric started in Quotacy's sales department, but moved to marketing after helping hundreds of people through their life insurance buying journey. Aside from writing about buying life insurance, he also edits Quotacy's monthly newsletter, runs our YouTube channel and produces Real Life, our podcast. Eric lives in Minneapolis, where his coworkers are trying to convince him to take his humor into the spotlight. Connect with him on LinkedIn.