We deal with a lot of dangerous substances in our day-to-day lives. Medicine, household cleaning products, even food can be dangerous if you're allergic. All it takes is one slip of the mind to get into a sticky situation, but luckily, there are quite a few resources you can use to get yourself out. In honor of National Poison Prevention Week, we'd like to share a few poison prevention guidelines to help you stop a simple mistake from hurting you or your family permanently.
National Poison Prevention Week: If Someone Has Been Poisoned
First thing's first: if the person who's been poisoned collapses, has trouble breathing, is having a seizure, or can't be woken up, call 911 immediately. You should also call 911 immediately if the poison was taken intentionally. Substance abuse, self-harm or suicide attempts using poison should always be addressed as soon as possible in a hospital.
The Poison Control hotline or web help guide should only be used if the person poisoned isn't in immediate danger.
If the person who was exposed to the poison is still able to respond, you should get in touch with Poison Control for free, confidential assistance.
Swallowed Poisons
First things first, if you swallowed a burning, irritating, or caustic product and you're able to swallow on your own, drink a small amount of water or milk immediately. This will help dilute the poison and might alleviate some of the pain of an acidic or basic product.
Poison Control's Web portal can deal with simple requests about swallowed poisons as long as they fit the guidelines below. If you don't match these criteria, you should call the poison control hotline at 1-800-222-1222
Asymptomatic. If symptoms have already emerged, call the hotline to get live help.
Swallowed. The web tool doesn't address inhalation, injection, or exposure to skin or eyes.
Certain Substances. The web tool is able to assist with drugs and medicines, household products, and fruit or berries. Flowers, mushrooms, leaves, food, and objects like coins aren't covered.
Single Substance. Since the effects of combined poisons are often difficult to predict, call the hotline and talk with an expert if multiple poisons are involved.
Taken Once. The web tool can't help with long-term exposure effects, like lead poisoning.
6 Months to 79 Years. Very old and very young people can react differently to poisons, so getting live help will allow you to better address the situation.
Not Pregnant. Some poisons pose risks to fetuses that need expert consultation to catch.
Otherwise Healthy. If you have a serious pre-existing condition, you might need special considerations to make sure you're kept safe.
Human. The web tool isn't for pets, because different substances react differently to other species.
Ready to get your life insurance quote?
You're a few minutes away from great life insurance
How much life insurance do you need?
Figure out your action plan with our needs calculator
Skin Exposure
If a poison or caustic substance gets on your skin, your first step should be to rinse it off immediately with room temperature running water. Any clothing that was spilled on should also be removed in order to protect the skin further.
After 15 minutes of rinsing, call poison control for additional instructions. If you're getting blisters, burns, redness or swelling, Poison Control representatives may recommend that you see a doctor right away. For severe symptoms, go to the Emergency Room right away.
In the Eyes
If a substance gets into your eye, it's important that you irrigate (rinse them out) immediately to mitigate the amount of damage to your eye. Adults and older kids should go into the shower to irrigate, and younger kids should be wrapped in a towel and either brought to the kitchen sink to allow a stream of water to run over the eye, or have water slowly poured over the eye from a pitcher.
When washing out an eye, it's best to allow water to hit the bridge of your nose and flow gently into the affected eye rather than going directly into the eye. This will help you avoid additional damage to your eye by reducing pressure on one point.
After 15 to 20 minutes of irrigation, allow your eye to rest while you call Poison Control for additional information and guidance on how to treat the affected eye. If your eye is still irritated, hurting, swollen, or visually impaired an hour after irrigation, you should immediately go to the emergency room or schedule an eye exam with an Ophthalmologist. For severe symptoms, go straight to the emergency room after irrigation.
Inhalation
This one is simple – just get into fresh air, take deep breaths to clear out your lungs, and call poison control when you're able to return your breathing to normal. Once you know you're safe and you're able to recover, begin carefully ventilating the affected area. As with any other poison exposure, if you experience severe symptoms, call 911 immediately to get help.
Even a simple slip-up can be dangerous with all of the products and pills and foods that surround us every day, but knowing that someone has your back with expert advice ready can be the difference between a happy ending and a lifelong change, or even death.
If you'd like an additional safety net in the event that poisoning does occur, life insurance will allow your family to receive a death benefit if you are accidentally exposed to lethal levels of poisonous substances. If you'd like to apply for life insurance, Quotacy's independent agents will shop around for the best policy at dozens of insurance carriers to help you get the best price possible.
Let's be aware this National Poison Prevention Week. Even if you do have life insurance, the best plan for dealing with poison is knowing what to do and getting help fast. Just remember: if you think it might be poison, and you don't know what to do, call 1-800-222-1222.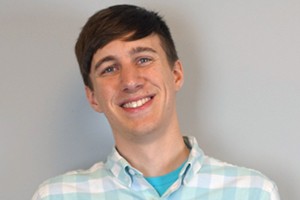 Eric Lindholm
Communications Coordinator
Eric started in Quotacy's sales department, but moved to marketing after helping hundreds of people through their life insurance buying journey. Aside from writing about buying life insurance, he also edits Quotacy's monthly newsletter, runs our YouTube channel and produces Real Life, our podcast. Eric lives in Minneapolis, where his coworkers are trying to convince him to take his humor into the spotlight. Connect with him on LinkedIn.