Term Life Insurance for Do-It-Yourself Shoppers
As a savvy consumer, you'd never settle for the first result that you found online when shopping for a product—and certainly not for something as important to your family's future as life insurance. While you know that Google can't give you all of the answers, you may have found locating an unbiased online tool to compare life insurance quotes a challenge.
In this post, we'll walk you through the steps necessary to find the best quotes, determine your coverage needs, and find an objective insurance advisor like Quotacy who can help you select a policy.
First, let's cover a few basics that you'll need to know before you compare life insurance quotes.
See what you'd pay for life insurance
Comparison shop prices on custom coverage amounts from the nation's top carriers with Quotacy.
What Is Term Life Insurance?
Whether you're vaguely familiar with what life insurance is, or just need a refresher on the ins-and-outs before buying your own policy online, here's the 30-second summary:
Life insurance that lasts for a specific period of time is referred to as term insurance. You pay a set premium for the duration of the term. If the person who is insured passes away during the time that their policy covers, then their beneficiaries receive a death benefit (monetary sum).
Term life insurance is the most affordable way to purchase life insurance coverage.
The most common terms are 10, 15, 20, and 30 years.
Buying life insurance becomes more expensive as you age, especially after age 50.
The term has to be renewed if you want coverage to be extended beyond the term length or you can convert your term policy into a permanent policy.
Multiple life policies can be laddered, or held concurrently, to provide different amounts of coverage based on your family's changing needs.
Most policies will require a medical exam, but you can simply have these done at home or at your office. To ensure that you get the best results on your physical exam, we have some helpful tips.
Estimating Your Insurance Needs
Let's help you get a clear understanding of your long-term financial objectives—and potential changes to your current finances—in order to determine how much insurance coverage you may need and to help you best compare your life insurance quotes.
Here are some important questions to ask yourself when deciding on a policy:
Am I the sole source of income for my spouse or partner?
How much money will my spouse need to live comfortably through retirement? If I pass away, how will they cope financially?
If I die, what debts will my partner be left with, and how much of our savings will remain to cover living expenses?
How will my children's college fund be impacted by the loss of income when I die?
Do I plan to contribute to the care of aging relatives? If so, how much coverage will I need to provide support to them and my family after I pass on?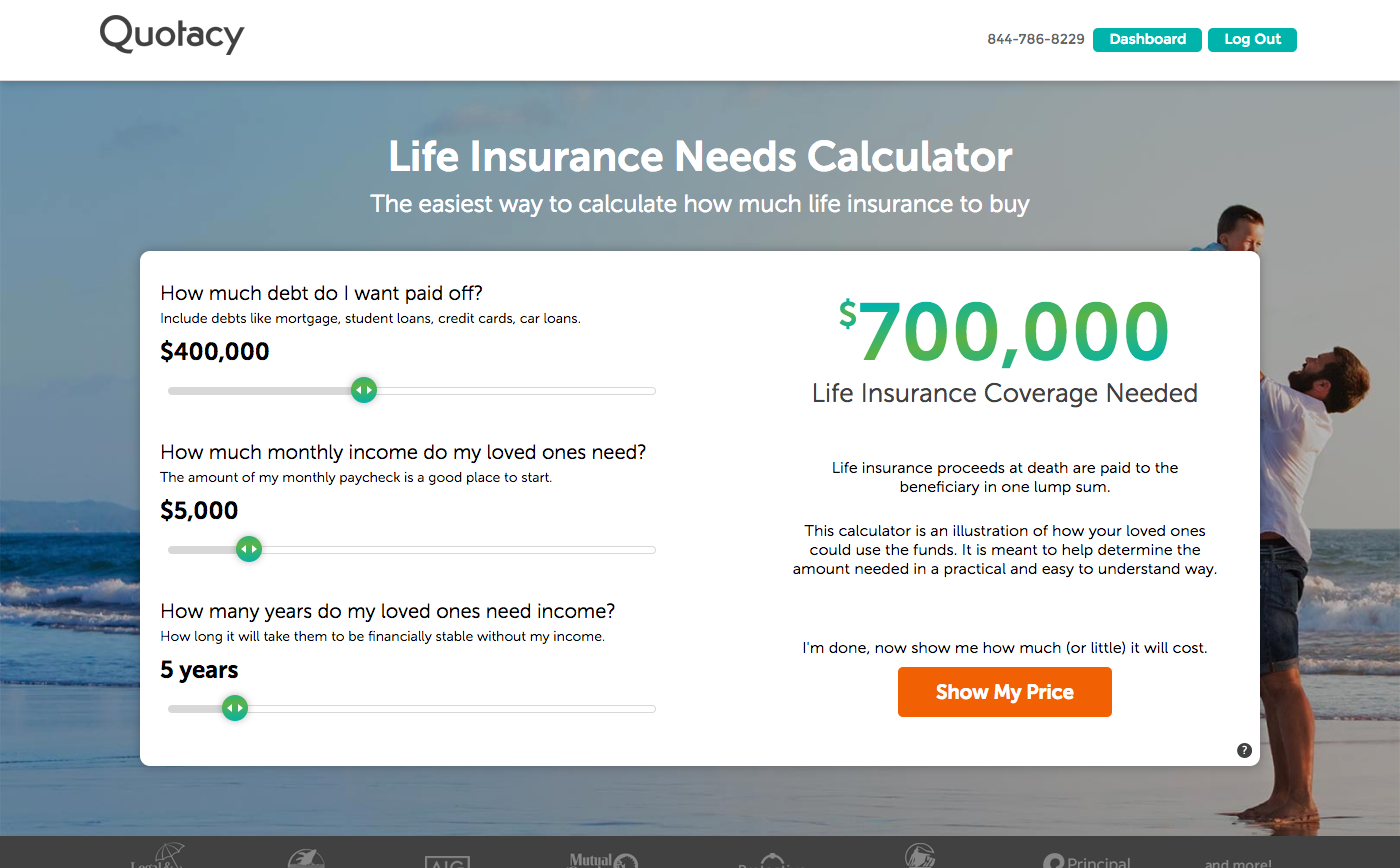 If you're comparing quotes and buying life insurance online, you may think you have to figure this all out on your own. Fortunately, you won't need the accountant for this one.
The simplest way to determine how much insurance you'll need to purchase is to use Quotacy's free insurance needs calculator. You'll receive your comparison term life quotes without having to enter any of your contact details, so you'll never have to worry about receiving any unwanted sales calls.
» Calculate: Life insurance needs calculator
How Do You Get Your Term Life Insurance Quote?
We designed our online quoting tools with the busy online shopper in mind, making the cost and process of buying term life insurance simple, transparent, and affordable.
First, you'll enter just a few details:
zip code
gender
birthdate
smoking status
Then you'll decide how much coverage—from $50,000 to $25 million—that you want to purchase. If you've used the calculator we mentioned above, you'll have predetermined the amount that you need to protect your loved ones.
You'll also pick a term (10, 15, 20, 25, 30, 35, or 40 years) at this time.
After that, you'll answer a few more questions to personalize your list of policy choices:
What is your height and weight?
What is your smoking status?
How is your heart health?
What is your family medical history?
You'll receive a range of life insurance quotes from leading life insurance companies in minutes, without entering any personal contact information.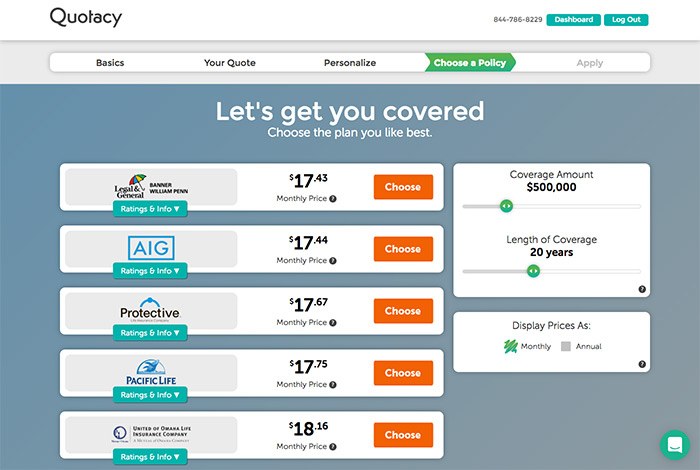 Quotacy only works with companies that are rated A or better, so if you wish to choose the policy that is the least expensive, you can still be guaranteed it is a great option. Otherwise, during this part of the process you can read about the differences of each policy and pick which one you like best.
How to Apply and Buy Life Insurance Online
Once you've selected a policy, you can apply directly through Quotacy.
Filling out your application is quick—it usually takes about five minutes. Our insurance advisors will look at your application and determine if the carrier that you selected offers the best policy for your needs. If we find an insurer that offers a more suitable policy, we'll explain why and ask your permission to change carriers so that we can get the best possible coverage option for you.
Then, once you've settled on a policy, we'll email you DocuSign forms (a.k.a. secure electronic forms) to begin processing your application.
It's really that simple.
Know How Much You Will Pay
One of the most frequent comments we hear from the families that we work with is that the quotes they receive are far less expensive than they anticipated.
Here are a few examples of the range of premiums and corresponding coverage from top insurance companies that we work with: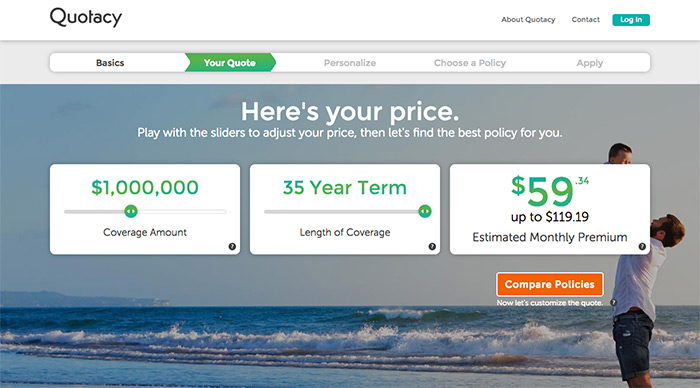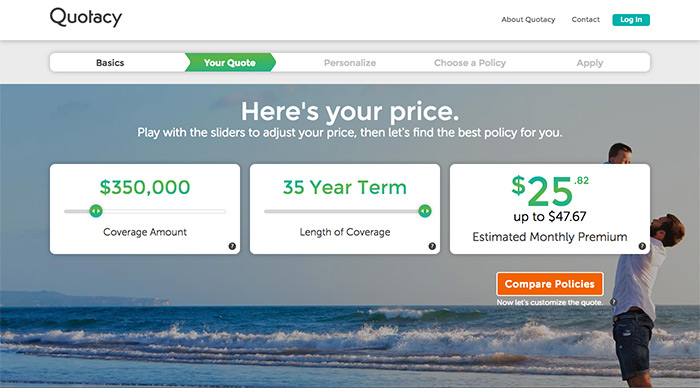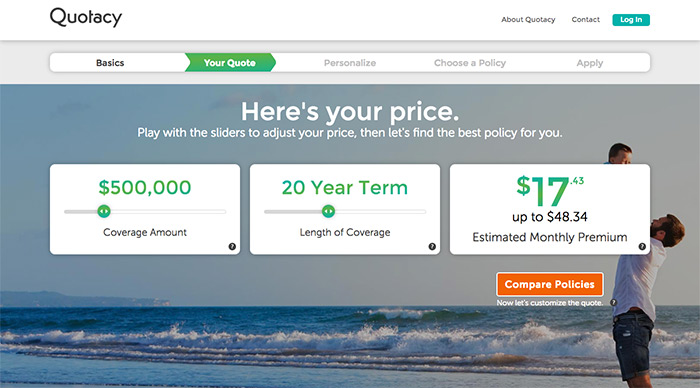 Our goal is to provide you with accurate quotes and multiple policy options from trusted insurers for you to choose from.
Know How Long it Will Take to Get Your Insurance Policy
It usually takes between two to six weeks from the time you submit your application to the time your life insurance coverage begins.
Processing times vary based on how long it takes your insurance provider to view your application, receive your medical records, and how quickly you respond to tasks such as signing forms and scheduling your exam.
Get Started
We offer a wealth of information to help you determine your insurance needs and find the best policy to help you build a financially secure future for your family, but we've also compiled a list of common questions people ask about life insurance to help you find the answer you are looking for.
After you've done enough research to feel great about purchasing a life insurance policy at Quotacy, you'll be happy to know that you can stay right where you are and start applying for insurance online.
Leave the calculating up to us and compare your life insurance quotes now!