Life insurance is often marketed to people with families, businesses and retirement coming up – you've heard the arguments about protecting your kids and making sure that food stays on the table. But what's in it for us – the twenty-somethings of the Millennial generation? Let's discuss millennials and life insurance. 
Despite the fact that most people see life insurance as an "older" product, buying a policy while you're young is an incredibly smart move. Young, healthy people have the opportunity to lock in the lowest possible rates for life insurance coverage, and a well-thought-out policy can help cover you (and any future additions to your family) well into your 50s! By applying young, you could end up paying about $20 a month to guarantee financial security for everything you care about. Even small, short-term policies can come in handy, and they could cost you less than ten dollars a month!
Millennials and Life Insurance: What do I need to cover?
Final Expenses
No matter how young you are, dying costs a lot of money. Between funeral expenses and the cost of Kleenex, the people you care about can often end up footing a bill of upwards of $10,000, and unless your savings account is in a really great place, a $10,000 charge will be devastating to any family. Keeping even a small policy in your back pocket can help the people you love take that financial hit and keep moving through one of the hardest times in their lives.
Student Loans
One of the top reasons that a growing number of recent grads are buying life insurance is the skyrocketing cost of education. Even when scholarships are taken into account, graduates of the class of 2016 had an average of $37,172 each in outstanding student loans. While federal loans are forgiven if a borrower dies before paying them off, private loans aren't as easy to get rid of. If you have private loans stacked up from your time in college, those costs will be transferred to any cosigners of your policy, and they'll be responsible for paying up. A term life insurance policy will guarantee that your loans are paid for, and your family won't be stuck paying for your time in school.
Despite the fact that most people see life insurance as an "older" product, buying a policy while you're young is an incredibly smart move.
Ready to get your life insurance quote?
You're a few minutes away from great life insurance
How much life insurance do you need?
Figure out your action plan with our needs calculator
Leaving a Legacy
If you're debt free, have a massive savings account, and keep enough money on hand to take care of your family for the foreseeable future, let me be the first to congratulate you, because you've won at life. However, you might be interested in using coverage as an expression of your personality.
For example, it's recently gotten more and more popular to use a policy to leave your mark on the world through a gift to charity after your final expenses are all dealt with. If there's a cause you're passionate about that you'd like to dedicate your life to supporting, you can make sure that your efforts go on even after you're gone by making a charity the beneficiary of your policy.
If you love to volunteer at animal shelters, consider a donation to ASPCA or the Animal Humane Society. If you're a longtime patron of a local community theater or art scene, you can make them your beneficiary so they can keep making the world a cooler place.  Whatever you're passionate about, a life insurance policy will let you make an enormous contribution to match a lifetime of service and patronage, and change lives in the process.
Long story short, millennials and life insurance go hand in hand as buying coverage might not be right for you right now, but it's definitely something to think about as you move further into adulthood. Play around with our quote tool – no need to worry, we won't ask for your contact info – to get an idea of possible prices. If you have any questions, get in touch with us to talk to an agent and find out if term coverage is right for you; we promise we won't try to give you the hard sell.
Photo credit to Ryan McGuire
Related Posts:
Life Insurance for Baby Boomers, Gen X and Y
The 5 Biggest Reasons Singles Need Life Insurance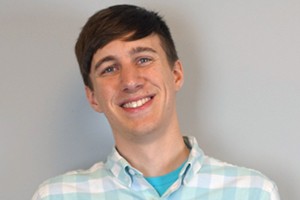 Eric Lindholm
Communications Coordinator
Eric started in Quotacy's sales department, but moved to marketing after helping hundreds of people through their life insurance buying journey. Aside from writing about buying life insurance, he also edits Quotacy's monthly newsletter, runs our YouTube channel and produces Real Life, our podcast. Eric lives in Minneapolis, where his coworkers are trying to convince him to take his humor into the spotlight. Connect with him on LinkedIn.