Growing your own fruits and vegetables can be incredibly rewarding. When you have your own garden, it's not only a healthy hobby for you, but it's also home-grown nutrition for your family. But getting a garden up and growing requires a lot of thought and effort, as well as patience and perseverance. To help you create your growing game plan, we'll go over the most important factors to consider when planning your garden.
If this is the year you finally take up gardening or if you're looking to improve upon last year's crop, then these helpful tips and useful information should come in quite handy.
Factors to consider when planning a garden
Size of the garden
The most important factor to consider when it comes to starting a garden is its size. You may have grand plans of maintaining a big garden, but if you're a busy person, it can be quite the daunting task.
The trick to kicking things off on the home garden front is to start small. If you do, it won't overwhelm you and it will keep you motivated to make the most of what you have. Even just starting with patio herbs and vegetables can feel quite accomplishing.
What to grow
If you've never grown vegetables in a garden before, the best thing to do would be to grow vegetables that don't take much time to produce a high-quality harvest.
The best veggies for an amateur gardener that will be the easiest to grow and maintain include the following:
Carrots
Lettuce
Radishes
Spinach
Soil quality
For the most high-quality yields, you need high-quality soil. Ideally, your garden's soil should be loosened, well-drained, weeded, and nutrient-rich.
Before you plant a new vegetable, use organic matter and/or compost to get your soil enriched. This will ensure that your garden stays productive.
Location
You can't expect to grow top-notch vegetables without a healthy amount of sunlight every day. That's why it's important to set your home garden up in a location that gets ample sunlight (six hours daily).
It would be even better if the location is near a water source, as it will make the process of irrigation significantly more convenient.
Make room for the veggies you love
We mentioned how easy it is to grow carrots and radishes. However, that doesn't mean you should only grow what's easy.
Ultimately, if you don't like eating carrots and radishes, you won't enjoy gardening. So, make sure that you leave some room for vegetables that you love to eat, even if they're somewhat trickier to grow and maintain.
Hardiness zone
The plant hardiness zone that you live in is one of the most important things to consider before starting work on a brand-new home garden.
The zone will dictate the fruits and vegetables that will not just survive but thrive in your location. Read on for a more detailed look at the different plant hardiness zones in the USA.
See what you'd pay for life insurance
Comparison shop prices on custom coverage amounts from the nation's top carriers with Quotacy.
The USA Plant Hardiness Zone Map
The USA plant hardiness zone system was developed to serve as a rough guide for gardening and landscaping by the United States Department of Agriculture (USDA). All in all, there are 13 zones that are defined by their annual extreme minimum temperatures.
Even though the system is effective, gardeners should remember that just because a plant is supposed to grow well doesn't mean that it will. Ultimately, your harvest will boil down to the factors other than the hardiness zone mentioned previously.
Now, let's take a look at some of the best fruits and vegetables to grow across all the 13 zones.
Zones 1 – 2: The best season to grow vegetables is the period between April and September. The plants that will thrive across these zones include broccoli, eggplant, asparagus, kale, lettuce, and vine tomatoes.
Zones 3 – 4: The April – October period is the best time to grow plants such as asparagus, broccoli, lettuce, eggplant, strawberries, pole beans, sweet peas, and white and red potatoes.
Zones 5 – 6: The best growing period is from March – October. The plants that can be expected to thrive in these zones include lettuce, beans, melons, strawberries, corn, and tomatoes.
Zones 7 – 8: The March – November period is the ideal growing season if you live in zone 7 or 8. The plants to grow across these zones include bush beans, squash, tomatoes, corn, carrots, asparagus, collard greens and leafy greens.
Zones 9 – 10: The February – November period is the best time to grow plants like salad greens, bananas, sweet peas, yams, citrus, peppers, melons, tomatoes, and corn.
Zones 11 – 13: These areas are great for planting kale, passionfruit, pole beans, Okinawa spinach, red potato, sweet potato, papaya, mango, pineapple, cassava, bananas, citrus, and Thai chili peppers. The best thing about these zones is that the mentioned plants can be planted all year round.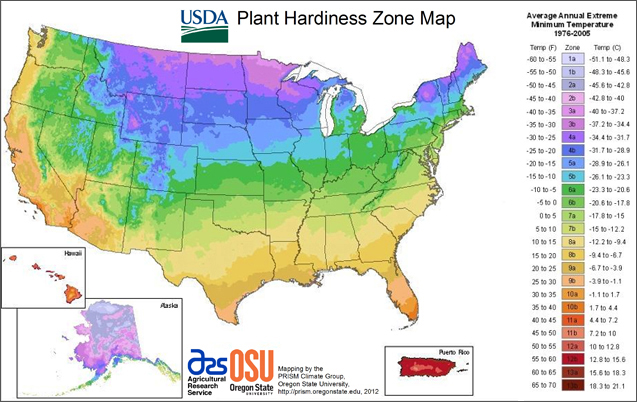 So, now that you know why and how the plant hardiness zone matters, you should waste no time in finding out which zone you live in. You can easily find out your zone online on the official USDA website by entering your zip code.
You're all ready to start gardening
Gardening is a great hobby. Not only do you get delicious and healthy fruits and veggies, but also fresh air and physical activity. But before you plant your first seed, it's important to know that patience and perseverance are two of the biggest qualities needed to be a good gardener.
Quotacy is the country's leading broker for buying life insurance online. We are obsessed with making it easy for everyone who has loved ones who depend upon them to have life insurance.
Ready to shop? Get an instant life insurance quote.
Use our life insurance calculator to find out how much you need.